For sports books, 'it's like Christmas'
September 12, 2010 - 11:00 pm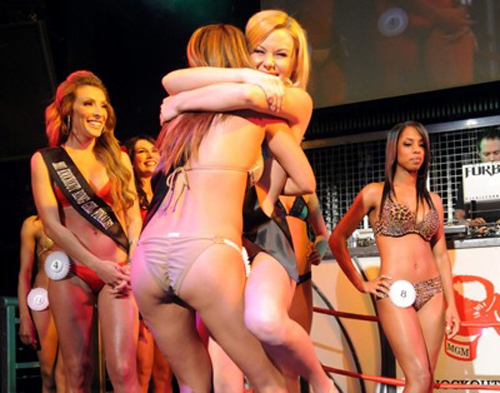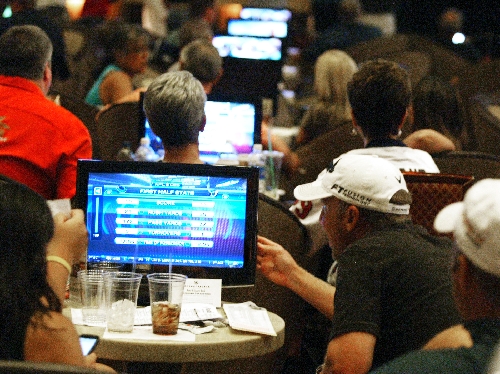 In sports books across Vegas on Sunday, men wore expensive team jerseys and drank cheap beer for the opening weekend of NFL betting.
That's a big deal. Football accounts for 50 percent to 60 percent of all betting at race and sports books in Nevada, said Johnny Avello, executive director of race and sports operations at Wynn.
"It's like Christmas morning here for a lot of our guys," said Todd Fuhrman, Caesars' race and sports supervisor. "Football is definitely king in this city."
Casinos can largely thank male gamblers.
At 3:30 p.m. at M Resort, I counted three women among more than 100 male bettors.
"Chicks got a better chance of getting laid in the sports book than in the penitentiary," said M Resort gambler Jeff Miller. He seemed fairly typical. A 32-year-old ad salesman, Miller flew from Atlanta for one reason: to bet on NFL games.
"It's more fun than betting online," he said.
But Miller was an outlier, since he brought not only his girlfriend, but his sister, Beth — therefore he was accompanying 66.6 percent of women in attendance at the sports book at that moment.
Brother and sister Miller joked they're "degenerate gamblers." Jeff Miller even used his gambling brain to comfort his Georgia Bulldogs heart after UGA lost Saturday.
"Yeah, but we took the under! Don't worry about it!" he beamed with dollar signs in his eyes.
During the recession, football betting has held steady, Avello said.
People do watch and bet on basketball, baseball and the lot. But it's not comparable to the NFL.
"I'd love to try and grow baseball in the summer. But greater men than me have tried," Fuhrman said.
What's the hold of football? Well, the media pumps it up the most. And it's the actual American pastime (in addition to Facebooking, apparently).
Plus, football comes but once a week. That's a manageable pace for fans, who expect more predictability from football since players give every game their all — unlike (say) baseball players who may lounge occasionally during 162-game schedules.
It's too early to tell how NFL betting will fare. But gambling on college football is "flat," Fuhrman said.
That's a good thing.
"In this economy, you'll take it," Fuhrman said, describing "flat" in current terms as "directionally correct."
By the way, a major football cliché still holds true. College fans are more intense. But pro fans open their wallets and flush more of their money into the local economy.
"Saturday is more life-and-death" for fans, Fuhrman said. "Sunday, it's more: 'I want to win my bet.' "
Anthropologically, the sports book — along with the strip club — feels like a last refuge of businesses' catering to men. Calm down and let me elucidate.
"Vegas girls" often get everything for free on the Strip — admissions, drinks, dinners, show tickets — because they are catnip to men.
Thus, men often pay for everything — twice. They pay their own way, and for their dates or pickups, plus they pay steeper prices to balance all the freebies women get.
But at sports books, men get free booze, or $2 beers, or $1 hot dogs, and so on. And cocktail waitresses are kind to them.
Strip clubs horn in on this action with Monday Night Football specials. Starting tonight, Spearmint Rhino will be pouring $3 tequila shots and $3 premium well cocktails, and serving free burgers and hot dogs. For Thursday's Saints win, Crazy Horse III strip club put on a halftime show by the "Tight Ends."
The Silverton hotel is ramping up its NFL action by turning its concert pavilion into "The Monday Night Man Cave."
The hotel has recliners on order for the room. And it plans to give away "wife prizes" — girly things men can give their wives when they finally go home.
See? Women don't even have to attend something to get everything for free.
But men survive. At Caesars sports book, suddenly a bunch of female dealers and dancers walked by lasciviously, dressed in Pussycat Dolls outfits.
"It's the Caesar-ettes!" an older gentleman in a Detroit jersey said to his wife. She did not reply.
And men get to laugh at each other's punch lines.
"The joke we have around here is," Fuhrman said: "If you could get the almanac from 'Back to the Future 2,' it would put us all out of work, or make for tighter lines.'"
Ladies: Explain that funny joke to your best girlfriends starting … now. Whoever describes the joke best should win a "husband prize" to give to your man. Wouldn't that be a thrill?
Doug Elfman's column appears on Mondays, Tuesdays and Fridays. Contact him at 702-383-0391 or e-mail him at delfman@reviewjournal.com. He also blogs at reviewjournal.com/elfman.