Forecasts of voting lag, so far
October 29, 2008 - 9:00 pm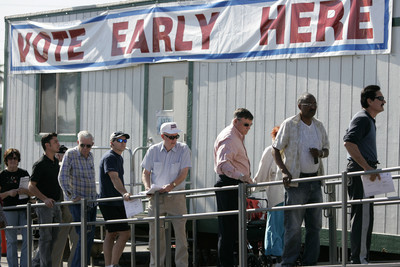 Analysts have predicted that new voters, young voters and Hispanic voters will turn out in record numbers in this election. But as Nevadans continue to flock to the polls, turnout among those three groups is lagging, at least in the early going.
While turnout statewide was nearly 25 percent through Sunday, it was just 20 percent among Hispanic voters, 14 percent among voters under 30 and 15 percent among those who didn't vote in the last three elections, according to an analysis of state early voting records through Sunday prepared by America Votes, an organization that works to mobilize voters.
The data provide a glimpse into the composition of the more than 300,000 Nevadans who had taken advantage of early voting over the first nine days of the 14-day period. The information comes from proprietary databases that political action groups purchase from commercial vendors, cross-referenced with the public data the state releases showing who has voted.
Traditionally, older people, whites and people who vote consistently tend to turn out at the highest rates overall, said David Damore, a political scientist at UNLV. But this year, much has been made of the idea that the youth vote, the Hispanic vote and first-time voters would turn out at unprecedented rates, galvanized by a heightened political climate and the candidacy of Democratic nominee Barack Obama.
"I would have expected those numbers to be a little higher," Damore said. "At the same time, the people who come out for early voting may tend to be the tried and true."
The idea that the electorate will be radically reshaped this year remains an open question, he said, and it's possible the Obama campaign faces a challenge turning out the untested voters it's relying on to win.
Recent polling shows Obama leading in the Silver State by varying margins. Democrats' hopes have been boosted by a tectonic shift in voter registration that has left them with more than 110,000 more registered voters than Republicans, but the GOP insists there's hope because the election will be decided by who votes and how.
"What Republicans have been saying is that registration is only half the game, and they have the tried and true model to get people out," Damore said.
U.S. Rep. Hilda Solis, D-Calif., was in Las Vegas on Tuesday working to rally Hispanic voters for Obama. She said she expects high Hispanic turnout this year.
"Many of them are registering to vote for the first time; they may be immigrants, and many are not familiar with the process here," she said.
An important part of the Obama campaign's outreach to Latinos is clarifying how voting works, she said: making sure they understand that filling out a registration form is not the same as casting a vote, that early votes count just like votes on Election Day, and that they cannot vote over the phone.
Deceptive phone calls targeting Hispanic Obama supporters in Nevada have tried to trick them into "voting" by phone and not going to the polls.
Early voting turnout continues to be high overall. Through the end of voting Monday, more than 334,000 voters had cast ballots statewide, including 242,000 in Clark County and 59,000 in Washoe County. Statewide turnout is up to 29 percent, according to the secretary of state's office.
In the urban counties, Democrats continue to turn out at higher rates than Republicans. In Clark County, 54 percent of those who voted through Monday were Democrats, 29 percent Republicans. In Washoe County, 51 percent of voters through Monday were Democrats, while 33 percent were Republicans.
Partisan statistics were not available for the 15 rural counties, home to less than 15 percent of the electorate, which tend to be heavily Republican.
At a Las Vegas early voting site on Tuesday, the effects of high turnout were clearly visible. About 25 people waited in line to get into a trailer on the grounds of the Las Vegas Athletic Club near the intersection of Sahara Avenue and Decatur Boulevard.
"I haven't voted since I was 18, but it's time to start making a difference," said Denise Farrell, a 42-year-old black woman with braided hair who had just gotten off her graveyard shift as a housekeeping manager at a Strip resort.
She said she was voting for Obama because "he's focusing on the middle class, not so much the rich. They're already rich. They don't need help."
Janet Soldan, a 56-year-old real estate agent who is white, said she's a registered Republican who has never voted Democratic before, but this year, "I just want change. I just don't feel we can take it any longer. It's time to try something new." She, too, said she voted for Obama.
John Collopy also said he was voting for change, but in his case that meant McCain. The 50-year-old white man, a Las Vegas limo driver, said he considers himself a conservative Republican, "but I'm not a happy Republican. I think McCain's going to be President Bush all over again, and I'm not a fan of Bush."
Collopy said he's concerned that the government spends too much money and doesn't pay any attention to the little guy. He was disgusted by the Wall Street bailout. But he said he figured McCain was the lesser of two evils.
Three new polls released this week find Obama with a lead over Republican John McCain in Nevada. A Rasmussen Reports poll released Tuesday put Obama at 50 percent, McCain at 46 percent. The automated poll of 700 likely voters was conducted Monday and carries a margin of error of plus or minus 4 percentage points.
A poll conducted by Boston's Suffolk University and also released Tuesday found a bigger lead for Obama: He had 50 percent of the vote to McCain's 40 percent. That poll of 450 likely voters was conducted Thursday through Monday and carries a margin of error of plus or minus 4.6 percent.
A poll Zogby International released Monday put Obama at 48 percent and McCain at 44 percent.
Contact reporter Molly Ball at mball@reviewjournal.com or 702-387-2919.