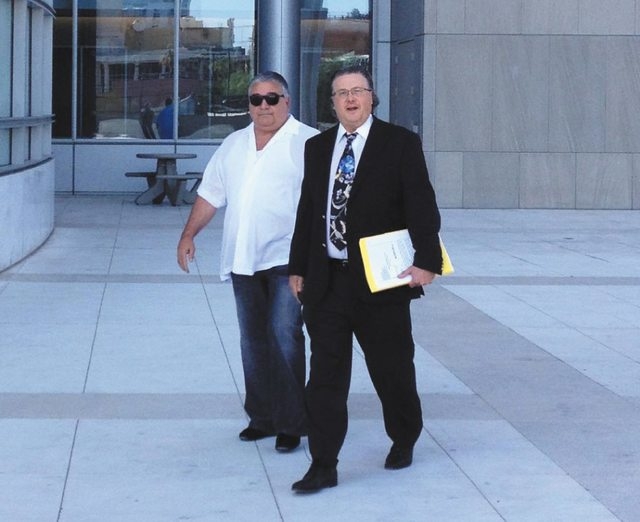 Vincent Faraci, a mob-connected player in the racketeering days of the old Crazy Horse Too strip club, was sentenced Monday to 15 months in federal prison on a tax conviction.
Faraci, 58, a reputed Bonanno crime family member now running a nightclub in Brooklyn, pleaded guilty in federal court in July to filing a false 2006 tax return.
He admitted in his plea agreement that he failed to report $134,904 in income on the tax return when he filed it in 2008. He also admitted he did not pay $46,869 in additional taxes.
Senior U.S. District Judge Lloyd George also ordered Faraci to serve one year of supervised release after he gets out of prison and pay the $46,869 in restitution to the Internal Revenue Service.
Faraci, who is free on his own recognizance, was given until April 25 to surrender to federal prison authorities.
His lawyer, David Chesnoff, had sought a sentence of one year and a day, saying Faraci had "shown early contrition" by cooperating with the IRS in the investigation.
"Mr. Faraci has never run away from this problem," Chesnoff said.
He added that Faraci is getting out of the nightclub business and plans to go to work as a consultant for a national hamburger chain after he serves his prison time.
Faraci apologized to the court and his family for his actions.
Assistant U.S. Attorney Nicholas Dickinson told George that 15 months in prison would help serve as a deterrent to others and was a fair sentence given Faraci's 2006 tax conviction in the Crazy Horse Too investigation.
Faraci, a former shift manager at the Crazy Horse Too, was one of 16 of the club's employees who pleaded guilty in 2006 to a conspiracy charge of failing to pay taxes on tips and other income. He was sentenced in 2007 to 10 months behind bars but was allowed to serve five months under home detention.
The group deal, which also included a guilty plea from Crazy Horse Too owner Rick Rizzolo, brought an end to a decade-long federal racketeering investigation, conducted by the FBI and IRS, that uncovered a pattern of lawlessness at the strip club, once regularly visited by mobsters, politicians and celebrities.
Agents investigated a series of beatings at the club, including one involving Kansas City-area man Kirk Henry, who was paralyzed in a fight over a bar tab at the club in 2001.
After his plea, Rizzolo spent a year in prison and lost his club, which was closed for several years until it reopened this year under a new name and ownership.
For years, Rizzolo was linked to a series of organized crime figures, including Joseph Cusumano, once a reputed lieutenant for Anthony Spilotro, the Chicago mob's overseer of street rackets in Las Vegas who was killed in 1986.
Rocco Lombardo, the brother of onetime reputed Chicago mob boss Joseph Lombardo, worked with Faraci as a doorman at the Crazy Horse Too. Lombardo also pleaded guilty in the racketeering investigation, receiving 60 months of probation.