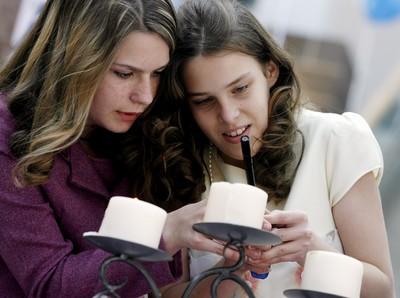 Twelve-year-old Raven Asay recalled the time in 2003 when she opened a fortune cookie from Panda Express.
"It read, 'The thing you dream most will come true,'" the girl said of the message her foster mother had inserted into the cookie.
Up to that point, Raven had lived in more than a dozen foster homes.
Two months later, on Sept. 11, 2003, the cookie's prediction came true: Brenda Asay became Raven's adopted mother.
Raven and her friend Heather Wilder, 13, who also went through the Clark County foster program before being adopted, were featured speakers Thursday at the seventh annual Light of Hope ceremony at Family Court.
It's hard to imagine these girls — Heather is now a cross country runner and Raven is a drama club member — were ever alone at Child Haven.
Heather said with a shrug that she thinks her birth mother is in jail. With no hint of self-pity, Raven said she never knew her mom and no one knows who her father is.
Raven arrived at Child Haven at age 3 after spending her first years with a half-brother's biological father, who "wasn't the nicest," she said.
The girls have become minor celebrities after writing more than 10 books to help fellow foster children. Their books, including "Why Do I Have to Take Medication?" and "Court Talk," which helps kids understand their rights as foster children, are available at www.iseepuppy.com.
The Light of Hope ceremony and others like it across the country take place every April during National Child Abuse Prevention and Awareness month to bring attention to the need for foster and adoptive parents as well as Court Appointed Special Advocates, or CASAs.
About 200 CASAs, as the volunteers are known, advocate for the approximately 550 foster children in Clark County as they wade through the court and foster systems.
"We would love to have a CASA volunteer for every child," said Cheryl Meyer, volunteer coordinator for the program.
As the county aims to find a stable home for every child younger than 3 by the end of this year and every child younger than 6 by the end of 2008, the Department of Family Services is in need of more foster and adoptive parents, said Christine Skorupski, Family Services' spokeswoman.
On any given day, 250 children in shelters and at Child Haven await placement in foster homes.
The department currently needs 400 to 450 homes for those children, but it will need a lot more as it begins to phase out the placement of children age 6 or younger in Child Haven, Skorupski said.
There are 60 to 100 children every day in foster homes waiting to be adopted, she said.
Raven and Heather, who is speaking next week at a congressional hearing on the foster system, and 18-year-old Michael Sausa, who holds down a job while attending Rancho High School's aerospace program, each described at the ceremony how their lives turned around when they entered a stable home.
They were featured by the county as the positive stories to come out of Family Services, an agency often under fire for its failures.
Clark County has had several high-profile cases of children falling through the cracks in the system. Children who are malnourished, living in squalor or are abused, sometimes fatally, are the result.
Raven can't reconcile the positive energy of the Light of Hope ceremony with such scenarios, even though she has had her own bad experiences in the system.
"I had a foster parent that wasn't doing the job they were supposed to," she said, describing a foster father. "He locked me outside. He spanked me."
During the ceremony, she and Heather put on a skit in which they described the life of a foster child: taking mind-altering medications, leaving toys and personal items behind with every move, wearing used clothing, fearing the day they will "age out" of the system and have nothing, and having as their only friends a CASA, a therapist and a lawyer.
"It was a good, stable foster family that got me going," said Sausa, who has "aged out" and is living in his own apartment as he prepares to graduate high school on an independent living contract.
The Family Services program provides foster care payments to the teen so that he can pay for room and board and learn to transition into life as an independent adult.