Four fun activities for Vegas locals this week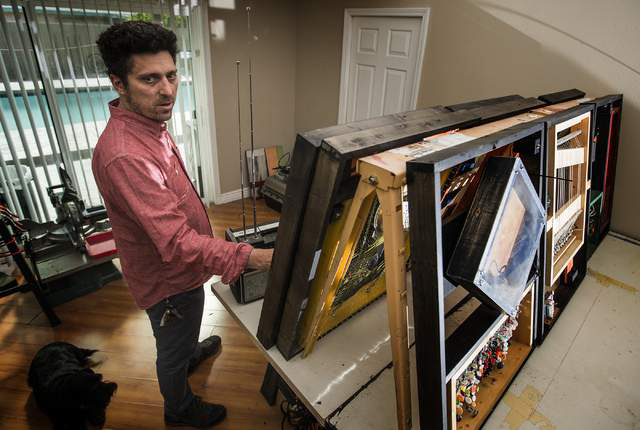 All's air in cancer battle
As part of the 20th annual Susan G. Komen of Southern Nevada Race for the Cure, the Fremont Street Experience will donate 100 percent of SlotZilla revenue from 10 a.m. to 5 p.m. Saturday to the cause.
We just have one question: Does the 850-foot flight of the zip line and the 1,750 feet of the zoom line count toward the 5 kilometers of the run? Because we need every bit of help we can get.
Actually, the Sleep In for the Cure, which is a real thing and includes "a comfy T-shirt," is a little more our speed.
But if you want to race, registration is open from 6 to 8 a.m. Saturday in front of the El Cortez, with the race starting at 8:15 at Las Vegas Boulevard and Clark Avenue.
Entertainment is scheduled to begin at 6:30 a.m. with the kids area opening at 7.
Race day registration is $40.
For more information, visit www.komensouthernnevada.org.
Hear and now
From the Neon Museum to the Barrick Museum. That's the journey traveled by "citizen speak." Artist-in-residence David Sanchez Burr (and Neon Museum visitors) created the interactive sight-and-sound project last weekend; this weekend (and beyond), visitors to UNLV's Barrick Museum can experience the sound panels and soundtrack created at the Neon Museum. There's an artist's reception from 1 to 3 p.m. Saturday at the Barrick, located on the UNLV campus, 4505 S. Maryland Parkway; the exhibit itself continues through May 30. For more information, call 702-895-3381.
Taco of the town
Mercadito at Red Rock Resort, 11011 W. Charleston Blvd., will feature a taco created by chef Rick Moonen, of RM Seafood and Rx Boiler Room at Mandalay Place, beginning Friday. The True North Salmon Taco is made with smoked tea, horseradish crema and cucumber-cabbage slaw, and a portion of sales will benefit Share Our Strength.
Sincerely sinful
Perhaps there's a more polar-opposite alternative to fight night and the surrounding culture of Mayweather-Pacquiao. But this is the best we could come up with: "Party In The Afterglow!" is the after-party for Sin City Gallery's "12 Inches of Sin," a "sensual juried art show." Burlesque, drag, "sensual art, delicious performances" and "debauchery" are promised. Hey, maybe Floyd will show up after all. It starts at 9 p.m. Saturday at the Arts Factory, 107 E. Charleston Blvd. General admission is $10.