Fresh-faced trio wows throng of youthful fans at MGM Grand
November 30, 2008 - 10:00 pm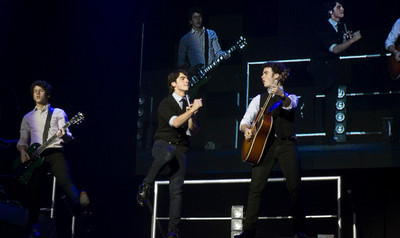 They came outfitted in teddy bears and tiny purses, armed with handmade signs penned in bright block letters and enough shiny, pin-on buttons to make the metal detectors chirp like cranky sparrows.
The pre-teen infantry was out in full force Saturday at the first of two concerts by the Jonas Brothers at the MGM Grand Garden, and you'd have to steer a school bus off a cliff to hear kids shriek the way they did on this afternoon.
They spoke almost exclusively in exclamatory bursts punctuated by deep breaths and heaving sternums. Mom had better have stocked up on the throat lozenges.
Seriously, there must be a run on Chloraseptic at drug stores across the valley this morning.
It was a young crowd — the only thing shorter than the average height of said concertgoers was the beer line — and they put their lungs through the paces, screaming in adoration of three fresh-faced brothers from New Jersey who played a concerto on the girls' heart strings.
In the span of a year, the Jonas Brothers have become the latest teen sensation, selling out concert halls, starring in their own TV show and movie and notching one of the biggest-selling albums of the year with their third disc, "A Little Bit Longer."
Just nine months ago, the brothers were playing the 7,000-capacity Planet Hollywood Theatre for the Performing Arts.
Now, they're packing a 14,000-plus-seat arena twice in one day.
With their boy-next-door good looks, puppy love lyrics and doe-eyed harmonies, the brothers' appeal is obvious.
"I like how they write about stuff that we can relate to," said Katie Russell, 14, whose family flew in from Dallas to catch the Jonas Brothers as a birthday present. "And obviously, they're cute."
Russell had been at the venue since 9 a.m. Saturday morning, giving candy that she had made for the band to their manager and singing the brothers' songs with fellow fans at such volume that MGM Grand Garden staffers eventually asked them to stop for fear of bothering hotel guests.
She saw both shows, and paid for the $150 floor ticket to the first one herself.
"I've been saving my dog-sitting money for this," she explained, her forearms smothered in black marker ink bearing the brothers' names.
When the lights in the hall went out, Russell and scads of her peers rushed to the foot of the runway that jutted out onto the arena floor, much to the chagrin of the exasperated security staff.
The ushers at the MGM Grand Garden seldom seemed so overwhelmed, eventually threatening obstinate teens — and their equally unruly mothers — with expulsion if they didn't return to their seats.
It was all a stark contrast to the Jonas Brothers' music, which is generally well-heeled, ceaselessly optimistic and good-mannered.
Backed by a string section and a four-piece band, the brothers distinguished themselves from their boy band brethren with buoyant pop rock firecrackers, many of which they penned themselves, and a discernible musical proficiency.
The youngest of them, Nick, 16, proved himself to be a talented instrumentalist, playing guitar, the drums and piano at various points in the 1-hour, 40-minute show, while eldest brother Kevin, 21, did some serious hard rock shredding on guitar during a number of tunes.
Of course, it was middle brother Joe, 19, with his long bangs darting in and out of his eyes, who elicited the most impassioned yelps and a few marriage proposals.
But mostly, it was all innocuous fun, the brothers spraying the crowd with foam from powerful hoses at one point, keeping the festivities kid-friendly and PG-rated.
"I like that they have good morals, good values. There's not many entertainers like that these days," remarked Linda Pemberton of Provo, Utah, one of the many moms in attendance who had two 14-year-olds with her, Jenna and Cheyenne.
"I like how they connected with us," Jenna gushed of the brothers after the show, her face checkered with stickers of the band.
And as she eluded to, that's what the Jonas Brothers do best: make every one of the band's many female admirers feel as if their songs are love letters directly to them.
"I've been looking for that someone," Joe sang on the heart-in-the-throat ballad "When You Look Me In The Eyes." "I'll never make it on my own."
And as long as there are teen girls, he'll likely never have to.
Contact reporter Jason Bracelin at jbracelin @reviewjournal.com or 702-383-0476.
Slide show