From humble roots, Nellis takes flight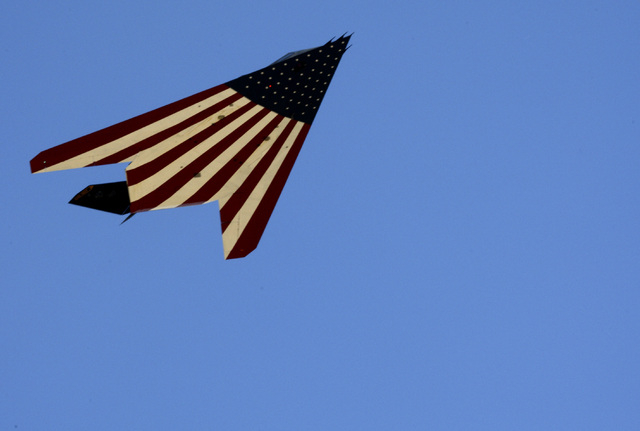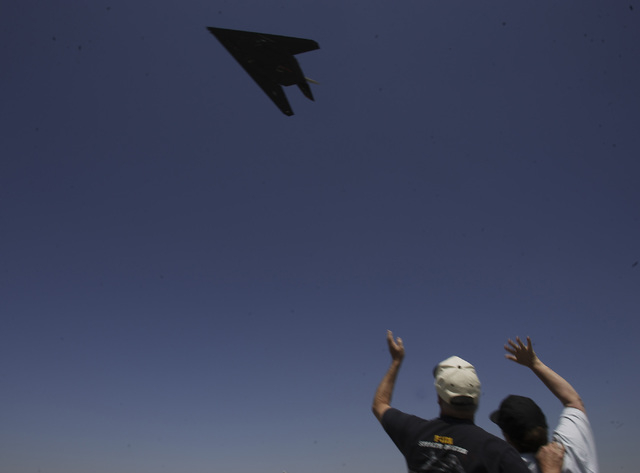 Editor's Note: Nevada 150 is a yearlong series highlighting the people, places and things that make up the history of the state.
The words "Nellis Air Force Base" and "Las Vegas" are synonymous in aviation circles.
At least that's been the case since May 1, 1950, when the former Army-airfield-turned-Air Force base in the northern Las Vegas Valley was renamed Nellis Air Force Base in honor of 1st Lt. William Harrell Nellis. He was a young officer from Southern Nevada who was killed Dec. 27, 1944, while fighting in the skies over Europe during World War II.
"On his 70th mission, he was bombing and strafing a column during the Battle of the Bulge when his P-47 was shot down and he was killed," Nellis' 99th Air Base Wing historian Jerry White said of the Las Vegas High School graduate.
The Nellis base's roots extend south to what is now the executive terminal at McCarran International Airport and predate the Nellis notation by more than two decades.
"In 1929, what would become Nellis (Air Force Base) was nothing more than a dirt runway, a water well and a small operations shack for Western Air Express Airlines," according to the Air Force website's history page for Nellis.
Conglomerate rock pillars that marked the entrance to the airfield before its operations were moved northward still stand outside the executive terminal off Las Vegas Boulevard.
"There was no military in Las Vegas permanently until 1941," White said. "What happened is Las Vegas bought the airfield from Western Express."
He said in 1940 the military began looking for a place to train B-17 and B-24 bomber crews that was away from the West Coast because "they were very scared of a Japanese invasion."
As such, the Army Air Corps surveyed sites in the Southwest to conduct aerial gunnery training. Maj. David Schlatter selected the Nevada site in October 1940 because most of the land to the north was open desert.
"Three months later, Las Vegas took over the airfield from Western Air Express and three days later, Mayor Jon L. Russell signed over much of the property to the U.S. Army Quartermaster Corps to develop the flexible gunnery school," according to the Nellis history website. "The new Las Vegas Army Air Corps Gunnery School's (located on the new Las Vegas Army Air Field) mission was defined as 'training of aerial gunners to the degree of proficiency that will qualify them for combat duty.' "
Las Vegas Army Air Field was formally dedicated March 9, 1941.
Working with a small staff from the basement of the Las Vegas federal building in May 1941, Lt. Col. Martinus Stenseth of the 79th Air Base Group charted the course for constructing the base with runways and a barracks for 3,000 personnel. By December 1941, there were 10 AT-6 "Texan" trainers and 17 B-10 "Martin" bombers stationed at the airfield.
"From this humble beginning, LVAAF (Las Vegas Army Air Field) grew rapidly," according to the Nellis website. "The first B-17s arrived in 1942, giving students their first chance to train in the gun turret of an actual combat plane and providing aircraft to train co-pilots in ground and transition school. At the height of World War II, 600 Gunnery students and 215 co-pilots graduated from LVAAF every five weeks, and more than 45,000 B-17 gunners were trained."
After the end of World War II, the base closed in December 1946 but reopened in September 1948 to hone skills for a new era of pilots flying more advanced aircraft. Las Vegas Air Force Base officially reopened in January 1949.
The base that grew after establishment of the U.S. Air Force in 1947 has since maintained the reputation for spawning the nation's Air Force fighter pilots.
Said White: "If you were to become a jet pilot, you came here for the last phase of training."
Meanwhile, an annual top-gun competition involving combat-proven fighter planes took center stage on the sprawling range to the north. The first gunnery meet was won by Tuskegee Airmen in May 1949.
The history of aircraft at Nellis is perched on pedestals at Freedom Park, where eight jets line the lawn, spanning five decades of combat training.
There's an F-86 Sabre from the Korean War era; an F-111A Aardvark, F-105G Thunderchief and an F-4C Phantom from the Vietnam War; an F-100D Super Sabre from 1954 that was first to fly level, supersonic speeds; and an F-5 Freedom Fighter flown by Nellis "aggressors" from 1972 to 1989.
There's also an A-10 Thunderbolt from the New Orleans-based "Ragin Cajuns" reserve wing; and the "Stealth on a Stick," a black F-117A Nighthawk that flew under a cloak of secrecy at Tonopah Test Range in the 1980s.
On any given day at the base, today's workhorses, the F-16 Fighting Falcons and F-15 Eagles, can be seen heading to and from skies over the 2.9 million-acre Nevada Test and Training Range. Occasionally in the mix are HH-60G Pave Hawk helicopters that provide search-and-rescue support and train for overseas deployments.
Perhaps the biggest attraction for aviation buffs is the Thunderbirds aerial demonstration team that flies red-white-and-blue F-16s. The team has been based at Nellis since 1956, three years after Maj. Dick "Smokey" Catledge became the team's first leader on May 25, 1953, at Luke Air Force Base, Ariz.
Since then, the Thunderbirds have performed in more than 4,400 air shows and entertained crowds in all 50 states and 60 foreign countries.
Fighter pilot training kicked into high gear at Nellis in the 1970s as Red Flag, and later Green Flag and graduate-level Weapons School, training exercises evolved over the next 40 years.
Spearheaded by Gen. Robert Dixon, who commanded the Tactical Air Command, Red Flag was established in 1975 for pilots to hone their skills and reverse the declining air-to-kill ratio trend that had fallen from more than 10-to-1 during the Korean War to less than 2-to-1 during the Vietnam War.
Since its inception, airmen from 28 foreign countries have flown in the exercise, and several others have participated as observers. More than 440,000 U.S. military personnel, including 145,000 air crew members, have racked up 385,000 sorties and more than 660,000 hours of flying time.
Next came the black jet era.
The Lockheed F-117A Nighthawk blazed the trail for the F-22 Raptor and F-35 Lightning II air-superiority stealth fighter jets now being evaluated at Nellis Air Force Base. The F-117A with its absorbsent black coating and oblique, batlike shape revolutionized air warfare because it could evade radar detection and drop precision-guided bombs at night.
The Nighthawk was developed under a top-secret program in the 1970s and early 1980s, with much of its testing and development taking place at the classified Area 51 installation along the dry Groom Lake bed, 90 miles north of Las Vegas. The black jet made its first flight June 18, 1981.
After the stealth program was declassified in November 1988, the first warplanes were deployed in combat over Panama during Operation Just Cause in December 1989 to help spur the surrender of military dictator Manuel Noriega.
At the time, they were assigned to the 4450th Tactical Group at the Tonopah Test Range. Later, they bolstered the 37th Tactical Fighter Wing.
Finally on April 21, 1990, the F-117A Nighthawk made its public debut at Nellis. It was rolled out for viewing in a heavily guarded display that drew 350 media representatives from around the world and tens of thousands of viewers from the Las Vegas Valley.
Fifty-nine production models were made, with the last rolling off the line at Lockheed's Palmdale, Calif., plant on July 12, 1990. Seven were destroyed in crashes, including one lost in combat over the former Yugoslavia on March 27, 1999, in the Kosovo war effort.
In the Persian Gulf War in 1991, 36 F-117As bolstered the allied effort against Iraq by bombing targets in Baghdad.
The original wing at Tonopah on Nellis Air Force Range was relocated to Holloman Air Force Base in New Mexico after the Persian Gulf War, with the first plane arriving at Holloman in May 1992.
Two F-117As spearheaded the U.S.-led invasion of Iraq during Operation Iraqi Freedom in March 2003. They flew unescorted over Baghdad and dropped bombs on Dora Farms, where intelligence sources thought Iraqi dictator Saddam Hussein was hiding.
But 27 years after its maiden flight, with the advent of Raptors, joint strike fighters and stealthy B-2 bombers, the F-117A squadron was retired at its Tonopah hangars in April 2008, except for a few jets that were put on display, including one at the Smithsonian National Air and Space Museum.
Contact reporter Keith Rogers at krogers@reviewjournal.com or 702-383-0308.

Celebrating the Silver State