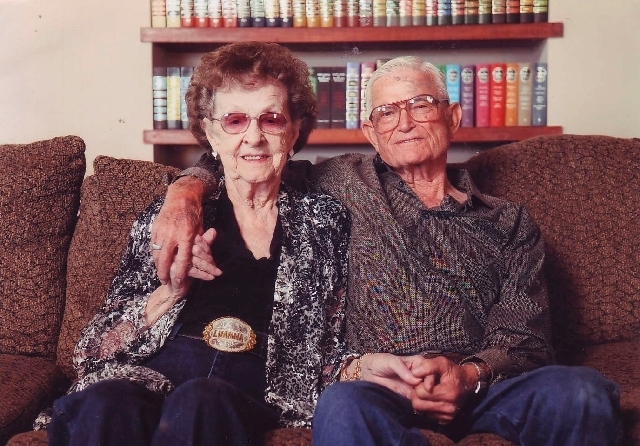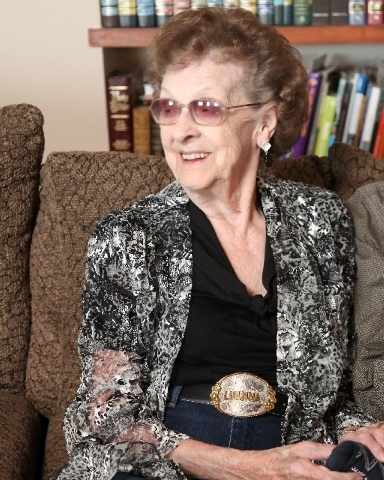 Luanna Mitchell is gone now, and there is a hole in the world where she used to live.
She was 83 years old, a grandma to everyone, a woman whose home, no matter where she lived, was the people she loved.
She died Aug. 5, with many of those people at her side.
"She made me a better man," said Carl Mitchell, 89, her husband of 62 years.
Luanna, who lived the last 23 years in Boulder City, was born in a small town in Oregon on Oct. 10, 1929. The daughter of a seamstress, she spent much of the Great Depression and World War II growing up on a ranch and later in Seattle. There, she sold the Saturday Evening Post on the street for a nickel a copy.
In 1944, her family moved to Las Vegas .
She went to Las Vegas High School, where she happened to have friends in common with the man who would later become her husband.
A few years later, as Las Vegas and its suburbs grew, Carl Mitchell saw a pretty girl at a truck stop on Garces Avenue and Main Street downtown.
He stared at her, perhaps too long because she left without speaking to him.
In 1951, he saw her again, and this time he asked her out. Despite her mother's warning, the two were together for the rest of her life.
They moved around — Oregon, California, mostly for work.
Carl had grown up in Boulder City, the son of one of the men who built Hoover Dam. So the family came back in 1975, settling down in North Las Vegas.
She worked most of her life, doing everything from selling Avon to running her own business. She had five children over the years, four daughters and one son, 16 grandchildren, 46 great-grandchildren and three great-great-grandchildren.
Daughter Susan Stankovic, who lives in Boulder City, said her mother was the one everyone hung around. She was a magnet, and even her and her sisters' friends called her grandma.
"Our place was the place to come," Stankovic said.
Carl and Luanna moved to Boulder City in 1990, where Luanna stayed active in the community. She opened and ran a crafts store for about 10 years.
She had long been interested in genealogy, and she got involved with the local chapter of the Daughters of the American Revolution.
"I don't think there was anybody that she didn't make feel special," said Debbie Carroll, the organization's current leader.
Mitchell was astonished last year when Gov. Brian Sandoval called her on the phone to thank her for her efforts with the DAR, Carroll said.
Stankovic, Mitchell's daughter, said her mother, despite being active in the community, was the kind of mom who was always there for her kids, no matter what.
She encouraged education for her daughters, at a time when that was not as popular as today.
To honor her, the family in 2009 created the Luanna Mitchell Constitution Scholarship, which recognizes Boulder City High School seniors' essays promoting an understanding of the United States Constitution.
Services for Mitchell are scheduled for 11 a.m. Aug. 23 at St. Christopher's Church in Boulder City.
Contact reporter Richard Lake at rlake@reviewjournal.com or 702-383-0307.