Galardi makes case for freedom
March 14, 2010 - 11:00 pm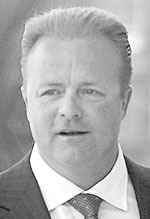 Fourteen months after his release from federal custody, former strip club mogul Michael Galardi has persuaded a San Diego judge to end his supervision.
Galardi, 48, appeared March 5 before U.S. District Judge Jeffery Miller and asked for early termination of his supervised release — the equivalent of parole — which was to end in January 2012.
"Galardi has paid his debt to society, paid by loss of liberty over a substantial period of time, and paid monetarily," his attorneys wrote in one court document. "He kept his promise by cooperating extensively — hundreds of hours — in two major criminal cases. He has satisfied the criteria for early termination of supervised release."
Instead, Miller sided with San Diego prosecutors who urged him to deny the motion but change the defendant's remaining term of supervised release to unsupervised.
"It's odd, because he's on unsupervised supervised release," Galardi lawyer Robert Rose said after the hearing.
Rose said the ruling means Galardi still is "subject to the jurisdiction of the court."
Galardi was released on Jan. 5, 2009, after spending 18 months in custody for bribing politicians in San Diego and Las Vegas.
"Following searches of his businesses in May 2003 — and before ever being charged — Galardi offered his cooperation to the FBI and to representatives of the Justice Department," defense lawyers wrote in support of the request for an early end to Galardi's supervision. "He admitted his guilt even before listening to tape recordings or reviewing physical evidence. He knew what he had done and said so."
The document described Galardi as a "pivotal witness" in two highly publicized trials that led to convictions of several former politicians.
"He listened to recordings. He read transcripts. He explained them," Galardi's lawyers wrote. "He supplied records, not seized, that became trial exhibits. He suggested people for agents to speak with who might have useful information. He tried to persuade reluctant witnesses — often dancers — to speak with the agents. Several did so, despite the obvious public embarrassment."
Three former Clark County commissioners were convicted at trial in 2006. A fourth accepted a plea bargain.
Galardi surrendered on July 6, 2007, to the federal prison camp in Littleton, Colo., after receiving a 30-month sentence. He transferred to a halfway house in San Diego a year later. According to the recent court document prepared by his lawyers, he was placed on home detention before advancing to supervised release in January 2009.
According to the document, Galardi is raising his two children, ages 12 and 10, as a single father in San Diego; their mother lives in Las Vegas. "He has worked at the same job since his release from custody," Galardi's lawyers wrote. "He has been out of the adult entertainment business everywhere since 2007."
Rose wouldn't say what type of work Galardi is doing.
According to the defense document, government agencies have closely supervised Galardi for the past 6½ years.
"There has never been an incident, large or small," his lawyers wrote.
According to the document, Galardi has paid fines totaling $30,000 in San Diego and $100,000 in Las Vegas, as well as $400,000 restitution in the Las Vegas case. In addition, Galardi followed a court order to forfeit about $3.9 million cash and all of his interest in his Las Vegas businesses.
"Galardi received stiff prison sentences for his crimes. He had no criminal history. He became a model prisoner," defense lawyers wrote. "His supervising probation officer has advised that he is in compliance with all terms and conditions. The period under which he has been closely monitored lasted years longer than it otherwise would have, owing to his decision to cooperate extensively with the Government in two lengthy, complicated and heavily-publicized trials."
Contact reporter Carri Geer Thevenot at cgeer@reviewjournal.com or 702-384-8710.