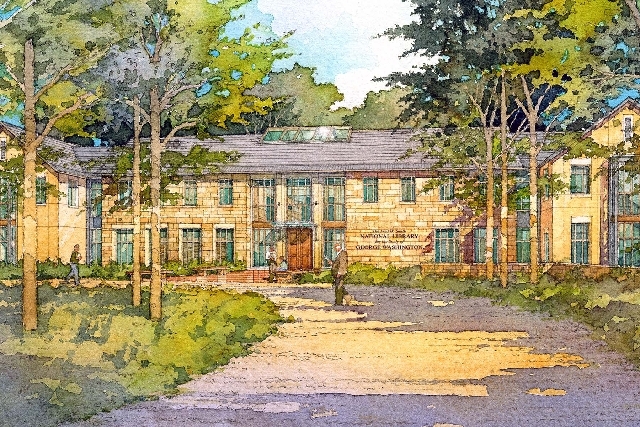 MOUNT VERNON, Va. — A 45,000-square-foot library that will safeguard books and manuscripts that originally lined George Washington's shelves more than two centuries ago is on schedule to open in September, caretakers of his estate said Thursday.
"This is the equivalent of a presidential library, and quite frankly no one deserves one more," said Ann Bookout, chairwoman of the Mount Vernon Ladies' Association.
At a news conference, leaders of the nation's oldest preservation society announced they have exceeded their fundraising goals and have closed a three-year capital campaign that raised more than $100 million for the library that is set on 15 acres just outside the main entrance of the Mount Vernon estate about 15 miles south of Washington, D.C.
Some 7,000 contributors have donated more than $106 million to help realize the dream that the nation's first president expressed in a 1797 letter to friend James McHenry.
"I have not houses to build, except one, which I must erect for the accommodation and security of my military, civil and private papers, which are voluminous and may be interesting," Washington wrote.
Curt Viebranz, the president of the Mount Vernon association, singled out the Las Vegas-based Donald W. Reynolds Foundation for its support — a $38 million gift that kicked off the drive in 2010. The Fred W. Smith National Library for the Study of George Washington is named after the chairman of the foundation.
In all, the Reynolds foundation has contributed $69 million to Mount Vernon for a variety of preservation projects.
The foundation was founded by Donald W. Reynolds, the former owner of the Las Vegas Review-Journal, the Nevada Appeal in Carson City and dozens of other daily and weekly publications around the country.
"We are grateful for all the patriots who have supported us," Viebranz said.
The association also unveiled its most recent acquisition for the library — eight volumes that were secured from Sotheby's New York in June at a cost of $1 million. The books include one written by satirist Jonathan Swift.
"We are trying to reassemble as many of his original books as possible," Viebranz said, referring to Washington.
The library will serve primarily as a center for scholarly study. As part of its grand opening on Sept. 27, a special exhibit has been planned to focus on what and how George Washington would have read in the 18th century.
"It helps transport us back into his world and how his readings affected his decisions," Mount Vernon curator Susan P. Schoelwer said.
More than 40 objects will be on display, including a copy of "A View of the Conduct of the Executive," written by James Monroe. The book essentially accuses Washington of making Monroe the "fall guy" for diplomatic failures between England and France, Schoelwer said.
Washington wrote copious notes in the book's margin countering the claims. Yet, Washington never offered any defense publicly for Monroe's criticism.
"He said not one word but obviously he had plenty of thoughts," Schoelwer said.
Contact Washington Bureau reporter Peter Urban at purban@stephensmedia.com or 202-783-1760.