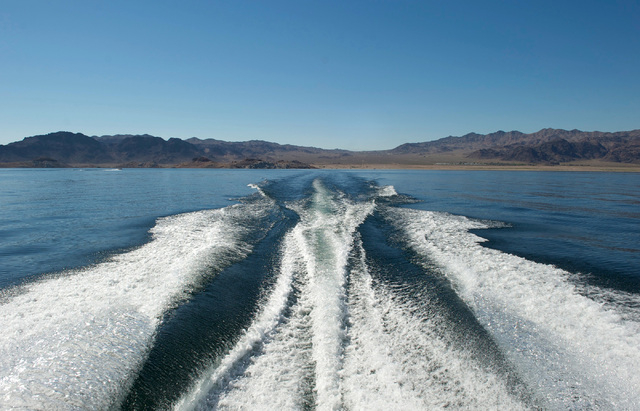 Lake Mead is touted often as the nation's largest man-made lake. You probably even have seen it described that way in this newspaper once or twice.
But the claim just doesn't hold water as it used to.
"We've apparently not been the nation's largest man-made lake for some time," said Christie Vanover, spokeswoman for Lake Mead National Recreation Area.
Actually, it depends how you look at it.
In terms of total capacity, Mead still ranks as the largest reservoir in the country. It's not even all that close, either. The second largest by capacity is Lake Powell, Mead's upstream neighbor on the Utah-Arizona border, and it's smaller by almost 2 million acre-feet.
Until some new dam is built and a lake is formed that can hold more than 26.1 million acre-feet of water, Mead will stay at the top of that particular heap.
But if you're talking about the lake itself — meaning the water that is actually there at this moment — poor Lake Mead isn't even in the top three.
That distinction belongs to a trio of lakes on the Missouri River, all of which now contain more water than the 12.5 million acre-feet in Mead.
Tops on the list is Lake Oahe on the border of North and South Dakota with 17.1 million acre-feet. Second is Lake Sakakawea in North Dakota with almost 16 million acre-feet, and third is Fort Peck Lake in Montana with about 11,000 acre-feet more water in it than Lake Mead.
So how much water are we really talking about here? Well, the 12.5 million acre-feet now in Lake Mead translates to 4 trillion gallons, which is roughly enough to satisfy the water demands of the present-day Las Vegas Valley for the next 40 years.
And that's the reservoir at 48 percent full.
Vanover said it's something that often gets lost in stories about the drought, much to the dismay of struggling marina operators. Even at record-low levels, Lake Mead is a long, long way from dry.
There's still 550 miles of shoreline surrounding almost 90,000 acres of open water out there in the desert east of Las Vegas.
"There's still plenty of opportunity for recreation," Vanover said. "We're not drying up. We're still a huge, huge lake."
But while boaters might not notice the difference, fact-checkers might, so here is the bottom line: As long as Lake Mead is less than half-full, claims about it being the biggest in the nation only will be half-true.
Contact reporter Henry Brean at hbrean@reviewjournal.com or 702-383-0350. Follow him on Twitter at @RefriedBrean.
THE LARGEST OF THE LARGE
Here's a list of the largest man-made lakes in the nation by acre-feet of water volume as of Feb. 21, according to federal records:
1. Lake Oahe, N.D. and S.D., 17.1 million volume, 23 million capacity
2. Lake Sakakawea, N.D., 16 million volume, 23.5 million capacity
3. Fort Peck Lake, Mont., 12.5 million volume, 19.1 million capacity
4. Lake Mead, Nev. and Ariz., 12.5 million volume, 26.1 million capacity
5. Lake Powell, Ariz. and Utah, 9.6 million volume, 24.3 million capacity
RELATED: California will tap its water bank, even as Mead shrinks