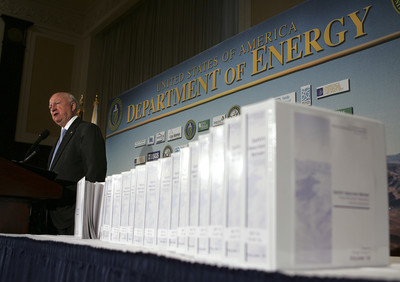 CARSON CITY — Gov. Jim Gibbons on Friday called for a meeting of Nevada's congressional delegation and state officials in the coming weeks to ensure coordination in the fight against the Yucca Mountain Project.
"Now that the Department of Energy has submitted its application for Yucca Mountain to the Nuclear Regulatory Commission, it's essential that we are all on the same page in fighting this project," Gibbons said.
"There are too many problems with this project to list, whether it's the potential for groundwater contamination, the fed's inability to safely transport high-level nuclear waste or the federal government's profound encroachment on states' rights," he said.
A preliminary list of state officials Gibbons wants to participate include Attorney General Catherine Cortez Masto, Agency for Nuclear Projects Executive Director Bob Loux and Public Safety Director Jerry Hafen, among others.
The DOE on Tuesday filed an application for construction authorization for the nuclear waste repository with the NRC. The site is about 100 miles northwest of Las Vegas.
Nevada, through the attorney general's office, has already filed a petition to reject the application, saying it is unauthorized and substantially incomplete.
In Washington, the idea of a Yucca Mountain summit was backed by several Nevada lawmakers but they said Gibbons had yet to detail what he had in mind. None committed to show up without more information.
Sen. Harry Reid, D-Nev., will decide on attending "once Gov. Gibbons contacts our office with details like what this event would actually be and when it would occur," spokesman Jon Summers said in an e-mail.
Reid "supports any substantive action that would help kill the dump," Summers said.
Rep. Jon Porter, R-Nev., believes it would be helpful "to bring key stakeholders to the table as Nevada enters into a new phase in this battle," aide Matt Leffingwell said.
"Bringing everyone together on such an important issue to Nevada is worthy and will show a continued front against a flawed project," Sen. John Ensign, R-Nev., said through his spokesman.
Rep. Shelley Berkley, D-Nev., was traveling and could not be reached for comment. Her office said Berkley "welcomes the governor's recognition that the Bush-McCain Yucca Mountain plan is a threat to Nevada families," referring to President Bush and Republican presidential candidate John McCain, who both support the project.
A spokesman for Rep. Dean Heller said he could not comment until more details become available.
Contact Capital Bureau reporter Sean Whaley at swhaley@reviewjournal.com or 775-687-3900. Stephens Washington Bureau Chief Steve Tetreault contributed to this report.