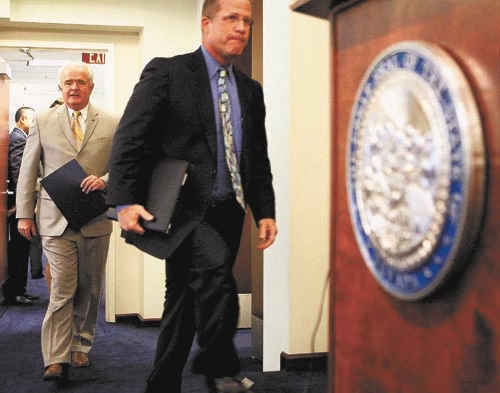 Gov. Jim Gibbons on Tuesday intensified his fight against new federal health care regulations by selecting outside counsel to represent Nevada in a lawsuit that seeks to block the law.
By executive order, the governor made Las Vegas lawyer Mark Hutchison "lead special counsel" on an all-volunteer legal team that would join attorneys from 14 other states who already have filed a lawsuit to block implementation of the Patient Protection and Affordable Care Act, signed into law last month by President Barack Obama.
"We have to do this. It is a must for the executive branch to undertake this litigation," Gibbons said in front of reporters gathered in a conference room at his downtown Las Vegas office.
The lawsuit in U.S. District Court in the Northern District of Florida alleges that the health care law violates the U.S. Constitution by mandating that citizens buy health insurance or pay fines to the Internal Revenue Service.
It's a hot political issue in Nevada, where Gibbons is facing long odds to be re-elected and where 54 percent of voters want to fight the health care law, according to the latest Rasmussen Reports survey.
But Gibbons, a Republican, faces a potential challenge to his authority to proceed with the lawsuit from Attorney General Catherine Cortez Masto, a Democrat, who argues the litigation is unnecessary, likely futile and beyond the power of the governor to pursue.
In a statement less than three hours after Gibbons' announcement, Masto said: "My office is now in the regrettable position of having to consider the necessary legal options to take in response to the Governor's most recent action.
"The Governor does not have the power to suspend the laws of our state by issuing an executive order," Masto wrote. "The law is very clear that the Attorney General is the legal advisor on all state matters arising in the Executive Branch of the State. The responsibility to commence litigation on behalf of our state is not the Governor's to exercise unilaterally, and it makes no difference whether the legal representation is free or not."
Masto would not elaborate on how she might block Gibbons. But former Sen. Richard Bryan, D-Nev., who also served as governor and attorney general, said attorneys defending the law in federal court could argue that without Masto on board, Nevada doesn't have standing to join the lawsuit.
"I would presume he (Gibbons) would have to petition to intervene in an existing case," Bryan said. "The court could reject the petition on its own for lack of standing, or she (Masto) could object."
Gibbons' choice to lead the state's legal team is the senior member of the Las Vegas law firm Hutchison & Steffen. The firm specializes in business and commercial litigation, tort law, medical malpractice, employment law, and trust and probate work.
Hutchison spent six years on the Nevada Ethics Commission and has argued in federal courts in Nevada, California, Arizona and Wyoming. Hutchison, a Republican, also ran for the Clark County school board in 1996, losing to Lois Tarkanian.
In taking the case, Hutchison said he is committing to a major effort without pay that could last many months. He said his 35-lawyer firm is up to the task.
"It will take hundreds of hours, it won't take dozens," Hutchison said. "We've committed to the governor that we will support this effort and do it without charge. We have the resources to do it."
Hutchison said he read in the newspaper that Gibbons was considering finding outside counsel who would work for free if Masto declined to take the case. He contacted the governor's office and was called in for an interview Thursday. Hutchison said that at the end of the interview, Gibbons offered the job, and he took it.
"As a lawyer, I love being involved in the big issues of the day. It is one of the reasons you go to law school," he said.
Some view Gibbons' fight against the bill as a move to help his flagging re-election bid.
"He has no money for a campaign," said Fred Lokken, a professor of political science at Truckee Meadows Community college in Reno. "This is how he is conducting a campaign. People need to understand the political motivation of what the governor is doing."
A spokesman for U.S. Sen. Harry Reid, D-Nev., who led the effort to get the health care legislation to Obama's desk, said Gibbons' fight is coming at the expense of Nevadans who would benefit from the new law.
Spokesman Jon Summers said the law will provide access to quality affordable health care for 600,000 state residents, create tax credits for 24,000 Nevada small businesses and make prescription drugs more affordable for senior citizens.
But Gibbons and his supporters contend the law contains an unconstitutional mandate to buy insurance or face a fine and would foist another $600 million in Medicaid and other costs onto the backs of the state's taxpayers.
"It requires for the first time in American history for citizens of the United States to purchase a product or to purchase a service in order to maintain good standing as a citizen of the United States," Hutchison said. "It has never happened before. It shouldn't happen."
He said the first legal filing for Nevada could come next week in the form of an amended complaint. The only cost to the state identified was described as a filing fee of less than $5,000.
Lynn Hettrick, Gibbons' deputy chief of staff, defended the governor's actions against charges of election-year grandstanding during an appearance Tuesday on "Nevada Newsmakers," a Northern Nevada political talk show.
"If it is impractical and politically motivated to defend the Constitution when you have sworn an oath to do so, then I guess you can call it whatever you want," Hettrick said.
Former University of Nevada law professor Carl Tobias, now at the University of Richmond, said Gibbons has raised interesting constitutional questions but added it is uncertain whether Nevada and other states could derail the new health care law.
"I think it is a relatively close question," said Tobias while discussing the health insurance mandate. "There may be five votes on the Supreme Court if the Supreme Court wants to entertain it. We won't know for a while."