Girl injured in Halloween hit and run released from UMC
December 26, 2013 - 8:29 pm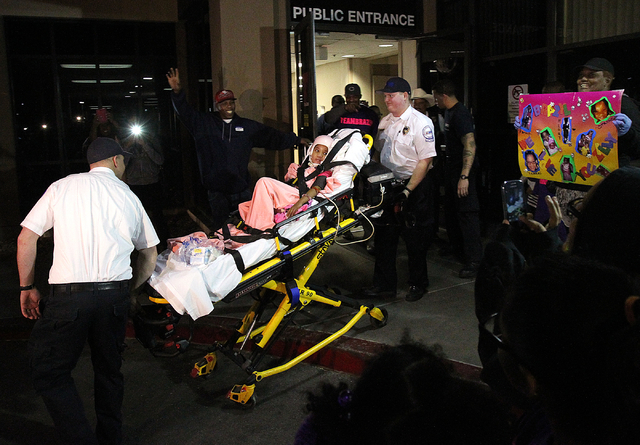 Two months after she was hit by a speeding car on Halloween night, Brazyl Ward was released from University Medical Center.
"This is the greatest Christmas gift ever," Brazyl's father Brandon Ward said Thursday night. Brazyl will continue her recovery at a local rehabilitation facility, Ward said.
The driver of the suspected vehicle has not yet been found, according to Las Vegas police. Brazyl was struck by a car, described as a silver Volkswagen Jetta, after a trick-or-treating event at a neighborhood church near Kim Elementary School, near Tenaya and Peace ways.
On Thursday, the smiling Brazyl was wheeled out of UMC on a gurney to chants of "Team Brazyl" from dozens of friends and family.
"This just happened so fast. She had so many good days back to back. And for us to be here. I never thought we would be out this close to Christmas," Ward said. "I'm so happy … my face is hurting"
Brazyl needed emergency brain surgery, suffered a broken femur, and was put into a medically induced coma for weeks before she opened her eyes last month.
"You start having doubts, realistically," Ward said of his roller coaster of emotions since the crash. "But then you remember your faith."
Although Brazyl is out of the hospital, her father knows that her recovery is far from over as she heads to the rehabilitation facility, which he said will provide physical, speech, and occupational therapy.
"The worst is behind us," Ward said. "Now it's her battle."
Brazyl, who still has very limited movement in the right side of her face, will have to relearn much of the every day routines, like how to chew, eat, and even walk, her father said. But he knows his daughter is ready for the fight.
"Her mind is ready. Her body just needs to catch up. She really has to put the work in. She really has to fight. Some things are going to be painful. She's gonna be tired," Ward said. "I'm going to be there every step of the way to motivate her."
But no matter what his daughter and the rest of his family endures over the coming months, Ward will be positive. "I've said it many a times. This is going to have a happy ending. She's gonna make it."
Contact reporter Colton Lochhead at clochhead@reviewjournal.com or 702-383-4638. Follow @ColtonLochhead on Twitter.