Girls on the Run combat bullying by building self-confidence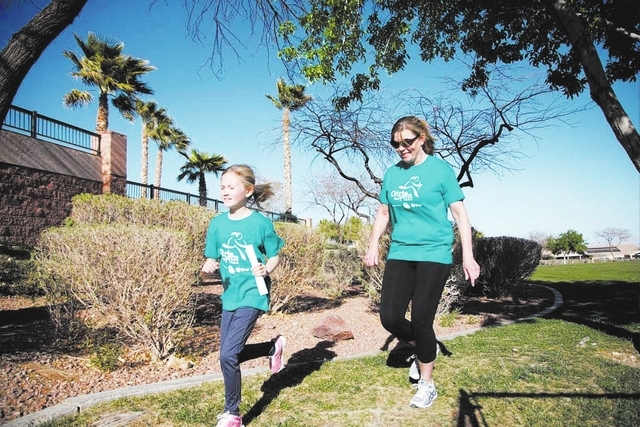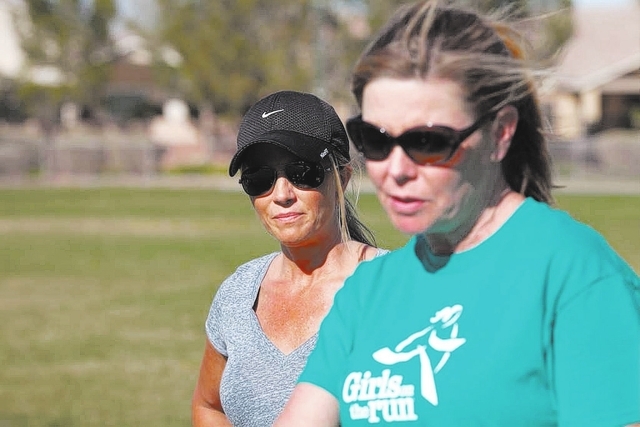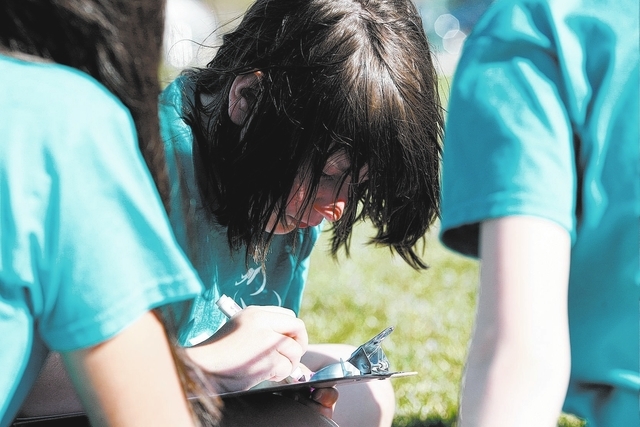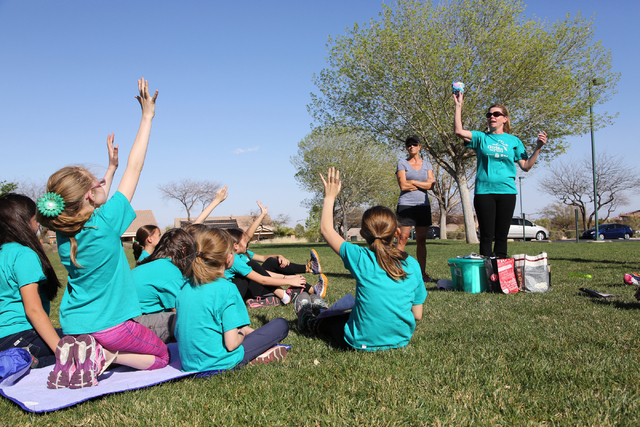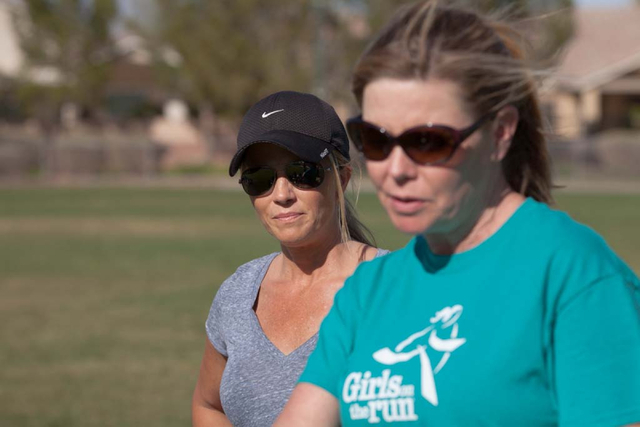 Bullying in schools has been in the news lately after Hailee Joy Lamberth, a student at White Middle School in Henderson, committed suicide around Christmastime.
Girls On the Run, a program that mixes self-confidence boosters with physical exercise, is helping to fight back. The program began at Tree Top Park, 600 Sageberry Drive, next to Staton Elementary School.
"We're trying to promote self-awareness and confidence and help them in everyday life, whether bullies or how to handle uncomfortable situations," said Katie Masken, who, with Teri Heinz, is a volunteer facilitator. "And we incorporate exercise. They're both important."
Brigette Kirvin had a hand in bringing the program to the valley. She had started a running group at her children's school, Staton Elementary. Later, thumbing through a magazine, she read about Girls on the Run and sent away for information.
"It's been around for like 20 years," Kirvin said. "This gets them ready for a 5K but also helps them develop socially, emotionally and physically."
It would be a couple more years before Stephanie Lasure stepped in to set up the first group in Las Vegas in fall 2011 at the Boys & Girls Clubs. Now, the program is at 10 locations. Staton Elementary is the first Summerlin site.
Rachel Holstein's daughter Sara, 10, was in the group.
"I really wanted her to be in it because she'd been experiencing some teasing at school, some bullying," Holstein said. "I just felt this would be a really empowering thing for her, and she didn't want to do it at first, but then she found out Mrs. Heinz was one of the coaches, then she'd do it. (Heinz is) a substitute teacher, always around the school, and she's a very positive influence."
The program ends with a Girls on the Run 5K run set for 9 a.m. April 27 at the Kellogg-Zaher Sports Complex, 7901 W. Washington Ave. Anyone can participate.
Registration is $30 for those 18 or older and $15 for participants 17 or younger.
All registered runners are set to receive a T-shirt and a goodie bag. Residents can register at girlsontherunlv.org.
A visit to a session March 17 showed how the program works. Each week, a different topic is presented. Topics include dealing with gossip, peer pressure, the importance of values, cooperation and standing up for yourself appropriately.
At the March 17 event, the topic was bullying. The girls were asked to list the types of bullying (verbal, physical and cyber) and draw pictures giving examples. To ensure that no one talked over someone else, a stuffed fish was tossed. Whoever had the fish got to speak.
The group went over the SBLR method of facing a bully: stop, breathe, listen to your inner voice and respond. Sometimes, the response was to symbolically remove it. All the girls demonstrated how they dealt with an unkind comment or put-down by slapping their palms together, stomping a foot and sending the put-down far away by waving it off.
The next part of the session had the girls stretching, which was followed by a game. As Masken read off a situation, the girls got to run toward her or take two steps back.
"When somebody smiles at you," Masken called out.
The girls ran until a "stop" was called out.
"Somebody hides your things," Masken shouted.
The girls took two steps back.
"Someone compliments you," Masken yelled.
The girls ran forward again. The game continued until they reached her side.
Running is a major part of the confidence-building program. The girls ran a lap around the park then paused to fill out the answer to a question. One question was, have you ever been bullied, and how did you respond? Another question was, what did you learn today about bullying? Another asked them to name two grown-ups they would approach if they were the victim of a bully.
Kate Carvalho, 10, said she had been the victim of bullying when others tried to get her to gossip. But Girls on the Run helped her address that.
"I learned that you have to stay strong, how to handle myself," she said.
The cost for the program is $150 per child. Water, snacks, a T-shirt, a goodie bag and a race medal are included. Scholarships are available as more sponsors are found.
"We are in the rapid growth mode and trying to get more schools interested," Kirvin said. "I would love for it to be in all elementary schools. Every girl can benefit from this. There is life messaging delivered through the program. … Everyone had identity issues."
Contact Summerlin Area View reporter Jan Hogan at jhogan@viewnews.com or 702-387-2949.