January 9, 2008 - 10:00 pm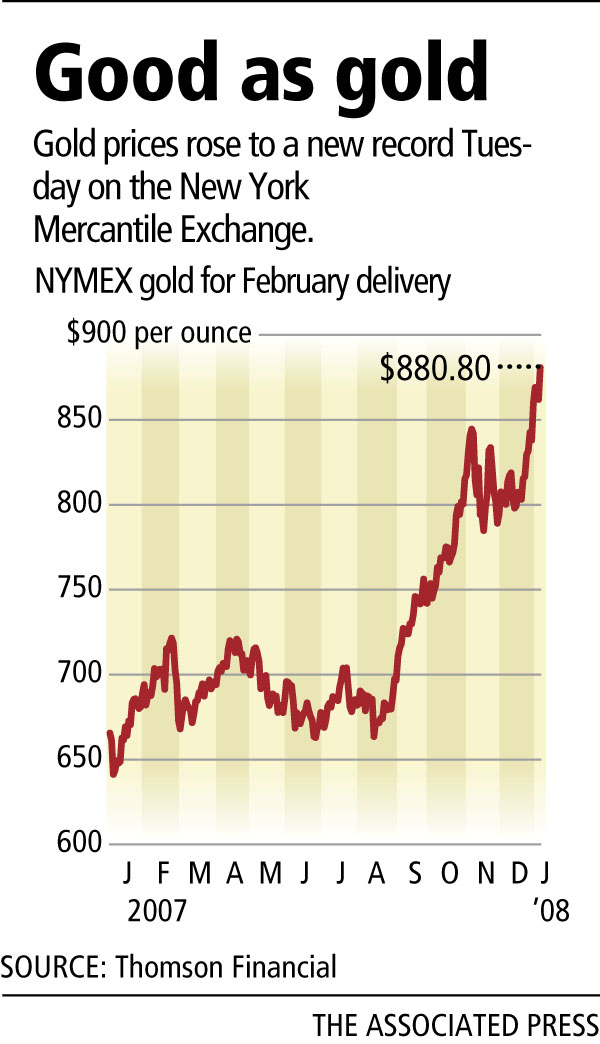 NEW YORK — It's the stuff of western dramas where rugged men went looking for it in the mountains. It's the glittering metal used in fancy jewelry, the highest honors for sports and the bars tucked away in heavily secured safes. And these days, gold's appeal as a safe-haven investment has carried it to record prices.
Gold futures surged above $880 Tuesday to their highest level ever, not accounting for inflation, propelled higher by rising oil prices and a weak U.S. dollar. An ounce of gold for February delivery climbed as high as $884 on the New York Mercantile Exchange, topping by almost $10 its previous record of $875 set in 1980, and later settled at $880.30, up $18.30.
The run-up in prices is boosting mining in Nevada.
The industry is a key sector of the Silver State's economy, particularly in the north. Nevada is the third-largest gold producer in the world, after South Africa and Australia; the state yielded 6.9 percent of the world's supply in 2005, while the rest of the United States contributed 1.2 percent of global gold stores, according to a report from the Nevada Mining Association.
Though mining employs just 1 percent of Nevada's labor force, the sector has posted significant job gains in the past two years.
Mining operators expanded their statewide work force from 11,407 employees to 13,301 employees between 2006 and 2008 — an 8.3 percent jump, according to research from the Nevada Department of Employment, Training & Rehabilitation.
The jobs pay well, too: Figures from the federal Bureau of Labor Statistics show that mining and geologic engineers in Nevada earned a median salary of $72,323 in 2007, while mining-machine operators took home a median of $49,920. Geological technicians in the state made a median of $47,370, and extraction workers earned $46,232 a year.
Market analysts who have watched gold's ascent weren't surprised that gold had reached a new high.
"I'm telling my friends," said Ashraf Laidi, an analyst at CMC Markets. "I've told them for the past three years to invest in gold."
Still, when adjusted for inflation, gold remains far short of the jaw-dropping levels of 28 years ago. An ounce of gold at $875 in 1980 would be worth $2,115 to $2,200 today.
Gold that cost $650 an ounce in January 2007 has soared during the past year on rising prices for oil and other commodities and also by the falling U.S. dollar. Those trends have increased the metal's appeal as a hedge against inflation; gold is also seen as a safe investment in times of political and economic uncertainty.
Hedge and pension funds, along with other long-term investors, also flocked to gold as the mortgage and credit crisis in the U.S. intensified.
As Valentine's Day approaches, shoppers might not be so sweet on rising price tags, and choose to settle for a smaller or lighter pair of gold earrings.
Dealers in Manhattan's midtown Diamond District, however, said they've seen worse.
Michael Pacicco runs his family-founded Pacicco & Pacicco Inc. from a windowless, second-floor shop on West 47th Street, its display cases filled with gold pieces.
A few hours after gold topped at $879.40 an ounce, he said a rush to sell gold jewelry in the Diamond District was "nonexistent" — compared to the long lines of people winding around the block to Fifth Avenue hawking their jewels in 1980, when gold hit $875 an ounce.
Review-Journal business writer Jennifer Robison contributed to this report.