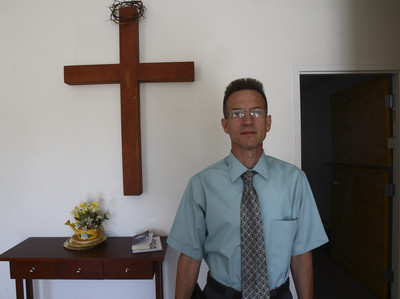 When Las Vegas Mayor Oscar Goodman last week ordered two men to be brought before the City Council to testify in a wedding chapel dispute, he advised them of their rights.
Which is what police usually do after arresting suspects.
Goodman's not a cop, but he is an attorney and he defended his decision to send law enforcement into the community to haul people before City Hall.
"Can I do it? I'm the mayor. I did it," Goodman said when asked if the action was within the scope of his duties. "So I guess I can do it.
"I don't think everybody should lose sleep over it."
"It" was a strange twist in the case of the Las Vegas Garden of Love wedding chapel, which is appealing the non- renewal of its business licenses to the council.
On Wednesday, chapel owner Cheryl Luell was grilled about 17 marriage licenses dated April 7 that list her as the only witness. She told police, who were investigating a fight on that day involving one of her employees, that she was out of town and blamed the ministers performing the services for improperly using her name.
The dilemma is that she either lied to police and the City Council about being out of town, or her chapel was party to the filing of false public documents.
Goodman asked city marshals and Las Vegas police to find the ministers, Phillip Williams and Jesus Diaz, and bring them in, using words like "arrest" and "take him into custody."
He also said the men should be subpoenaed if necessary. The City Council can issue subpoenas for people and documents "for any business" before the council, according to city code.
Although that's true, there's a right way and a wrong way to go about it, and this was the wrong way, said Allen Lichtenstein, general counsel for the American Civil Liberties Union of Nevada.
"He has no authority to order the arrest of anybody," Lichtenstein said.
Nor could a mayor simply decree that someone be brought before him: "That is a power that is reserved to kings, not to anybody in our system."
When people get subpoenas, they usually are given more time to weigh their options.
"The person, obviously, has to be given time to respond. It's not, 'I want this person here right now,'" Lichtenstein said. "That's not proper.
"It would've made much more sense to set a hearing down the road."
That's what ended up happening. Diaz and Williams appeared before the council. They were informed that their testimony could get them into trouble and that they had the right to seek an attorney's advice before testifying.
The Garden of Love hearing will reconvene at 1 p.m. Monday.
Diaz could not be reached for comment.
Williams, who is the pastor of Orchard Community Church, said he'd just arrived home from getting his hair cut Wednesday when uniformed officers showed up at his door.
The officers said they had a subpoena and that he was needed at the council meeting.
"They said, 'Right now,'" Williams recounted. "I said, 'Do I have a choice?' They said, 'No, you don't have a choice.' I had no opportunity to speak to an attorney."
Williams said he drove himself to City Hall with the officers following him.
"I was under the assumption that I would be a witness to something," he said. "When I walked in, the next thing I know I'm having my rights read to me."
The complaints against the Garden of Love focus on reports of harassment, intimidation and violence by chapel employees against their competitors.
Luell has maintained there's a conspiracy among other chapels to drive her out of her successful business, even if it takes trumped-up charges to do it.
That's why it was important to get the ministers in the room as soon as possible, Goodman said. It's a he-said, she-said kind of hearing, and in large part the council's decision will hinge on who's more believable.
"I wanted to make sure that I was able to get the issue resolved as to whether or not [Luell] was telling us the truth," Goodman said. "Somebody was doing something terribly wrong there, as far as I'm concerned."
Fair enough, said Lichtenstein, but procedure and due process matter.
"It's not unreasonable to say, 'We need this information,'" he said. "It's unreasonable the way they did it.
"Hopefully everyone can learn from this situation, and if it should arise in the future it can be done differently."
Contact reporter Alan Choate at achoate@reviewjournal.com or (702) 229-6435.
I DO'S UNDONE?
There's a potentially far-reaching question that's part of the case against the Las Vegas Garden of Love wedding chapel, which is trying to retain its business license: If there's something wrong with a marriage certificate, is the marriage still valid?
The question came up because chapel owner Cheryl Luell is listed as a witness to 17 marriages performed on April 7, when both her testimony and travel information she submitted reveal that she was in Houston.
To what extent her chapel shares responsibility for filing inaccurate public documents will be part of the hearing that resumes Monday before the Las Vegas City Council.
But those 17 couples can rest easy, said local attorney Marshal Willicks, who specializes in family law.
He litigated a case a couple of years ago in which a man tried, unsuccessfully, to use a lack of witnesses to annul his marriage.
The couple got married at the Bellagio, and the husband arranged to have his wife's witnesses out of the room at the time of the ceremony, "apparently," Willicks said, "as part of a plan to later claim that he had never really married her and she had no claim to his property in Hong Kong."
The couple had, however, taken all the steps that a marrying couple would take and indicated a desire to be married, and chapel employees saw the ceremony take place.
But there also was a finding that the witness requirement is a "directory formality."
"Any failure to comply would not invalidate the couple's marriage," he said. "No witnesses are necessary to declare this marriage valid."
The man lost his bid for an annulment.
As long as the 17 couples met all the other requirements and were eligible to get married, the fact that the witness requirement wasn't met shouldn't endanger their unions, Willicks said.
ALAN CHOATE/REVIEW-JOURNAL