GOP candidates for lieutenant governor contend for support in Elko
February 8, 2014 - 12:14 am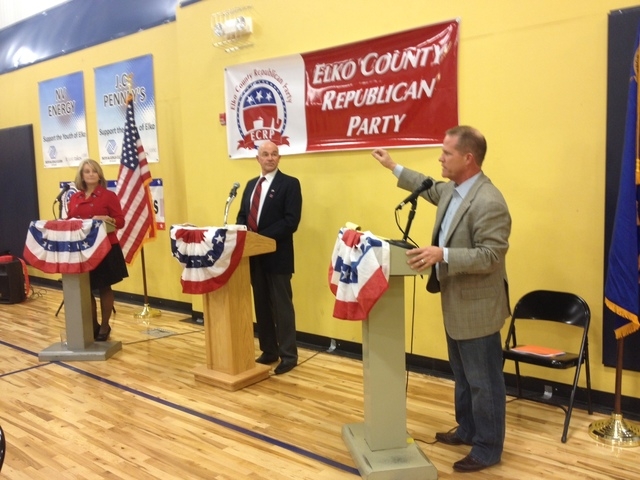 ELKO — The two Republican candidates for lieutenant governor took their primary battle to rural Nevada on Friday in a contest that could have far-reaching consequences for the state's political future.
State Sen. Mark Hutchison and former state Sen. Sue Lowden, both from Las Vegas, told Elko County Republicans why they are better qualified to represent the Republican Party in the race, which has yet to draw a confirmed Democratic candidate.
Both candidates are running to serve under Gov. Brian Sandoval, who is seeking a second term. Sandoval has endorsed Hutchison in the contest.
The candidates were asked to talk about their positions and qualifications and refrain from criticizing each other during the debate, hosted by the Elko County Republican Party. There were no fireworks but the event was important for both candidates seeking votes in a June 10 GOP primary that may not see a lot of turnout.
Hutchison, an attorney in the middle of his first term in the Senate, said he would work to restrain the federal government and win state control of the public lands in Nevada when asked what he knew about Elko County. He said the federal government is "absolutely out of control."
"Why is it that east of the Rocky Mountains, the federal government owns, on average, 3 percent to 5 percent of the land, and west of the Rocky Mountains, they own 50 to 60 to 70 to 85 percent," Hutchison asked.
The control issue has implications ranging from protecting the sage grouse to obtaining land for mining expansion, he said.
Lowden, who served in the state Senate for one term from 1993 to 1996 before being defeated for a second term, said Nevada's recent selection as a state for drone testing should be a big economic boon to rural areas of Nevada like Elko. While not part of the effort to secure the designation from the Federal Aviation Administration, Lowden said she would work as lieutenant governor to help generate opportunities in the new industry throughout the state.
Any community with an air strip could potentially take advantage of the drone testing opportunities, she said.
The lieutenant governor serves in both tourism and economic development capacities.
Both candidates were asked about issues that have negatively affected their campaigns with at least some Elko Republican voters.
For Lowden, it was her decision as the state GOP chairwoman in 2008 to end the state convention in the midst of an effort by conservative Republicans to take over the process on behalf of U.S. presidential candidate Ron Paul.
Lowden said she made the decision to stop the convention due to time constraints but tried repeatedly to reconvene the event without success.
Hutchison was asked why he voted to support a ballot measure to remove the net proceeds of minerals tax from the state constitution. The measure, Senate Joint Resolution 15, will be on the November ballot.
Hutchison said it would be a mistake to harm Nevada's mining industry but that the Legislature decided to let voters determine whether to leave the provision in the state constitution.
Both candidates said they oppose efforts to take water from rural Nevada to satisfy Southern Nevada's water needs.
The lieutenant governor's race would not normally generate much interest by party officials or political observers. But this year it is different because of speculation that Sandoval could run for the U.S. Senate in 2016 against Sen. Harry Reid. Sandoval would be in the middle of his second term as governor.
If Sandoval was elected to the U.S. Senate, the lieutenant governor will become acting governor. Nevada Republicans want to make sure the governor's job remains in GOP control should this 2016 scenario play out.
In a thinly veiled reference to this possibility, the candidates were asked if they are prepared to serve as governor in 2016.
Lowden said her experiences as a legislator and successful businesswoman make her qualified to serve.
"You will have a conservative person who will be leading the charge in Carson City should that happen and I will be very comfortable doing that," she said.
Hutchison said that in all his discussions with Sandoval, the sole focus has been the 2014 campaign. But Hutchison said as governor he would continue to protect Nevada's constitutional rights as he did as the attorney selected by former Gov. Jim Gibbons and then Sandoval to lead the state's challenge the constitutionality of Obamacare.
Contact Capital Bureau reporter Sean Whaley at swhaley@reviewjournal.com or 775-687-3900. Follow him on Twitter @seanw801.