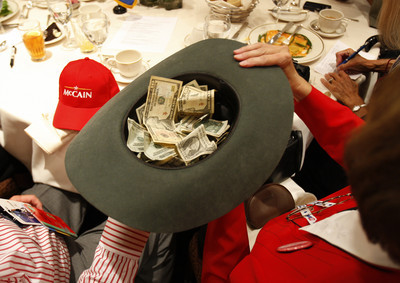 ST. PAUL, MINN. — It was Howard Hirsch's gray felt cowboy hat that the Nevada Republicans passed around Monday, collecting donations for disaster relief.
Hirsch, 57, never would have said so, but he could have used a passing of the hat himself.
The chairman of the Lyon County Republican Party and an alternate delegate to the national convention that began Monday, Hirsch could barely afford to come. But when he heard Friday afternoon that there was room for him in the delegation, he was determined.
It would have cost nearly $2,000 for him, his wife, Kathy, and their 10-year-old autistic son, William, to fly here. They couldn't spare that kind of money.
So they booked tickets on Southwest, $139 each way, to Omaha, Neb., where they rented a car and drove for seven hours.
They're staying with old friends in Minneapolis, where Hirsch, an economist with Nevada's Public Utilities Commission, went to graduate school and lived for several years before moving to Nevada.
"We couldn't afford to stay here and pay $240 a night," he said, glancing around at the posh St. Paul Hotel where the delegation is being housed.
A native New Yorker, Hirsch appreciates the welcoming spirit of the Republican Party in Nevada.
"The Republican Party here is just wide open if you're willing to work and rise within the party ranks," he said.
Like most, Hirsch was disappointed that the convention's opening day was radically truncated. All the political speeches were canceled and the state delegations were instructed to channel their energies toward charitable efforts.
The passing of the hat at the Nevada delegation's Monday luncheon netted $1,001, which party Chairwoman Sue Lowden said would be donated to Gulf Coast relief funds.
"I think it shows that Republicans are sensitive to these things," Hirsch said. "People get the wrong impression about the Republican Party, that we're all plutocrats. But plenty of people have made major financial sacrifices to be here. We can empathize with people in New Orleans."
The delegates' task Monday was to somehow go through the motions of a convention without being political. It was on the orders of their nominee, John McCain, who wanted to send a message of unity under the flag at a time of national crisis, as Hurricane Gustav battered the Gulf Coast.
McCain senior adviser Charlie Black spoke to the Nevada luncheon to deliver the message.
"John McCain's been a personal friend of mine for over 30 years," he said. "I don't think I've ever, in thousands of conversations, I don't think I've ever had a conversation with him where we didn't talk about politics one way or another — until today."
Black said he spoke to McCain, who was in Ohio visiting a nonprofit group that's working on disaster relief, Monday morning. They talked about the storm and "he repeated his desire that he wants people at this convention to take your minds off politics today, as long as it takes, and to think about, figure out what you can do to assist the victims of this tragedy," Black said.
Black said he asked McCain what message he should bring to the convention-goers. "He said, very simply, 'Tell them to pray for the people of Louisiana and the other Gulf states that might be affected,'" Black recounted. "'Tell them to pray for their maximum safety and health, pray for the emergency responders, federal, state and local, that are already in danger and prepared to sacrifice themselves. And tell them to contribute.'"
The party might be missing out on a day of partisan rhetoric, rah-rahs from the base and attacks on the other side. But the campaign adviser said the altered convention was nonetheless sending America a message about John McCain.
"It truly does demonstrate that this man is about country first, not just in a political setting or a setting related to public office," Black said. "When any American is in danger or threat, he thinks that all Americans should pitch in and sacrifice to help."
The luncheon also got a visit from McCain's mother, 96-year-old Roberta McCain.
"I can't express the gratitude that I think every one of us really share that we have the privilege in our free country to just do what we're doing," she said. "I just hope — I'm sure the right thing is going to come out of this outcome. I know it. As my grandmother used to say, I feel it in my bones."
Not everyone could bear to totally leave politics at the door. Hawaii Gov. Linda Lingle couldn't resist the opportunity to take a few digs at the Democrats on behalf of McCain's running mate, Alaska Gov. Sarah Palin.
Like Palin, Lingle is her noncontiguous state's first woman governor. Like Palin, Lingle previously was a mayor, in her case of Maui.
"They keep raising this issue, 'Wasn't she just the mayor of a very small town? Wasn't she just governor for a couple of years?' " Lingle said of Palin, who was mayor of Wasilla, Alaska. "I find that so amusing because neither Obama or Biden has been the CEO of anything at any time."
Also not taking the day off politics were thousands of protesters. Some were content to mill in the street waving signs and chanting slogans, while others slashed police car tires and smashed windows in downtown St. Paul. Rows of black-clad riot police looked on, clutching wooden sticks and plastic handcuffs.
On the floor of the short convention session, delegates heard appeals from first lady Laura Bush and her would-be successor Cindy McCain, urging them to contribute to Gulf causes.
Lowden, the Nevada chairwoman, said she was disappointed Nevada Republican Sen. John Ensign's planned speech got bumped by the changes in the convention program.
"But clearly, it was appropriate under the circumstances," she said. "This is not a day to celebrate. It's a day to reflect on what's going on in other parts of the country."
Nevada delegate Andy Abboud has been to every Republican convention since 1984, when he was a freshman at the University of Nebraska. He said the changes to the convention wouldn't affect the party's prospects.
"This will make for a very intense last two days of the convention," he said. "It kind of teases the appetite a little bit."
Contact reporter Molly Ball at mball@reviewjournal.com.