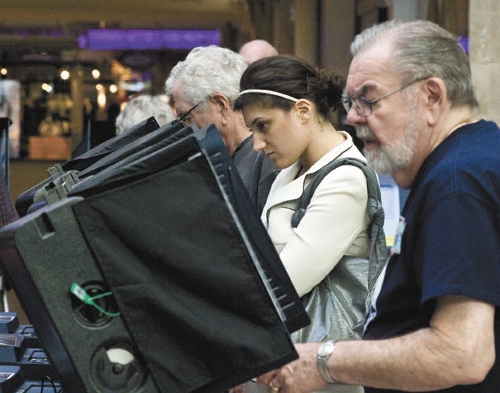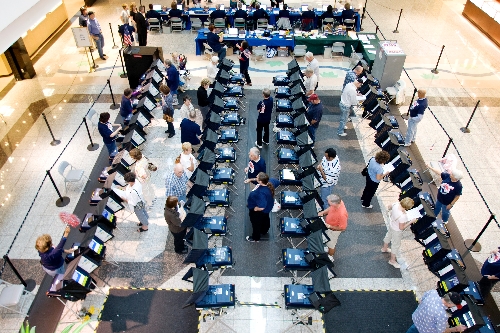 WASHINGTON — Republicans fired warning shots Tuesday in a brewing battle of the campaign lawyers, part of the high-stakes election war between Democratic U.S. Sen. Harry Reid and Republican challenger Sharron Angle.
An attorney for the state Republican Party notified Secretary of State Ross Miller of a handful of "discrepancies" in early voting, and that Republican poll watchers in several counties were having difficulty examining voting records they believe should be made available to them.
State and county voting officials said there was no evidence of anything devious afoot, but Miller said he is investigating the allegations.
Holly Jacobson, executive director of Voter Action, an election watch group, said the discrepancies could be explained as human error or glitches in electronic balloting, as opposed to vote-stealing.
But beyond the specifics raised by the Republicans, strategists and analysts said the GOP lawyers were serving notice that they will be vigilant in the contest that is expected ultimately to be decided by a small number of votes, or maybe through legal means.
Democrats as well are poised with their lawyers, some of whom worked the 2008 election recount in Minnesota for the ultimate winner, Sen. Al Franken, according to Jay Weiner, a Minnesota writer who wrote a book on that race and is watching the Nevada contest.
"Clearly the Reid-Angle Senate race is going to be a battle to the finish, and the Nevada Republican Party is smartly raising the issues now," said Ford O'Connell, a Republican strategist who worked in Nevada during the 2008 presidential campaign.
Mark Peplowski, a political science professor at the College of Southern Nevada, said Republicans "are setting the game strategy for election night. They are sending signals to the secretary of state and the registrars of voters in the 17 counties that this is going to be counted down to the last chad on the last ballot, not that we have chads, mind you."
A spokesman for Reid said the GOP letter to Miller, as well as other allegations circulated Tuesday by Angle surrogates, were part of "a despicable voter suppression and intimidation campaign, taken straight from the classic Republican playbook of cycles past."
At the same time, according to a statement from Reid aide Kelly Steele, "Angle's goons are also breaking laws with their intimidation tactics at the polling places, handing out literature to potential voters that discourages them from participating and taking pictures of voters as they enter polling places — all in violation of laws that prevent electioneering within 100 feet of the polls."
Reid campaign officials did not provide evidence of such tactics, despite requests from the Review-Journal to do so.
Jarrod Agen, communications director for the Angle campaign, had this to say: "It's more believable that the Easter bunny and the tooth fairy showed up to vote today than Reid's claim that 'Angle goons' are intimidating anyone."
On Monday, a few voters complained that their ballots had been pre-marked for Reid. Clark County Registrar of Voters Larry Lomax said there was no fraud, rather the highly sensitive touch screens could have been jarred. He also pointed out how a vote could inadvertently be cast for Angle if a voter's finger lingered on the screen.
Miller has scheduled press conferences in Reno and in Las Vegas today to address what he called "rumored allegations" of election law violations and to advise the public how to report suspicious activity.
On Tuesday, he said complaints can be submitted on his website, www.nvsos.gov, and they will be examined by an "election integrity task force," a partnership between U.S. Attorney Dan Bogden, the FBI and state Attorney General Catherine Cortez Masto.
On the campaign, however, the noises emanating from the lawyers — all Republican so far — have begun competing with the messages the candidates are trying to deliver in the closing days of the nationally significant race pitting the Senate majority leader and the Tea Party-favored challenger.
Cleta Mitchell, a Washington-based lawyer for Angle's campaign, signed a fundraising letter that was sent out Tuesday charging Reid "intends to steal this election."
"We received reports that some teachers' union representatives were offering Starbucks cards to people to get them to vote for Harry Reid," Mitchell said in the letter.
Agen offered no proof of the allegation, saying, "We got calls about it through our election fraud hot line."
Miller said Tuesday the Angle campaign has failed to provide any evidence of vote-buying, and that a fundraising letter that circulates allegations doesn't qualify as a valid complaint.
"The statutes involved in this matter carry criminal penalties, and complaints should contain specific information, not conjecture and rumor used in support of a plea for financial contributions, as the foundation of the violation," Miller said. "To date, no such complaint has been submitted to this office."
Reid's campaign said it was appalled at the allegation. "Angle's operatives are … pre-emptively issuing wild and truly unbelievable claims of voter fraud and literally fabricating 'incidents' they allege constitute irregularities — aided by their allies in the right-wing media — without any evidence to substantiate their claims whatsoever," it said. Ruben Murillo, president of the Clark County Education Association, which represents public school teachers, said his union was not engaging in any such tactic. The Nevada State Education Association, the umbrella organization for state teachers' union, could not be reached for comment late Tuesday.
Review-Journal reporters Laura Myers and James Haug contributed to this report. Contact Stephens Washington Bureau Chief Steve Tetreault at stetreault@stephensmedia.com or 202-783-1760.
RELATED STORY
Probe launched into allegations of early voting irregularities
Letter from Nevada Republican Party
Nevada secretary of state's response