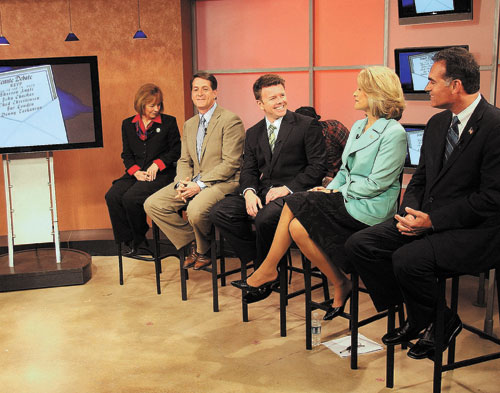 In their final debate before the June 8 primary, Republican Senate candidates made their best cases Tuesday for why they — and not their opponents — would be the toughest challenger to take on Democratic leader Harry Reid come November.
GOP front-runner Sue Lowden argued she had created jobs and made payroll as a casino executive, while one of her closest rivals, Danny Tarkanian, lost two elections and never held office.
"I'm not someone you've seen over and over again," Lowden said, referring to Tarkanian's failed 2004 and 2006 election bids, including for secretary of state. "And I think people want someone new."
Tarkanian, in turn, said he had won a defamation lawsuit after a previous election opponent smeared him and so was the best candidate to trust and "stand up against Harry Reid."
Sharron Angle said she was the only Republican in the race who had brought together a coalition of more than two dozen groups — mostly conservative — that had endorsed her campaign, including the national Tea Party Express, which is running radio and TV ads to support her in Nevada.
"That's what I bring to the race, those 30 groups that are going to help me do it," said Angle, who has lost two very close races, including one in 2006 to Rep. Dean Heller, R-Nev.
Long-shot Las Vegas Assemblyman Chad Christensen said he had won re-election every year and could carry the Mormon vote, a conservative bloc that church member Reid needs to win.
"The church will be heavily engaged," Christensen said, suggesting Reid is losing Mormon support.
Dark horse John Chachas, a Wall Street banker, said he understands economic forces best.
"I think this race is about how you fix the American economy," said Chachas, an Ely native who has returned home to Nevada after nearly three decades out of state to run for Reid's seat.
During the taped, hour-long program on KVBC-TV, Channel 3's "Face to Face with Jon Ralston," the candidates tried to define and defend themselves just days before early voting begins Saturday in a race that has tightened with Lowden holding a 5-to-8 point lead over Angle and Tarkanian.
Tuesday's debate ranged from serious issues, including Social Security funding and government spending, to candidates' foibles, including Lowden's mocked suggestion that people can barter for health care and former Reno Assemblywoman Angle's 2003 idea that Nevada explore a prison anti-drug program that had support from Scientologists.
Angle said Democrats had maligned her by suggesting she was linked to Scientology because at the time she was opposing a tax increase that passed.
"That's been largely distorted," Angle said of the old controversy, adding that the anti-drug program, which includes massages and saunas to aid detox, is working in New Mexico and proponents say only 10 percent of the prisoners return to jail.
Lowden defended her TV ad in which she says her much-criticized comments made during a Mesquite town hall about bartering for health care were "taken out of context," although she later defended them by saying in the old days people used chickens to barter with doctors.
"Harry Reid wants to talk about chickens. Harry Reid wants to change the subject," said Lowden, explaining it's because the health insurance reform law he pushed to passage isn't popular.
She also denied saying, "I'm not backing down from that system" of bartering, although those words were captured on a Northern Nevada television program when she defended herself.
Most of the tension during the forum came between Lowden and Tarkanian, who sat next to each other on stools.
Tarkanian defended his TV ad that suggests Lowden became a millionaire partly by donating money to Reid campaigns five times in the 1980s, helping bring him to power. A few years later, Reid, a former Nevada Gaming Commission chairman, vouched for Lowden and her husband, Paul, to gaming authorities in Illinois, but the Lowdens never developed a proposed riverboat gaming project there.
"She helped get Harry Reid in office," Tarkanian said before Lowden interrupted him a couple of times to correct a few facts, including when he said the gaming project was in Missouri.
"It's Illinois, by the way," Lowden said as Tarkanian grimaced.
Lowden has said she donated to Reid because he represented Nevada interests well in the past.
In the end, the GOP candidates agreed on most matters, especially the need to shrink the federal government, control spending and retire Reid and his fellow Democrats in charge of Congress.
"I think any of them would be better than that guy in Washington," Chachas said, referring to his Republican opponents and Reid, who has been in the Senate for two dozen years.
In one of the more serious exchanges, the candidates were asked how to save Social Security. It faces a $5.3 trillion shortfall in the next 75 years, according to a congressional report that said the gap could be filled by raising payroll taxes, reducing cost-of-living increases and raising the retirement age.
Lowden said she would agree with raising the retirement age to "perhaps 70," but she doesn't favor payroll tax and COLA changes even though she believes future generations can't rely on the benefits.
Angle said Social Security can't be fixed and she favors shifting people gradually to a private system where they have their own retirement and health savings accounts.
Chachas suggested raising the retirement age and adding a "means" test so people such as his well-off parents can't collect benefits when they retire.
Tarkanian said Social Security can be fully funded if the U.S. government is downsized and federal spending is cut for programs now siphoning money from the retirement system.
Christensen proposed a three-tiered system with the most disadvantaged getting full benefits, most other people being gradually phased out of the system and young people such as his children not expecting any Social Security benefits. Presumably, people would rely on private savings then.
The contenders dismissed arguments that Reid should be re-elected to preserve his powerful ability to bring hundreds of million dollars in projects to Nevada, including for military, veterans, homeowners and even for a $60 million shooting park that recently opened in Clark County.
Several candidates, in particular Tarkanian, argued against all such "pork projects" attached to other federal spending bills, while Lowden said money collected in Nevada should stay here.
They all scoffed at Reid's power, suggesting it can lead to bad things as well.
"I've always said a tsunami has power and it's disastrous," Angle said. "Harry Reid has been a disaster, not only for America but for Nevada. That's why it's time to vote him out."
Contact Laura Myers at lmyers@reviewjournal.com or 702-387-2919.