Got a sick fantasy? Eli Roth is your guy
September 25, 2012 - 1:03 am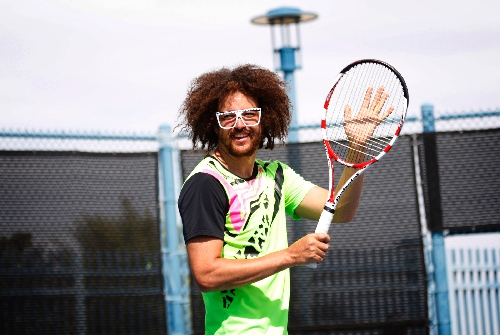 Las Vegas will get a new Strip attraction Thursday when Eli Roth's year-round haunted house Goretorium opens at Miracle Mile Shops.
Roth is a master of horror films, having directed "Cabin Fever," "Hostel" and "Hostel II."
And as an actor, he entered film lore as "the Bear Jew" who machine-gunned Adolf Hitler in the face in Quentin Tarantino's "Inglourious Basterds."
Roth calls that scene "Kosher porn – the greatest feeling ever. I was like, 'This one's for the Jews.' "
I told Roth that when I saw his kill-Hitler scene in the theater, I almost jumped up and cheered like I did when the Death Star exploded in "Star Wars."
"Apparently that happened at a screening in Israel," Roth said. "It was a big moment to watch that with my parents at the premiere. Everyone's crying. It was (like) living out some weird fantasy for everyone's family."
Roth joked he's going to take all that Bear Jew good will and "trash it with the Goretorium."
"People are going to go, 'Oh my God, the Bear Jew did that? He seemed so sweet. … Why is he trying to traumatize us?' "
Roth's plan is for the Goretorium to be the scariest place in the world, where people can also get made up in horror makeup, or even rent the whole place for themselves on special occasions.
Of course, there is a wedding chapel. Corpse brides will get married by a zombie minister.
"We'll really tailor it to whatever your sickest fantasy is. Your wedding photos will guarantee no one else's wedding photos will look like the ones from the Goretorium."
Roth's budding attraction track record is strong. Last year, his inaugural Eli Roth's Hostel: Hunting Season maze at Universal Studios Hollywood drew 2,000 people an hour.
He chose Vegas to host the Goretorium because, obviously, the Strip is the 24-7 international entertainment capital.
"I want to have something unique and special … like Willy Wonka's Chocolate Factory, except blood instead of chocolate."
Listen to my interview with Roth by clicking the play button under the "Listen" box on the web page where this column runs.
The preliminary guest list for Thursday's opening includes Dave Navarro, Floyd Mayweather, Mike Tyson and members of Train. Roth will be there armed with a chain saw.
TENNIS GAVE REDFOO DISCIPLINE
Marquee nightclub star DJ Redfoo – half of pop duo LMFAO – is hosting his Party Rock Open tennis tournament through Sunday at the Darling Tennis Center.
A few weeks ago, I caught up with Redfoo at the main Cox building (Cox is co-sponsoring the event), where he was shooting promo videos.
Redfoo said he grew up watching women's tennis with his dad, Motown founder Berry Gordy Jr., on Manhattan Beach.
So, he views the Party Rock Open as giving back to the tennis world.
"It's where I became a champion, on the tennis court. And I carried that discipline and the work ethic from that, and I brought that into music."
He's a good player, he said.
"I play with Pete Sampras' sister, Stella Sampras. She kicked my ass 6-4. I'll never forget that. And I'm still looking for my rematch," he said.
There have been rumors that his duo with nephew SkyBlu broke up, but as Steve Carp reported in Monday's Review-Journal, they're just taking a break to focus on solo projects.
CAR TALK
Danny "Count" Koker is hosting a viewing party for tonight's season one finale of his History Channel show "Counting Cars" at Vamp'd Vegas on Sahara Avenue at 6 p.m., with the show starting at 7 p.m.
Doug Elfman's column appears Tuesdays, Thursdays and Fridays. Email him at delfman@reviewjournal.com. He blogs at reviewjournal.com/elfman.
Listen to Doug Elfman's interview with Eli Roth.
AC_FL_RunContent( 'type','application/x-shockwave-flash','data','https://www.reviewjournal.com/media/audio/mp3small','FlashVars','MFILE=https://www.reviewjournal.com/media/audio/2012/eli_roth_podcast.mp3&MSTART=no','width','131′,'height','30','movie','https://www.reviewjournal.com/media/audio/mp3small','classid','clsid: D27CDB6E-AE6D-11cf-96B8-444553540000′,'codebase','http://download.macromedia.com/pub/shockwave/cabs/flash/swflash.cab#version=8,0,0,0′ );