Governor's school reform plan heads to Senate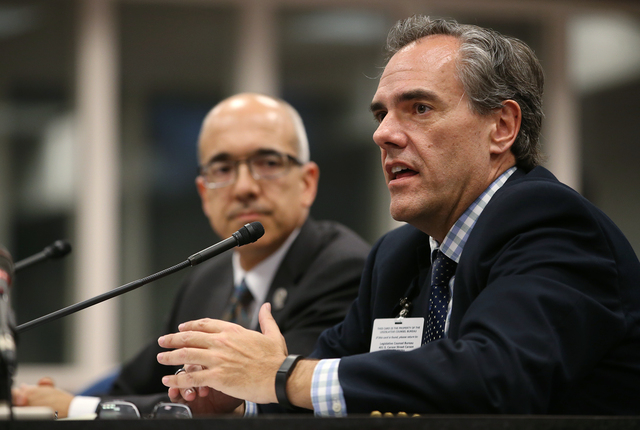 CARSON CITY — Key components of Gov. Brian Sandoval's ambitious agenda for improving Nevada's public schools and raising student achievement were the focus of a Senate Finance Committee hearing late Thursday.
Programs for English language learners, early-grade reading, anti-bullying efforts, grants to expand charter schools and funding to enhance professional development of teachers were among the bills considered.
Senate Bill 405 includes $100 million over the upcoming two-year budget cycle to expand ELL programs initiated two years ago. The money is included in Sandoval's $7.3 billion, two-year spending plan and is in addition to $50 million first authorized in 2013 and continued as part of the program's base budget.
State Sen. Mo Denis, D-Las Vegas, said 19 percent of Nevada students are English language learners. Of those, 70 percent are in Clark County, which would receive $39 million in new funding in each of the next two years.
"There is success, especially in reading," said Dale Erquiaga, Nevada superintendent of public instruction.
Joyce Haldeman, Clark County School District associate superintendent, said the program in its short time has been a huge success.
"We truly think this has made a difference," Haldeman testified. "This is one of those pieces of legislation where you truly got it right."
The program provides pre-kindergarten for ELL students, full-day kindergarten and summer school. The bill expands some of those programs to middle and high school students and allows use of the funding for professional development of teachers.
Another bill, Senate Bill 391, implements Sandoval's "read by three" initiative, a plan to help students read at the third-grade level before advancing. Students who do not pass proficiency tests will be kept back.
The bill authorizes $4.9 million next year and $22.3 million in the second year of the budget cycle for grants that can be used by districts and charter schools to hire specialists and train teachers and implement the program. Funding is already included in Sandoval's budget proposal.
Also heard was Senate Bill 432, a $50 million program to help students in high poverty areas by designating those schools as "victory" schools. Erquiaga said 30 to 35 schools located in Clark, Washoe, Humboldt, Elko and Nye counties may be eligible.
Erquiaga and school administrators said the schools have diverse populations, from urban African-American poor to Native Americans in rural areas.
"Those very distinct populations will require very different intervention and plans to obtain student achievement," Erquiaga said.
School districts would be required to collaborate with their communities to get involved in the effort. Grant money could be used to offer a free, pre-kindergarten program if none is currently offered; expand full-day kindergarten; establish a summer academy; and fund teacher development.
Funds not used for those programs could be used for programs to enhance parental involvement or provide other social, psychological or health care services.
No action was immediately taken on the bills, which have already been endorsed by the Senate Committee on Education.
Finance committee members, however, did vote unanimously to support Senate Bill 504, the cornerstone of Sandoval's campaign to combat bullying. It establishes the Office for a Safe and Respectful Learning Environment within the Department of Education.
That bill now heads to a vote on the Senate floor.
Contact Sandra Chereb at schereb@reviewjournal.com or 775-687-3901. Find her on Twitter: @SandraChereb.