Governors: Spend on infrastructure
December 3, 2008 - 10:00 pm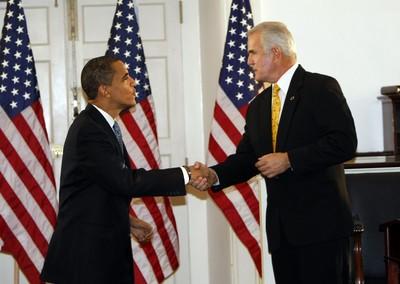 PHILADELPHIA — The nation's governors got to work on Tuesday, taking their case for a $136 billion infrastructure spending program to the president-elect. The governors hope the plan will funnel immediate government money toward bridges, roads and rail lines in the hopes of creating jobs and spurring the economy out of recession.
It's not a handout or a bailout, insisted the host of the economic forum, Democratic Gov. Ed Rendell of Pennsylvania, the chairman of the National Governors Association. Rather, it's the "best remedy for getting America back to work."
"We think that we can create literally millions of new jobs and at the same time lots of orders for concrete and steel companies and asphalt companies and lumber companies and the like," Rendell said. "None of the bailouts have created one new job. Infrastructure can create, the economists say, 40,000 jobs for every $1 billion of infrastructure spending. Well, that's a huge lift."
At least 41 states are expected to face budget shortfalls this year, in part because the slowing economy has decreased tax revenue that states depend on for their annual spending plans.
Those shrinking state coffers come even as hard times and layoffs force more people to apply for unemployment and other state-administered benefits, including Medicaid. And declining property tax revenue in states with high foreclosure rates has hurt local governments, which depend on that money to provide local services.
Obama on Tuesday pledged to move as quickly as possible on a stimulus package that could hasten an economic turnaround, beginning at the state level.
"I recognize that every single one of you is struggling to come up with a budget at a time when you're facing great and growing needs," said Obama, who asked the governors for the meeting. "More and more people are turning to you for help for health care, for affordable housing, to prevent foreclosures even as the credit markets are tightening and tax revenues are making it more difficult to provide that help."
The country's economic woes require a bipartisan approach, Obama said. He told the Republican governors at the meeting that he was offering "the same hand of friendship and cooperation that I offer our Democratic governors. We have a strong and vibrant democracy. We compete vigorously during an election. But with the end of that season comes the time to govern together — and that time is now."
Nevada Gov. Jim Gibbons said he emphasized during the meeting with Obama the need for the federal government to provide incentives to keep people in distressed properties from going into foreclosure and to help bring buyers to vacant foreclosed homes.
"No community is served well by having neighborhoods consisting of empty homes," a statement by Gibbons released by his staff said. "When people buy homes, they invest in Nevada."
The governor favors increasing limits on mortgage tax deductions and federal tax credits to help people remain in their homes.
Gibbons also supports a National Homeland Act to protect peoples' residences from creditor claims.
He added that he commends Obama for taking the position that the nation's economic problems require a bipartisan solution and the active participation of the governors.
Gibbons added he encouraged Obama to avoid burdensome federal regulations that could hamper the successful implementation of his economic stimulus plan. Most governors were on board with the infrastructure spending proposal, including high-profile Republicans such as Arnold Schwarzenegger of California.
However, there was an undercurrent of dissent, led by Republican Gov. Mark Sanford of South Carolina. Sanford argued that it might not be possible to solve an economic crisis created by running up too much debt by piling on more government debt.
"There are very legitimate questions by any number of different folks . . . on whether or not this will indeed make the difference," Sanford said.
The overriding sentiment among the nation's top executives, however, was to begin building, and as quickly as possible.
Rendell cautioned that all governors are prepared to make sacrifices and cut spending in other areas — and in many cases have already done so in the face of slowing tax collections. Pennsylvania has slashed $311 million from its budgets and will trim up to $500 million total in the coming days, he said.
"Every governor in this room has dealt with the effects of this crisis," Rendell said.
The economic summit at historic Congress Hall in Philadelphia came just a day after Schwarzenegger declared a fiscal crisis in the nation's most populous state. Schwarzenegger called for what he described as "hundreds of billions" in spending on ready-to-go infrastructure projects, including $28 billion alone in California during the next several years.
The California Republican also backed a $10 billion investment in high-speed rail.
"There's no reason in America we should be traveling the same speed we were 100 years ago," Schwarzenegger said.
Other governors chimed in with their proposals for restoring the economy, including programs out of North Carolina and Florida that aim to slow foreclosures and keep people in their homes.
Alaska Gov. Sarah Palin — who on Tuesday met with Obama and Vice President-elect Joe Biden for the first time since the election — stayed largely out of the limelight, but said that like Sanford, she has some doubts about accruing additional debt.
"We still have great concerns about, perhaps the philosophy even, when much of the economic problems we're facing today were caused by too much debt," she said. "And solving the problems will not come from incurring more debt."
Alaska, however, is looking toward a massive infrastructure project to ensure the long-term economic stability of a state where oil revenue fuels the budget: a $40 billion natural gas pipeline that Palin said she spoke about with Biden.
Almost all of the nation's governors attended the session, held in the same historic buildings where, in the 1780s, the country's founders grappled with a transition in power, how to pay for a war, increasing government debt and rising inflation. Of the 59 state and territorial governors who are members of the NGA, 48 governors and governors-elect attended Tuesday's meeting.
Las Vegas Review-Journal Capital Bureau Chief Ed Vogel contributed to this report.