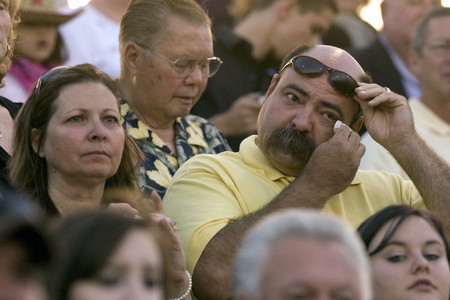 As the Class of 2009 filed into their seats to the tune of "Pomp and Circumstance," parents Larry and Marcia Smith clutched hands and took a deep breath.
A tear slipped down Marcia's cheek as they watched the Boulder City High School commencement from the school's football stadium bleachers Thursday night.
Their only child, Bethany, should have been sitting between Ashleigh Smith and Elise Smith, the two classmates she had been photographed with in alphabetically ordered group shots since the seventh grade.
Instead, Ashleigh and Elise had draped a graduate gown and tassels over Bethany's seat.
"Seeing the empty seat had to be hardest part of the ceremony for me," said Larry Smith, a chiropractor in this town of 16,000.
Bethany, 17, a member of the school's golf and swim teams and a Millennium scholarship candidate, had a heart murmur and died unexpectedly from an electrical heart rhythm malfunction on Sept. 20.
Empty seats are just part of the protocol for honoring deceased seniors at high school graduation. The deceased can also be recognized in the graduation program and parents can be given a yearbook and diploma, according to the Clark County School District Manual for Registrars and Counselors.
The protocol allows for "parents' reasonable requests to be honored as long as they do not detract from the graduation ceremony."
Jorge Lopez said he is thinking about walking in his deceased son's place at the Eldorado High School graduation on June 9. The son shared his dad's name but was known by his middle name, as Tony or Antonio. He would have turned 18 the day before his graduation.
Antonio died three weeks before commencement on May 20 from liver cancer. Because of his medical condition, Antonio was taught at home for the last six months of life. Teachers of sick children said their students crave any bit of childhood normalcy.
Sally Magnuson, an Eldorado special education teacher, said it was always Antonio's dream to graduate.
At the family's request, the school provided the family with a cap and gown for Antonio to be buried in.
"That was everybody's idea," said Jorge Lopez, who is divorced from Antonio's mother, Lavern Bahe.
Family and teachers described Antonio as a sweet kid who wanted to own a skateboard shop.
Eldorado Principal Ron Lustig honored Antonio's memory with a plaque at the seniors' award ceremony.
Bethany's sudden death was a shock to the Boulder City community.
Karis Barton, 18, learned the news from a text message while traveling with her teammates to a soccer match in White Pine County.
"We cried through the whole game," said Barton, who described her friend as a spontaneous and vivacious spirit.
"You could go from hanging out at her house to driving around town singing songs," she said. "She was nice to everyone."
Bethany's classmate Tisha Richner, 18, said her friend's death "was a very traumatizing experience. Everyone knew her. It's such a small school. There are only 600 students."
Dan Christy, a Boulder City High School history teacher, said Bethany was the rare teen who was interested in politics and the world at large.
"Her life did not begin and end with her latest date," said Christy, who enjoyed playing devil's advocate to Bethany's conservative viewpoints.
"In my mind, I won the debates. But I as told her parents at her memorial service, I'm sure she remembered it differently," Christy said.
Because everyone grieves differently, not every family chooses to honor their senior at graduation. The school district dispatches crisis counselors to a school whenever there is a student death, but district officials said they don't track how many student deaths occur each year.
School officials said the graduation recognition is reserved for seniors who were "on track to graduate," meaning they had most of their credits and would most likely have graduated on time.
Marcia Smith said she was dismayed that district and school officials responsible for Boulder City High seemed unfamiliar with the graduation protocol for honoring the deceased.
In an e-mail, Southeast Region Superintendent Andre Denson recommended trimming a 65-second memorial speech in half and also cutting out a reference to her daughter's goal of pursuing a career in journalism.
Smith appealed to Deputy Superintendent of Instruction Lauren Kohut-Rost, who supported her requests.
District officials would not comment on the situation except to say they were happy that Smith's requests were resolved to her satisfaction.
Rebecca Balistere, a Boulder City High School guidance counselor, read the memorial speech in its entirety on Thursday night. Yellow balloons were released as well.
In her speech, Balistere ended with a quote from Seneca, the Roman philosopher: " 'Our care should not be to have lived long as to have lived enough.'
"Live enough, graduates."
Contact reporter James Haug at jhaug@reviewjournal.com or 702-374-7917.
Video & Slideshow