Green Valley band enjoyed cool trip
January 23, 2009 - 10:00 pm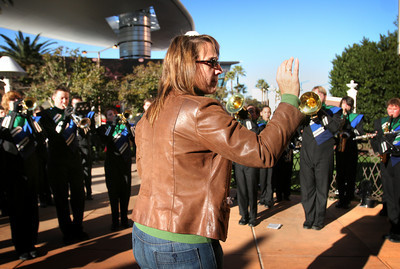 For 110 members of Green Valley High School's marching band, it doesn't get any better than this:
"Turning that corner (onto Pennsylvania Avenue) and seeing all the TV camera lights and the president's reviewing box … ," recalled band director Diane Koutsulis.
With that, she struck up the band and played "Viva Las Vegas" three times in a row, "because we wanted him to absolutely know where we were from," Koutsulis said.
"Do you think it ("Viva Las Vegas") was a good pick?" she said, tongue firmly in cheek.
The experience is "something the students will never forget."
Gator pride was on full display. Over 1,000 marching bands were considered, and only 48 were in the parade that featured 13,000 people and ended just past the White House.
It was no walk in the park, both grueling and freezing.
"The parade was held up a bit because of Senator Kennedy's problem," said Koutsulis, referring to Ted Kennedy's medical emergency after he suffered a seizure at an inauguration luncheon in the Capitol.
The band spent about an hour in a warming tent and three hours in "brutal cold," she said. "We were wearing lots of layers, but the band members had to run around in circles to keep the blood flowing to their feet.
"It was really harsh. Kids were dropping out in other bands and crying from the cold. We were hoping our kids would just hold on. We got stronger as we went on."
'NEVER SAW IT COMING'
Miss America Kirsten Haglund has met a special guy — from a reality show, no less — and he broke the rules to meet her. But it's not as bad as it sounds.
Miss America organizers probably might not approve, but she couldn't be happier.
Her mystery man will join her when her reign ends Saturday with the crowning of Miss America 2009 at Planet Hollywood Resort.
Haglund, 20, revealed the details for the first time Thursday. It happened in September, when she was in Long Beach, Calif., on Miss America business.
"He worked on the reality show," said Haglund, referring to "Miss America: Countdown to the Crown," the four-part reality series currently airing on TLC.
"He's a camera guy," said Haglund, who's not ready to go public with his name. "He picked me up from the airport. Production is not supposed to talk to talent."
He made a big impression on the way to the Queen Mary, home for the 52 contestants during three weeks of taping. They continued to see each other while he drove her to other events. They hit it off and she was smitten.
"I never saw it coming," said the former Miss Michigan.
He had an interesting Miss America connection.
"He's originally from Oklahoma and grew up in the same subdivision as Jennifer Berry," the former Miss Oklahoma who won Miss America three years ago when the pageant moved to Las Vegas.
THE SCENE AND HEARD
Supermodel Heidi Klum will be shooting a segment of "Germany's Next Top Model" from 10 a.m. to noon Saturday at Fashion Show mall.
SIGHTINGS
Harry Connick Jr. and his wife, Jill, having lunch at Encore's Society Cafe. Connick is featured entertainer at Encore's opening gala/birthday bash for Steve Wynn, who turns 67 on Tuesday. … Kathy Griffin, making a surprise cameo in Bette Midler's show Wednesday while filming next season's footage of her hit Bravo unscripted show "My Life on the D-List."
MAY I RECOMMEND
On the gala opening weekend of Encore, try the restaurant lineup of Botero (chimichurri steak and Dungeness crab agnolotti), Sinatra (Check out Frank Sinatra's Oscar and Grammy, the butternut squash with vanilla and amaretto and the chocolate hazelnut mousse formed in the shape Ol' Blue Eyes' fedora ), Society Café (hip appetizers and one of the most imaginative menus in town), Switch (the walls go up and down every 20 minutes to reveal a new decor), and Wazuzu (sushi and pan-Asian).
THE PUNCH LINE
"Barack Obama said his first act as president will be to pardon Aretha Franklin's hat. … A big gust of wind blew (it) into the crowd and knocked down 19 people." — Jay Leno
Norm Clarke can be reached at (702) 383-0244 or norm@reviewjournal.com. Find additional sightings and more online at www.normclarke.com.