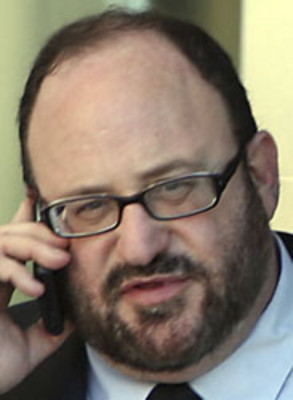 A Las Vegas neurosurgeon who admitted to federal authorities he accepted a half-million dollars in kickbacks and committed perjury to help increase settlement costs for a personal injury attorney must come up with a different settlement proposal if he wants to retain his Nevada medical license.
The Nevada State Board of Medical Examiners rejected a proposed settlement agreement from Dr. Benjamin Venger on Friday, with some board members calling it too "gentle" for the wrongdoings the neurosurgeon has already testified to in federal court.
The board asked Venger's attorney and its own legal team to negotiate a new settlement that would involve a little more discipline, especially more hours of community service.
"I think the punishment was too little," Dr. Sohail Anjum, a member of the medical board, said during a lengthy discussion about Venger's proposed settlement.
That settlement called for Venger's medical license to be suspended and for that suspension to be stayed while he was put on probation for three years. It also required Venger to perform 300 hours of community service over the three-year period at the Mike O'Callaghan Federal Hospital. He would also have to pay $12,000 for the cost of the investigation.
The settlement also proposed that two of the three violations be dropped and that Venger be fined $5,000 for the remaining violation.
"I have a really big problem with that," Dr. Daniel McBride, a board member and Las Vegas surgeon, said about the prospect of two of the violations going away. "Nowhere in this settlement is revocation. The nature of what Dr. Venger has been charged with would require nothing short of revocation."
Venger was accused of engaging in conduct that brings the medical profession into disrepute and engaging in conduct that is intended to deceive. He also is accused of engaging in conduct that violates the trust of a patient and exploits the relationship between the physician and patient for financial or other personal gain.
Venger was given immunity for his testimony in the federal fraud trial of Noel Gage, a Las Vegas lawyer whose case was ultimately dismissed after it ended in a mistrial.
Gage was indicted last year with medical consultant Howard Awand, whose case, like Gage's, was dismissed and is being appealed by the government. Prosecutors accused the pair of conspiring with doctors to cheat injured clients and enrich themselves.
Venger on the witness stand testified that he referred cases to Awand in exchange for kickbacks and for protection from malpractice lawsuits.
Venger also told the jury he lied during a deposition and a related civil trial.
The medical board complaints are based on transcripts of Venger's sworn testimony at Gage's trial.
Louis Ling, the board's executive director, said he supported the proposed settlement agreement for various reasons, one of which was that Venger had no prior disciplinary actions.
"Obviously this conduct is not what we expect in this state. It's troublesome. I had the same reservations when I got involved," Ling said about his endorsement.
Ling told the board to take into consideration that Venger's actions didn't involve harming patients but were more about economic and ethical breaches. He also said Venger's reputation in Southern Nevada as a neurosurgeon is pretty good.
"Let's not throw this doctor away," Ling told the medical board. "Let's take advantage of his abilities."
McBride disagreed with Ling, saying there are physician shortages across the country and that the medical board shouldn't base its decisions on need.
Anjum, who didn't favor a license revocation, said he was still concerned about the community service hours that were proposed. He suggested 500 to 1,000 hours, with some of those to be performed at University Medical Center.
Venger's attorney, Kathleen Janssen, argued this agreement might be impossible to make because Venger has lost his medical privileges at UMC. Venger, who hasn't practiced medicine since April, also doesn't have medical malpractice insurance.
Janssen said the lack of insurance would also hurt his chances of doing community service at a hospital because he wouldn't be able to perform surgeries.
The case is expected to come before the board again in May.