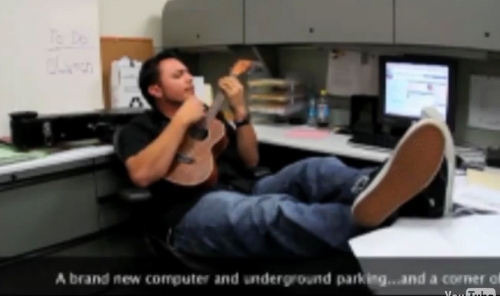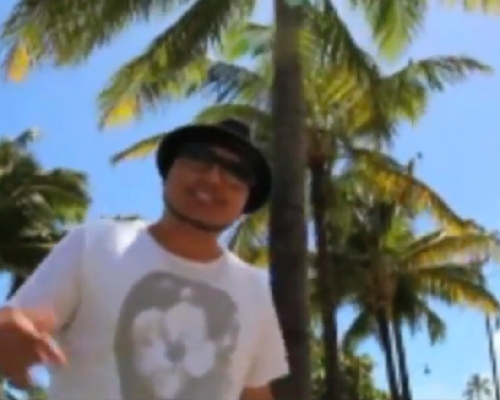 WASHINGTON — Video excerpts from the lavish 2010 General Services Administration conference in Las Vegas surfaced Thursday, adding fuel to a growing controversy over wasteful government spending.
A six-minute clip released on Capitol Hill features a music video of a GSA worker rapping about becoming "commissioner" in a song dotted with jokes about spending freely on computers, employee bonuses and "all the things your buildings never had."
The song is a parody of "Billionaire," by Travie McCoy and Bruno Mars.
In a line from the parody that since has proved ironic, the worker sings: "Donate my vacation, love to the nation/I'll never be under OIG investigation." OIG is a references to the office of inspector general.
The music piece was shown to an audience of 300 GSA Public Buildings Service employees at an awards dinner that capped the four-day conference in October 2010 at the M Resort at the south end of the Strip in Henderson.
The video clip then cuts to the performer, identified in the video as Hank Terlaje, a GSA employee from Hawaii who has played in several bands, being applauded and congratulated, and joking with agency leaders on stage.
Terlaje then is declared "commissioner for a day" and given a cap and name badge by David Foley, deputy commissioner of the Public Buildings Service, an arm of the GSA.
Then, because Terlaje has assumed duties as "commissioner," Foley tells him: "The hotel would like to talk to you about paying for the party that was held in the commissioner's suite last night."
CONGRESS TAKES NOTICE
The video, from what had been described as a training conference that agency planners wanted to go "over the top," has only added to the controversy surrounding the event that government auditors say cost $823,000.
Days after an inspector general's report was made public, multiple committee leaders in Congress with jurisdiction over GSA have expressed interest in convening official inquiries into spending by the agency, the government's chief procurement and property management body.
At the White House, presidential spokesman Jay Carney was asked Thursday how President Barack Obama can be sure there are no other examples of excessive spending in federal agencies.
"Well it's a big government, so I would hesitate to make any blanket statements," Carney said. When the White House became aware of the GSA scandal, he said, "we acted quickly to determine who was responsible."
Obama was notified before he traveled to South Korea on March 23, "and called for those responsible to be held fully accountable," Carney said.
Release of the audit this week coincided with the resignation of GSA Commissioner Martha Johnson. Two others, including Robert Peck, commissioner of the agency's public buildings arm, were fired, and four others have been placed on administrative leave.
The Obama administration promoted Assistant Treasury Secretary and former GSA Chief Financial Officer Dan Tangherlini to replace Johnson. He has since taken steps to cancel several upcoming GSA conferences, including one that was scheduled for September — at the M Resort.
The video and other investigative materials were turned over to the House Oversight and Government Reform Committee at a briefing Wednesday by the agency's inspector general's office, a committee spokeswoman said.
The spokeswoman could not say what else the committee had from the conference, whether more will be made public or how Rep. Darrell Issa, R-Calif., the committee chairman, wanted to proceed.
'AMERICAN IDLE' VIDEO CAUSES STIR
The clip, labeled "Federal Government Worker 'American Idle,' " was posted to the committee's Youtube page and announced on Issa's Twitter account.
"Oh my VIDEO," Issa's tweet said. The inspector general "unearthed this gem while investigating the lavish Vegas convention."
The GSA moved to distance itself from the latest disclosure.
"This video is another example of the complete lack of judgment exhibited during the 2010 Western Regions Conference," a spokesman said in an emailed statement. "Our agency continues to be appalled by this indefensible behavior, and we are taking every step possible to ensure that nothing like this ever happens again."
The video surfaced hours after Sen. Harry Reid slammed Rep. John Mica, R-Fla., another House committee chairman who has called for hearings into the GSA conference.
A hearing has been set for April 19 before the public buildings subcommittee.
Beyond examining GSA spending in Las Vegas, the subcommittee, headed by Rep. Jeff Denham, R-Calif., also plans to investigate a previously undisclosed "employee rewards" program in the agency's Pacific region that handed out "at least $200,000 in taxpayer-funded iPods, gift cards and other valuable items."
Reid, who argues that Republicans are trying to "embarrass Las Vegas" by spotlighting the scandal, said Mica should "get a life" and pass a transportation bill to build U.S. highways and create jobs instead of holding a hearing into the federal agency's conference splurge.
Reid, the Senate majority leader, said Obama already had taken action after the audit revealed the GSA spending, which cost three top officials their jobs, including the head of the agency.
Reid said the GSA used "no common sense" by spending so much at the four-day gathering, but he rejected the idea of a hearing and suggested the Republican opposition had political motives.
CHAIRMAN TOLD 'GET A LIFE'
"First of all, Mica, who is doing this, should get a life and do what he's supposed to do," Reid said when asked about potential fallout. "It's because of him that the transportation bill is a total failure."
Mica, chairman of the House Transportation and Infrastructure Committee, said this week that he plans to convene the hearing in April to look into the GSA conference and waste of taxpayer dollars.
Last week, the Senate, under Reid's leadership, passed a $109 billion, bipartisan transportation bill. But Mica's committee and the House have been unable to come to any agreement and get enough Republicans to sign on to any transportation spending plan, Reid said.
"Mica has been an absolute flop at leading that committee," Reid said. "Mica, I repeat, should get a life and do what he's supposed to do and get a highway bill out of the Congress to save or create 2.8 million jobs."
Reid's comments came in response to questions from reporters after the Senate majority leader toured an electric vehicle company, Xtreme Green, in North Las Vegas.
Reid praised Sen. James Inhofe, R-Okla., for working with Sen. Barbara Boxer, D-Calif., on the bipartisan transportation bill, which he said passed the Senate overwhelmingly.
But in another sign that the GSA scandal won't go away quickly, Inhofe added his voice to those calling for Congress to delve into the GSA's excessive spending at the conference.
Inhofe recommended the Committee on Environment and Public Works convene an inquiry "on how this happened and to examine the safeguards GSA has put in place to prevent this from happening again."
"Reducing government waste and being responsible stewards of taxpayer money is a bipartisan goal," Inhofe said in a letter to committee Chairwoman Boxer.
Inhofe suggested inviting GSA Inspector General Brian Miller to testify. Miller's office produced the 23-page report detailing overspending and violations of government contracting policy.
GOODMAN URGES CAUTION
In Las Vegas, Mayor Carolyn Goodman said that while she supports holding federal officials responsible for the GSA conference, she wants lawmakers conducting their investigations to "leave Las Vegas out of the dialogue."
"Failure to do so could cause harm to the Las Vegas tourism industry and jeopardize its ability to lead the economic recovery of Southern Nevada already under way," she said, joining a chorus of other Nevada officials warning against focusing on Las Vegas instead of the problem at hand.
"I believe that all citizens have a right to expect and to know that tax dollars are being spent wisely by the federal government, but I have become concerned about the tone of the dialogue and how Las Vegas is being referenced," Goodman said.
"Personal attacks on Las Vegas serve no purpose and have the potential to impact the 370,000 employees and their families associated with the No. 1 industry in Southern Nevada."
Contact Stephens Washington Bureau reporter Peter Urban at purban@stephensmedia.com or 202-783-1760. Contact Laura Myers at lmyers@reviewjournal.com or 702-387-2919. Follow her on Twitter @lmyerslvrj. Contact Stephens Washington Bureau Chief Steve Tetreault at stetreault@stephensmedia.com or 202-783-1760. Follow him on Twitter @STetreaultDC.
Talent show top prize winner
Sung by GSA worker Hank Terlaje at four-day conference at the M Resort in October 2010 to the tune of "Billionaire" by Travie McCoy and Bruno Mars:
"I want to be commissioner so freakin' bad
Give all the things your buildings never had.
A brand new computer and underground parking
And a corner office with a scene.
'Cause every time I close my eyes,
I see my name on 'Federal Times'.
Post my picture on GSA website.
I swear, Obama better prepare
When I'm commissioner"