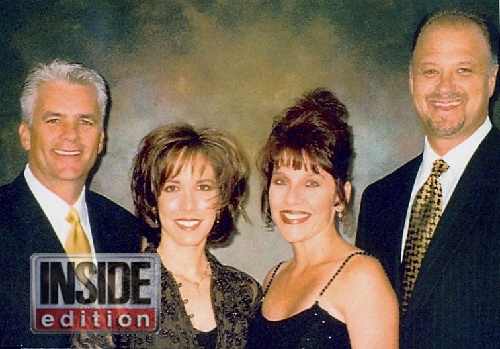 Doug Hampton issued a statement Wednesday berating U.S. Sen. John Ensign for not resigning from office over an extramarital affair with Hampton's wife, Cindy.
Ensign, R-Nev., announced Monday that he will not seek re-election but will serve out his six-year term, which expires at the end of 2012.
"I continue to be extremely disappointed by John's callousness and lack of remorse for destroying my family and life," Hampton, a former top Ensign aide, said in a statement released by his Las Vegas lawyer, Dan Albregts. "His selfish, steadfast refusal to resign immediately prolongs the pain and anguish he caused."
Albregts told the Las Vegas Review-Journal that the Hamptons, who have had a tough time financially since Ensign publicly admitted the affair, have lost their two-story Summerlin home to foreclosure and have moved away from Las Vegas.
"They're in Southern California trying to rebuild their lives," Albregts said.
The Hamptons owed more than $1.3 million on the 4,360-square-foot house they bought in August 2006, records showed last year. The house has five bedrooms and a pool.
In his statement, Hampton said Ensign's refusal to step down from office forces the couple to "continue to cooperate" with the Senate Ethics Committee investigation of Ensign.
That means further "disrupting our lives by requiring myself, Cindy and others close to us to return to Washington, D.C., to be deposed," Hampton said
He added: "The cost to the taxpayers of this fruitless exercise flies in the face of John's claim of being fiscally conservative and a protector of the taxpayer's money, much like his affair with my wife flies in the face of his claim of moral righteousness."
The Review-Journal reported last week that the Ethics Committee is taking depositions in the investigation as part of an effort to determine whether Ensign violated conduct rules that could result in a reprimand or recommendations for stronger punishment.
The Senate panel is looking into allegations that, after Hampton discovered the affair, the senator set him up as a lobbyist by calling contacts and making his office available to them in alleged violation of a federal cooling-off law.
Also being investigated is $96,000 that Ensign's parents gave to the Hamptons when they left the senator's employ in spring 2008. Doug Hampton was Ensign's administrative assistant, a top post in his Washington office, while Cindy Hampton was a paid treasurer on Ensign's two political fundraising committees.
The affair occurred over an eight-month period in 2007 and 2008.
The Justice Department and the Federal Election Commission declined late last year to pursue charges. But the Senate Ethics Committee last month hired an outside counsel, former special prosecutor Carol Bruce Elder, to manage its investigation.
In announcing he would not seek re-election, Ensign described the extramarital affair as a "mistake" and as a "sin" for which he has sought forgiveness.
"I know that God has forgiven me, and so has my wife," he said.
Ensign's office did not respond for comment Wednesday on Hampton's statement.
But in an interview Tuesday, Ensign said resigning from office outright "was not even an option" while he is under investigation for allegedly violating the Senate's code of ethics.
"It would be admitting guilt, and I did not break any ethics rules, and I did not break any laws," Ensign said. "And if I resigned, I would be admitting guilt and my family would kill me."
Stephens Washington Bureau Chief Steve Tetreault contributed to this report. Contact reporter Jeff German at jgerman@reviewjournal.com or 702-380-8135.