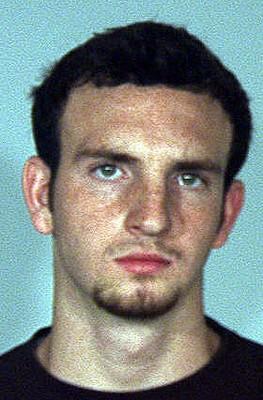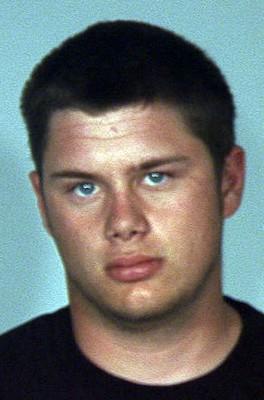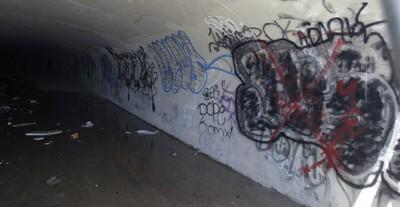 In the early morning hours of Feb. 26, Chaz Jenkins and Justin Pearce went to a skate park in northwest Las Vegas looking for a fight, police say.
The two alleged members of the Evil Ways graffiti tagging crew were searching for members of a rival crew who had painted over some of their graffiti. It's a sign of disrespect to spray paint over a "tag," and police say 18-year-old Jenkins and 19-year-old Pearce drove to the skate park to settle the score.
Instead of just their fists, the two had a shovel, a lawn edge trimmer and a Bersa .380 semiautomatic pistol, police say.
By the end of the morning, two rival graffiti gang members would be taken to University Medical Center with gunshot wounds, and Jenkins and Pearce would be behind bars facing multiple charges, including conspiracy to commit murder and assault with a deadly weapon. The case hasn't yet gone to trial.
Violent crimes are becoming more common among the hundred-plus graffiti gangs in the Las Vegas Valley.
No longer confined to spray painting symbols and monikers on the sides of buildings or along freeway walls, graffiti gangs throughout the valley have stepped up their activity to include street robberies, drug dealing and shootings with rivals, police say.
"They're not just artists looking for a canvas," said Capt. Al Salinas of the Metropolitan Police Department's gang unit. "People tend to forget that these taggers are not only committing the crime of malicious destruction, but they also steal and do drugs."
Since the beginning of the year, at least five gunfights have broken out between rival graffiti gangs. The fights are often over territory or disrespecting another graffiti gang by painting over a tag.
"It's (graffiti) a gateway crime. These guys just move onto more serious stuff," said a Las Vegas police detective involved in gang investigations who spoke on condition of anonymity.
The graffiti gangs operate much like organized gangs such as the Bloods or Crips, with leadership structures and requirements for membership. In one instance, police arrested a youth who told them he needed to get arrested for a graffiti-related offense to become a full-fledged member of the gang, the detective said.
But unlike the members of traditional street gangs such as the Gerson Park Kingsmen from West Las Vegas, the taggers often are white youths ages 17 to 25 who come from middle- and upper-middle-class families, police say.
Last year, Las Vegas police arrested 271 people for graffiti-related crimes, up 26 percent from the year before, which saw 215 arrests. There have been 71 arrests so far this year for graffiti-related crimes.
Gang experts and police in Los Angeles say tagging crews there became involved in shootings and drug dealings decades ago.
"Tell the Las Vegas Police Department that they have to get ready for it," said Bo Taylor, president of Unity One, a community-based gang intervention organization in Los Angeles. "It starts off as something small like tagging. But it's going to get worse."
Lt. Paul Vernon, a spokesman for the Los Angeles Police Department who worked in the gang enforcement unit for two years, said many of the street gangs there started out as small tagging crews. But the members soon stepped up their activity to include shootings to defend their turf. They soon became full-fledged gangs involved in robberies, drug dealings and homicides.
"We've seen it for as long as I've been here," said Vernon, who has been with the department for almost 20 years.
The February fight between Jenkins and Pearce's graffiti gang and their rival MBS — an acronym for Money Bitches Sex or Madland Board Shop, depending on whom you talk to — had been brewing for weeks.
Police say both gangs had been crossing out each other's graffiti tags and the fight was an outgrowth of the dispute.
When Pearce and Jenkins arrived near the skate park, they discovered that the four members of the other gang didn't want to fight. The MBS members drove away, and Pearce and Jenkins chased them in a pickup. Police say Pearce fired a pistol multiple times, hitting two of their rivals, before officers caught and arrested them.
According to the police report, Pearce admitted to shooting at the Scion.
Both Pearce and Jenkins declined requests to be interviewed for this story.
Jenkins' attorney, Robert Langford, said the MBS gang members were harassing Jenkins by calling him at his house, where he lives with his parents. Jenkins went to the park to settle the dispute and get the other gang members to stop bothering him, Langford said.
"No one expected a shooting," he said.
Langford also disputed that there is a new rise of violent graffiti gangs roaming the valley causing mayhem.
"It's certainly easy for them to point to Chaz and say he's the new wave of graffiti problems. But is that really what happened?" he asked. "They (the police) always have to have a boogeyman. And the latest boogeyman is graffiti."
Pearce's attorney didn't return calls seeking comment.
Las Vegas police, however, say Jenkins and Pearce are more than just kids with spray cans — they are violent gang members.
"It's no longer a property crime when they start blasting each other," the police detective said.
Within the past year, the valley has seen several high-profile shootings and fights involving graffiti gang members, including a recent shooting in a Wal-Mart parking lot near Tropicana Avenue and Pecos Road between two gang members.
A recent look at District Court cases showed a handful of suspected graffiti gang members who were arrested for other crimes.
"These guys are in and out of prison constantly — and it's not for graffiti," the detective said.