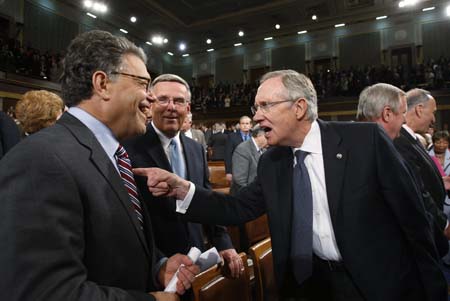 Nevada's members of Congress welcomed much of what President Barack Obama had to say about health care during his speech Wednesday evening.
All of the members of the delegation who spoke after the speech agreed health reform is needed, but disagreed on some details.
Rep. Dina Titus, D-Nev., said the most important part of the speech was when Obama reassured senior citizens he wouldn't sign off on any proposal that reduces their care.
Titus said she agrees with Obama's decision to be flexible on whether health care reform includes a broad public option.
"A public option is a good way and a preferable way to bring competition to the insurance market, but just remember it is a means to an end," Titus said after the speech. "Let's keep our eyes on the end."
In a written statement Rep. Dean Heller, R-Nev., welcomed Obama's call for more input from Republicans.
Heller has introduced several amendments he wants attached to reform but so far none have been accepted by the Democratic majority.
"If the President truly wants a bipartisan bill, then he must be open to proposed alternatives to the current health care plan. Real health care reform will lower the cost of medical care and prescription drugs, implement tort reform to curb frivolous lawsuits, improve access to care in underserved areas, and provide greater access to affordable health insurance," Heller wrote. "I believe we can accomplish these goals if both sides of the aisle can come together in a genuine effort to solve our health care problems."
Rep. Shelley Berkley, D-Nev., said she is waiting for Republicans to step up.
She said 84 days have passed since the deadline Republican members of Congress imposed on themselves for delivering a health care reform bill.
"We haven't seen it yet," Berkley said. "Now is the time to come forward. If someone has a better suggestion than a public plan, put it on the table."
Berkley also said she thought Obama struck the right tone with his speech.
"I thought the tone was appropriate, he was strong, he was passionate, he looked like he meant business and he knew what he was talking about," she said.
Sen. Harry Reid, D-Nev., has been in contact with Obama several times in recent days in his role as Senate majority leader.
After the speech, Reid said Obama did a good job describing what is at stake in the health care debate.
"Now that the President has spoken, those who have opposed reform have a choice to make," Reid wrote. "They can continue to spread falsehoods about reform as they defend the status quo or they can step up to the plate and offer genuine ideas to strengthen the proposals before Congress."
Sen. John Ensign, R-Nev., did not issue a public statement immediately following the speech, as other members of the delegation did. Ensign's staff has not responded to requests for interviews regarding health care or other issues.
Contact reporter Benjamin Spillman at bspillman@reviewjournal.com or 702-477-3861.