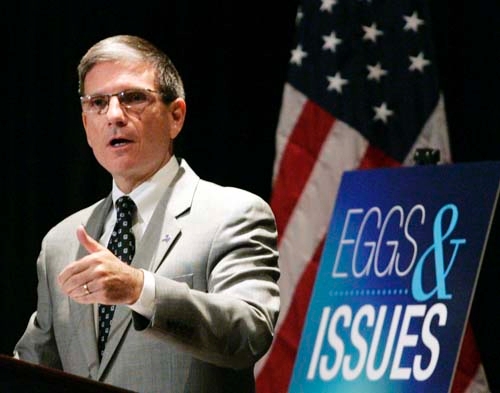 Rep. Joe Heck predicted Monday that more House Democrats would vote July 11 for repeal of President Barack Obama's health care law after the U.S. Supreme Court called it a new tax on Americans.
"This may be a bit of a game changer for some of the folks who have to cast a vote July 11," Heck, R-Nev., said while speaking to a Las Vegas business group.
In one of the first votes after the GOP took control of the House, members of Congress voted Jan. 19, 2011, to repeal the law. The vote was 245-189, including all Republicans and three Democrats in favor of repeal. But with the election four months out, Democrats in danger of losing re-election could join the GOP on July 11.
Heck also said he favors making Medicaid a federal block grant program so states can create innovative ways to spend health care dollars. Some governors, including Nevada Gov. Brian Sandoval, are considering opting out of expanding Medicaid to cover health care needs of more people under the Affordable Care Act because of tight state budgets.
"I've seen what works and what doesn't work," said Heck, an emergency room physician. "Just because you get access to insurance doesn't mean you get access to health care."
Heck talked about health care and other subjects during the Las Vegas Chamber of Commerce's latest "Eggs & Issues" series of breakfasts with Nevada elected leaders.
Last week, the Supreme Court upheld Obama's signature health care insurance law, including a mandate that Americans buy insurance. Chief Justice John Roberts wrote that it was constitutional because the penalty for not buying insurance was a legal tax.
On Medicaid, the high court said states have the right to refuse to expand coverage to more people without fear of losing federal funding for the program designed to cover the poor.
Heck is part of a GOP physicians caucus in Congress trying to come up with ideas to replace the health care law if Republicans succeed in a full or partial repeal.
Heck already has introduced a bill that would maintain the most consumer-friendly parts of the Obama law. It would require insurance companies to cover people with pre-existing conditions and would prohibit caps on lifetime coverage, Heck said. It also requires insurance companies to guarantee coverage and to allow children to stay on their parents' policies until age 26.
But Heck's bill doesn't deal with long-term funding problems for Medicare, a tricky political issue. And it doesn't appear to address any possible costs associated with such broad changes in health care coverage.
Heck has discussed his ideas with policy experts for the campaign of Republican presidential candidate Mitt Romney, who last week renewed vows to repeal Obama's health care law. Heck is a longtime supporter of Romney, who campaigned for Heck's election in 2010.
Heck called Obama's health care law fatally flawed. He said a young healthy person probably would rather pay the top $695 annual penalty than spend several thousand dollars for insurance.
"That tax is actually a disincentive to actually getting people insured," Heck argued. "The Affordable Care Act was full of a lot of sticks, not a lot of carrots," he added.
In another example, Heck said he knows a businessman who pays $12,000 a year per employee for health care insurance. But under the Obama law, the businessman would have to pay a $3,000 a year penalty per employee for not providing coverage – making it cheaper to forgo insurance for workers.
"I would prefer more carrots," Heck said.
Heck said he and other GOP doctors in Congress are hoping to blend various bills into one proposal before Congress. He said lawmakers shouldn't rush, however, to pass something in haste, as Obama did in 2010.
"We don't want to make the same mistakes as when the bill was initially passed," Heck said..
On Medicaid, Heck noted it could cost Nevada an extra $500 million or more to expand the program. He said that when he was in the state Senate, he offered a bill that would have allowed families to buy into the Medicaid system to save money on insurance. He said such ideas at the state level could let governors and lawmakers figure out ways to improve the program if the federal government delivered funding in block grants.
Heck said he thought the health care issue would emerge as a major one in the 2012 House and Senate elections.
Heck's Democratic opponent, outgoing Nevada Assembly Speaker John Oceguera, said after the high court's ruling upholding the health care law that it was time to focus on jobs instead of politics.
Oceguera's campaign manager, Adam Weiss, said Monday that Heck still doesn't get it.
"What would truly be a 'game changer' is if Joe Heck actually had the right priorities and started focusing on fixing our economy and getting Nevadans back to work," Weiss said. "But instead, he would rather join in partisan political stunts that won't get our economy back on track or help Nevada families struggling to make ends meet."
Democrats led by U.S. Sen. Harry Reid control the Senate and can block any moves by the House to repeal the law this year and during the next session of Congress if they keep majority control after 2012.
Heck said the health care issue will play a big role in some Senate races for that reason. "It only takes 51 seats," Heck said. "I think it's going to have a significant impact."
In Nevada, Republican U.S. Sen. Dean Heller has called for repeal of the health care law and criticized it as a big tax hike on the middle class.
His Democratic opponent, U.S. Rep. Shelly Berkley, voted for the law. She defends it as flawed but a good law that will help cover America's tens of millions of uninsured.
Contact reporter Laura Myers at lmyers@reviewjournal.com or 702-387-2919. Follow her on Twitter @lmyerslvrj.