Heller launches new bid to renew federal jobless benefits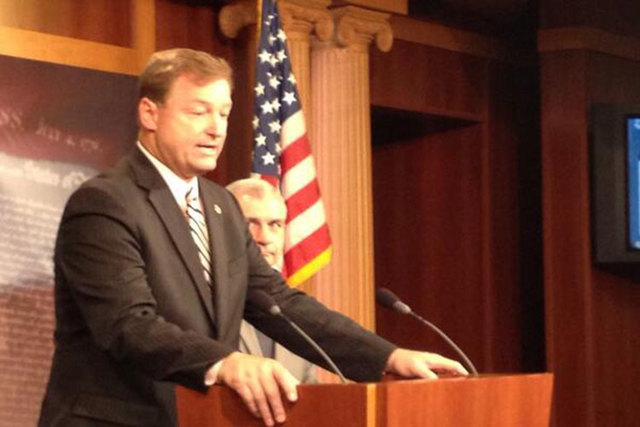 WASHINGTON — Six months after federal unemployment checks were cut off for more than a million Americans, two senators launched a new bid on Tuesday to renew payments to people still unable to find work.
Sens. Dean Heller, R-Nev., and Jack Reed, D-R.I., said they do not know if chances are any better now, after initial legislation passed by the Senate in April failed to move in the House and expired last month.
But at a news conference they said they wanted to have a bill on the table and ready to move quickly if a breakthrough develops between House Republican leaders and White House officials who remain at loggerheads on the issue.
"What I was hoping would be a sprint has turned into a marathon," Heller said.
The $9.7 billion bill would renew the federal Emergency Unemployment Compensation program for five months, starting whenever it would be signed into law.
Unlike the bill that stalled, payments would not be made retroactive to Dec. 28 when the earlier program expired.
Rather, recipients who were cut off in the midst of receiving federal benefits would be able to pick up where they left off, until they reach the maximum weeks for their state. In Nevada, that would be 37 weeks of federal benefits on top of 26 weeks of state-paid basic benefits.
Heller said a bill containing retroactive benefits would not pass Congress "in the environment we have today."
In opposing the Senate-passed bill this spring, House Speaker John Boehner, R-Ohio, pointed to concerns by state unemployment administrators that it would be too complicated to calculate payments retroactively.
"I want the results to be different this time," Heller said. Removing retroactivity "is the best we can do under the circumstances."
Republican House leaders have resisted calls for votes on renewing federal unemployment benefits, particularly as the economy has shown signs of improvement.
Boehner has said he would reconsider if President Barack Obama proposed specific amendments that would further create jobs. Heller agreed Tuesday that Obama needs to be "more engaged."
Obama "needs to pick up the phone and talk to the Speaker and say, 'How are we going to get this done,'" Heller said.
The Nevada Republican said he spoke with incoming House Majority Leader Kevin McCarthy, R-Calif., about unemployment benefits but the House leadership position remains unchanged.
The White House, while expressing concern about the unemployed, has not responded to the GOP call for specific job-creation measures that could be attached to the bill.
Senate Majority Leader Harry Reid, D-Nev., said Tuesday the fate of further jobless benefits rests with House Republicans. He said Heller and Reed have kept the issue alive "but we need to get some movement in the House."
"We've already passed unemployment extensions over here and the House in typical fashion has done nothing,"
The cost of the new legislation would be paid for by extending customs user fees through 2024 and by raising revenue by temporarily reducing the amount of money companies are required to contribute to their retirement funds, an accounting process know as "pension smoothing."
The national unemployment rate in December 2013 was 6.7 percent, decreasing to 6.3 percent in May. In Nevada, the jobless rate of 9 percent in December improved to 7.9 percent in May, although by formulas that take into account the underemployed and people who have given up looking for work, the Nevada rate is in double digits.
Heller said he remains concerned that high gasoline prices may hurt Nevada's economy in the months ahead, and he viewed federal jobless benefits as a safety net even if they turn out not to be widely needed.
"I'm concerned about getting through this summer," Heller said. "I want to make sure we are prepared in case we see any economic fluctuation over the next five months."
Rhode Island, where the May rate was 8.2 percent, and Nevada remain the states with the highest unemployment. And Reed said while job prospects have improved for people recently laid off, there has been less improvement for the long-term unemployed.
"So we're beginning again," Reed said, referring to the new legislation. "I believe these Americans who are looking need the help and our economy needs the stimulation that we could generate. I don't think we can leave these families behind. I think we have to give them a chance."
Contact Stephens Washington Bureau Chief Steve Tetreault at STetreault@stephensmedia.com or 202-783-1760. Find him on Twitter: @STetreaultDC.