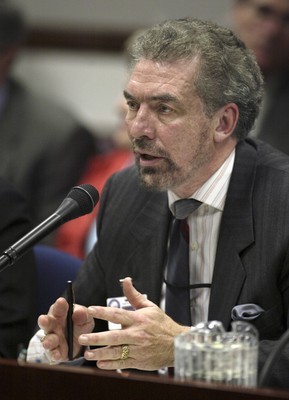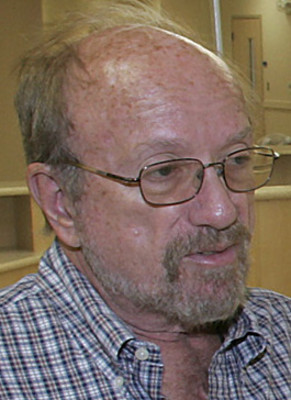 Since last year, four administrators have either left the state Division of Mental Health & Developmental Services or announced their departure, causing concern that instability is hurting recruiting in a state agency that already is having trouble attracting psychiatrists.
With the upcoming retirement of the division's director, Carlos Brandenburg, mental health advocates say progress made by the division in recent years could be disrupted.
"The problem is, and I think it is fair to say, the instability is not helpful in recruiting front-line staff," said Dr. Ole Thienhaus, chairman of psychiatry at the Nevada School of Medicine.
In particular, Thienhaus said Rawson-Neal Psychiatric Hospital in Las Vegas, which opened late last year, is still in need of psychiatrists, psychologists and psychiatric nurses. Individuals applying for those positions are less likely to accept a job if there is uncertainty about who their boss is going to be, he said.
"It is quite relevant to come in and want to get to know the state medical director," Thienhaus said.
Until July, that position was held by Dr. David Rosin, who left for personal reasons.
At the time, he was responsible for his statewide duties as well as running inpatient services for Southern Nevada Adult Mental Health Services.
When Rosin left, Brandenburg estimated it would take six to nine months to replace him. A candidate out of Washington was scheduled for an interview this month.
"There's no doubt that not having that position filled is really hurting us in terms of recruiting physicians," Brandenburg said. "But, I think overall the division has had a great deal of stability among our administrators. We need to fill positions on the front line. That's where the need is."
Though Nevada has made some headway in hiring psychologists, social workers and psychiatric nurses, psychiatrists are a different story. Because it doesn't offer competitive salaries for psychiatrists comparable to other Southwestern states, those professionals tend to look elsewhere for employment, health officials say.
Along with Brandenburg and Rosin, the department has seen the departure of:
• Dr. K.C. R Nair, who was in charge of Southern Nevada adult inpatient care until April, when he resigned just days after the Joint Commission, a nonprofit that accredits and evaluates health care organizations in the United States, gave the agency a poor score. The score recently was changed, and the agency has received its certification.
• Jonna Triggs, who left last year amid disputes with Brandenburg. Nair replaced her, but lasted only six months.
Since the vacancies are all upper administration positions, "there probably won't be a direct immediate impact to patient care," Thienhaus said.
But some in the private sector say the successful delivery of services starts with good leadership and stability.
"I don't think we've had strong leadership historically in behavioral health, but in all fairness, part of the reason is the way it is currently configured. It is impossible to manage," said Michael Adams, vice president of clinical operations for Solutions Recovery in Las Vegas. "If someone comes in with a new initiative or idea, you're going to find resistance because that translates into change."
Solutions Recovery is an organization that links adults with alcohol and drug addictions to residential treatment programs.
Adams, who has worked in the private and public sector, said this resistance to change has hampered opportunities to improve the mental health care situation in several ways:
• Addressing the influx of mentally ill patients who are admitted into hospitals because there aren't enough public psychiatric beds.
• Prioritizing care to those in need.
• Diverting people out of public psychiatric beds and into a supportive residential environment.
Adams suggested the state's mental health system should be reconfigured to offer 24-hour crisis service and triage outside of the emergency room setting, and to develop wraparound services for the mentally ill, especially for those who have just been released from a psychiatric facility.
Wraparound services are intensive community based mental health services that assist the mentally ill with medication compliance and substance abuse services. It also offers short- and long-term residential housing, vocational training and employment.
Adams also said bettering the state's mental health system needs the support of the governor and legislators.
Sen. Joe Heck, R-Henderson, said state legislators are always concerned with the delivery of mental health services in Nevada.
Heck said in any business or organization there's going to be a resistance to new approaches. People are used to what they are familiar or comfortable with, he said. However, he said, the division is slowly opening up to change.
As an example, Heck said legislators and the mental health division staff are entertaining the idea of privatization of inpatient services.
What that means is inpatient services would no longer be under state operation. The state would contract services out to private corporations for mental health patients who need inpatient care such as to be hospitalized.
"The state would provide oversight over the service, but state employees would no longer be providing the services," Brandenburg said. "This is something that is happening across the country, and there are a lot of pros and cons."
Anis Abi-Karam, president of the Human Behavior Institute in Las Vegas, who closely monitors what's happening with public mental health services, said he has concerns with privatizing only the inpatient services.
He believes the privatization would split the current system of care and set up a dynamic of no one entity being responsible for care.
"You're going to have tension between the public and the private run systems," Adams said. "The only rational thing is to, No. 1, fix the entire system and leave it alone; privatize the entire thing; or maybe create a pilot project to see if the private sector can actually develop a better system of care."
There still needs to be adequate leadership and coordination, said Adams, who, along with Abi-Karam, wrote a letter to Gov. Jim Gibbons on Jan. 23 highlighting their concerns about current operation of the state's mental health system.
Brandenburg's last day is Jan. 25 after more than 30 years in government-run programs, more than a dozen at the helm of the state Division of Mental Health.
Though there was speculation he was being pushed out, Brandenburg says that's not the case.
"I had already announced my retirement," he said. "I am leaving prior to the next legislative session to give the next leader enough time to prepare for his or her budget. When I took over the position, we were in session."