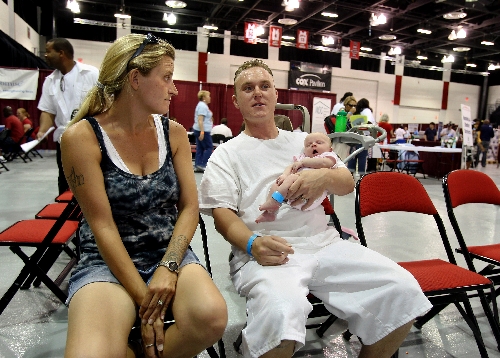 The event was meant to help families on the brink of homelessness because of a lousy economy and the highest unemployment rate in the nation.
But the newly married Browers desperately hoped Tuesday's Preventing Homelessness Connect could help a couple five years past the brink.
That's because John and Michelle Brower, who have lived mainly in a tent in the desert since 2005, recently experienced a life-altering change in circumstances: the birth of daughter Layla, now 25 days old.
The small family has doubled up temporarily in a friend's condo since Layla's birth. The Browers figure the best way to eventually get a place of their own is to find work.
"We'll do anything, everything," Michelle Brower, 34, said while waiting in line to talk to social service providers at UNLV's Cox Pavilion on Tuesday morning. "But nobody's hiring — not even McDonald's."
It's a problem those who help the needy hear now more than ever. Since the recession hit, finding jobs for the homeless or soon-to-be homeless has become harder than finding a place for them to live.
"We have more housing solutions than ever before" because of new federal and other funds meant to prevent homelessness, said Terry Lindemann, director of Family Promise, a nonprofit that helps homeless families. "That's encouraging. But there's a huge segment out there just hanging on by a thread. They need an income."
Lindemann, whose agency was one of dozens of nonprofit and government social service agencies that participated in the event, worries such agencies will soon get even busier because a jobs bill that included an extension of weekly benefits for the unemployed died in the U.S. Senate last week.
"If we don't extend benefits and there's no employment, I feel in my bones it's going to get much worse," Lindemann said.
Linda Lera-Randle El, director of the Straight from the Streets homeless outreach program, doesn't see how things could get much worse.
"I've never seen so many people in need in my lifetime," she said. "You want to say, 'It'll be OK, it'll get better,' but people are still unemployed. There aren't enough jobs to cover the amount of people in need."
Lera-Randle El's group focuses on the "chronically homeless," defined as someone who has experienced several bouts of homelessness over a few years or has been homeless a year or more.
The Bowers qualify as "chronically homeless" and are working with staff members with Straight from the Streets to find housing.
That should prove easier than finding a job.
"You can house people, but you can't get them a job so they can help themselves," Lera-Randle El said. "It's a terrible circle. The clock is ticking. You can't keep paying for everybody to be in housing forever."
Elido Marcelino, 56, knows how hard it is to find work. His last job as a handyman ended in 2006 after he suffered a heart attack. Now living with his wife in his brother's converted garage, Marcelino survives on $1,000 a month in disability benefits and $16 a month in food stamps, he says. While he can no longer do physically rigorous work, Marcelino says, he's willing to do anything else.
"I need to do something," he said. "I like to work, and I need the money."
But Marcelino didn't attend Tuesday's event to find help for himself. Instead, he accompanied his 22-year-old daughter and her two children in hopes they would find a place to stay.
The night before, Marcelino's daughter and her children had stayed in the garage, too. And the small family had been couch-surfing, staying with friends, since January when the children's father kicked them out.
"I can't find any work," said the daughter, who asked not to be identified. "I've applied everywhere, even McDonald's. I'm kind of losing hope."
Preventing Homelessness Connect was coordinated by Southern Nevada Regional Planning Coalition's Committee on Homelessness and the Nevada Homeless Alliance. Its sister event, Project Homeless Connect, is held each fall at Cashman Center.
Contact reporter Lynnette Curtis at lcurtis@review journal.com or 702-383-0285.
Preventing Homelessness Connect