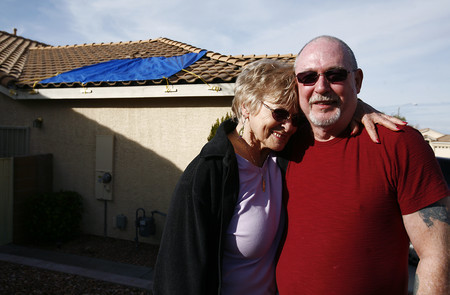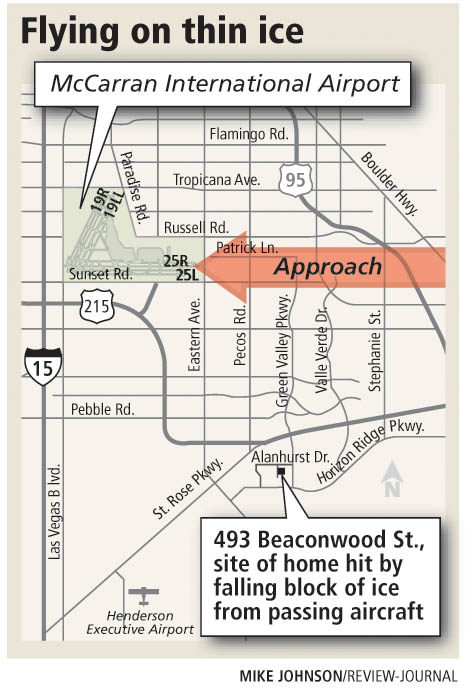 Penny White was looking at her reflection in the bathroom mirror Tuesday about 8:30 a.m., getting ready for the day, when she felt it: "It went kaaaabooom!" demonstrated Penny, 75, flailing her arms and imitating the house shaking. "Me and Bill both looked at each other at the same time and said, 'What in the hell was that?'"
Penny's husband, Bill White, quickly walked outside their Henderson house on Beaconwood Street, near Green Valley Parkway and the Las Vegas Beltway, where a neighbor directed him to the source of the commotion: a 2 1/2-foot hole in the roof of his garage, surrounded by chunks of ice.
Bill, 69, retrieved a ladder to investigate. When he looked into the hole in his one-story house, he said he knew right away what had happened: A block of ice, about 30 or 40 pounds, had fallen from an airplane and plowed almost completely through his roof.
"From the size of the hole, you knew no one could have thrown it up here," he said. "It was big, and it was coming fast."
Ian Gregor, a spokesman with the Federal Aviation Administration, confirmed that falling ice from an aircraft descending into McCarran International Airport probably caused the damage.
He said it's likely that when the plane was ascending toward cruising altitude, ice accumulated outside the plane, probably near the bathrooms. When the plane was flying into Las Vegas, the ice dislodged and fell, he said.
Gregor said he had heard of only four to six similar cases in his jurisdiction since he began working with the FAA's Western-Pacific region three years ago.
"It's very rare," he said. "Not unheard of, but rare."
By checking radar data, Gregor said, the FAA found six airplanes that flew over the Whites' neighborhood between 8:15 and 8:34 a.m.
All six planes had departed from McCarran before FAA investigators arrived at the airport, but Gregor said that the airlines had been notified and that maintenance workers had been told to check for leaks at their next stops.
It wasn't immediately clear which plane might have been leaking water, he said.
The Whites were not the only Henderson residents to report that their homes were struck by ice, Gregor said.
A resident several streets away, who asked to be identified only by his first name, Edmund, said several tiles on his roof had been damaged.
He found ice on the sidewalk outside his house, he said.
But his damage wasn't nearly as severe as the damage sustained by the Whites' house, he said.
"That's a huge hole," Edmund said as he thumbed through the Whites' photos of the incident. He was one of several neighbors to gather outside the house Tuesday afternoon.
Bill White said the ice had gone straight through his roof tiles, through a layer of plywood, and then shattered on the main gas line.
After the discovery, he said, he collected several chunks of ice, placed them in a bag and stored them in his freezer as evidence for his insurance company.
He also called the FAA, filed a police report and snapped several photographs of the damage.
A damage estimate was unavailable, Bill said. His home office shares a wall with the garage, he said. If the ice had struck his house 10 feet farther west, he thinks the ice would have landed on his desk, unimpeded by the gas line.
"It could have killed someone very easily," he said.
There were no reports of injuries from falling ice, the Henderson Police Department said.
Penny White said the whole incident was surreal, almost "breathtaking."
It's the kind of incident that's so rare, nobody thinks it will happen to them, she said.
Both Whites said they felt lucky no one was hurt. Bill said he hoped the leak was fixed before the plane left McCarran.
"If there's water left in that tank, it's probably dripping across the country," he said.
Contact reporter Mike Blasky at mblasky@reviewjournal.com or 702-383-0283.
Chunk of ice falls on Henderson home