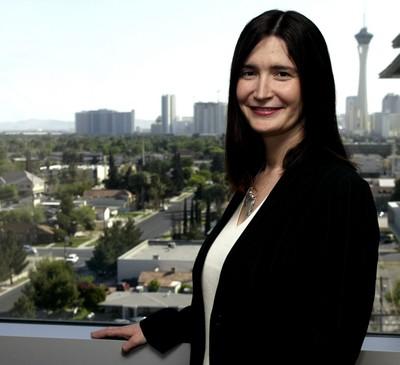 Lonely and confused about his sexuality, a 13-year-old Las Vegas boy logged onto his grandparents' computer and entered a chat room, hoping to find a fresh collection of friends.
Instead, according to the U.S. attorney's office, he found Brandon Conway, a registered sex offender living in California.
Conway zeroed in on the boy. The two shared a disability; they were deaf. Conway related to the boy's loneliness. The boy believed he found a new friend.
Conway traveled to Las Vegas in April 2005 and text-messaged the boy. Although uneasy with sexual advances by Conway, the boy met him on a street adjacent to his home. The boy wanted to talk; Conway wanted him to get into his back seat.
"GET IN THE CAR NOW!" Conway wrote in a text message, the method the two used to communicate.
During the dispute, the boy's grandfather approached Conway and called police.
"(The boy) was scared and concerned; he thought he (Conway) was a nice guy," said Nancy Koppe, an assistant U.S. attorney who oversees Nevada's Project Safe Childhood Program. "Kids are looking for something and they get in over their heads sometimes."
Koppe's job is to put away child predators who locate their prey on the Internet. But Koppe's responsibility has become increasingly overwhelming since the advent of chat rooms and social Web sites such as Myspace.com.
Myspace has become an integral part in teenagers' lives the last two years. Members' popularity is based on the number of friends they collect, and therefore they are not picky about who visits their personal page.
"It's so frightening," said Koppe, whose predator-seeking job became full time two years ago because of the number of Las Vegas cases that surfaced. "Kids don't understand the danger."
Koppe appeared in court Tuesday for a solicitation case that illustrates her concerns about social networking Web sites.
A complaint filed last week against 34-year-old Richard D. Van Matre of Las Vegas said he logged onto his stepdaughter's MySpace page and made sexual comments to a 14-year-old friend of hers.
When Van Matre persisted, authorities were notified, and an undercover FBI agent took over, using the girl's log-on, the complaint said. Van Matre and the "girl" agreed to meet last week to have sex, the complaint said. Van Matre showed up and was arrested. He remains in federal custody after an initial court appearance Tuesday afternoon.
The number of child pornography and exploitation cases prosecuted by Nevada's U.S. attorney's office increased from three in 2000 to 33 in 2005. Last year, the office handled 23 cases, according to a report from the Department of Justice.
Busting predators who target and schedule meetings with teenagers is rare, Koppe admits. Of the 160 cases the U.S. attorney's office has prosecuted during the past five years, 2 percent involved real setups. Most of the cases stemmed from predators enticing undercover agents posing as young teens.
Tracking aggressors who go after computer users is difficult because most children are afraid to come forward and report talk of sex or pornographic images to their parents or authorities.
Koppe said that parents must keep track of their children's computer use. Keep computers in family rooms and check the history of Web sites visited, she said. Watch for code phrases such as POS (parent over shoulder), OLL (online love) and LMIRL (let's meet in real life).
The popularity of chat rooms, in which computer users can spark up conversations with others instantly, and social Web sites has made it easier for sexual predators to act out their fantasies.
The popular X Box 360 video game console is one of the newer avenues for predators, FBI Special Agent Andy Gruninger said. The game offers a feature with which players can communicate with each other live.
"Parents need to know their kids can be approached that way," Gruninger said. "With every new avenue there is through the Internet, chat rooms or games, the predators are going to try to use it to try to get to the kids."
"It's so sophisticated the way they groom them, the way they make children feel so comfortable," Koppe said. "The Internet has taken the people who always had these feelings, these tendencies, but never acted on them, and given them a method."
Koppe said undercover FBI agents pose as teens and enter chat rooms. The agents state their fake age but do not initiate conversations. If a predator hits on the agent, the agent follows his or her lead. Many cases end with the predator showing up at the scheduled meeting place and leaving in handcuffs.
The government's method of capturing sexual aggressors has its critics.
Defense attorneys often argue that federal agents are entrapping their clients.
Koppe said her team is extremely cautious in the manner in which it handles the cases.
"They sit there, and they don't approach anyone," Koppe said. "Everything that happens comes from the defendant; they approach them (the agents). The defendant is the one who brings up sex."
Koppe said defense attorneys often use the entrapment argument to sway a jury, but that stance has yet to be accepted. She said her office has never lost a child exploitation case.
Conway, the man who lured the deaf teen, was sentenced to 20 years.
Gruninger, one of the FBI's agents who goes online undercover, said his office follows rules established by the attorney general's office.
"By following those, we haven't had any issues with entrapment or any of the other problems that might arise from this type of investigation," he said. "We're not going to do things that will be viewed as entrapment."
Critics and defense attorneys have questioned whether a person can be convicted on charges of hitting on a teen when in reality they hit on an adult undercover agent.
"He's charged with attempting to entice a 13-year-old girl," Koppe said. "In his mind, it was a 13-year-old girl. They go there with an intent, that is clear."
A representative for the American Civil Liberties Union did not return repeated messages seeking comment for this story.
HIGH-PROFILE CASES
Some of the most high-profile child exploitation cases in Las Vegas involved professionals who held well-regarded positions in the community. Court records and the U.S. attorney's office detail some of those cases below.
• RICHARD SOULE, a University of Nevada, Las Vegas, flute professor pleaded guilty in January to downloading more than 10,000 child pornography images on his office computer. The pornographic material included pictures of toddlers and infants. Soule is scheduled to be sentenced on April 17.
• DANIEL ROBERT PETERSON, a crime scene investigator for the Metropolitan Police Department, was arrested in September 2005 after a co-worker found pornographic images of children on his work-issued laptop. The investigation revealed that Peterson downloaded between 150 and 300 child pornography images on his computers. In February, Peterson was sentenced to 78 months in prison.
• DAVID WHITTEMORE, an attorney with the law firm of Lionel Sawyer and Collins, was arrested in October 2005 after child pornography images were found on his computer. Whittemore, the brother of lobbyist Harvey Whittemore, received between 300 and 600 child pornography images. David Whittemore is serving a five-year prison term, the mandatory minimum for child exploitation cases.
• DAVID EVANS, a pediatric resident and mentor in the Big Brothers/Big Sisters Program, was arrested for taking pornographic pictures of 9-year-old boy he mentored. Evans also documented sexual acts with the child and downloaded them onto his computer with the intention of distributing them. In November, Evans was sentenced to 327 months in prison.
• TIMOTHY MCDARRAH, a former columnist with the Las Vegas Sun, was arrested in New York for soliciting sex from a federal agent posing as a 13-year-girl on the Internet. McDarrah, who was working for Us Weekly magazine at the time, was arrested after showing up at the girl's fake address. He is scheduled to be sentenced April 20.