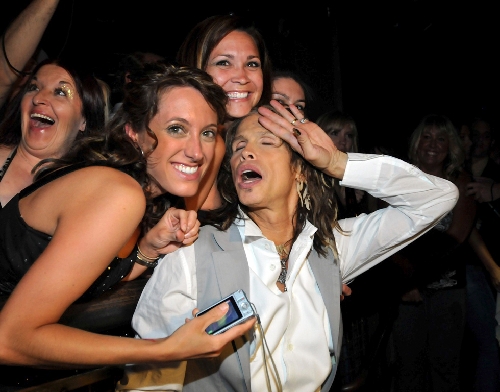 American Idol" looks like it's in disaster reorganization. Falling ratings and a scramble for new judges mean "Idol" has jumped the shark, or hit the wall, or whichever expression assigns it to pop culture peril.
Can Steven Tyler and Jennifer Lopez rebuild it?
As Norm Clarke reported Monday, the Aerosmith frontman used a red carpet appearance at MGM's Studio 54 to confirm rumors he will be a judge on "Idol."
Later, TMZ posted red carpet video of Tyler saying, "I'm doing it."
E! repeated Monday that Lopez is "supposedly" a new judge and that Kara DioGuardi and Randy Jackson may be out.
"The only thing that's for sure is Ryan" Seacrest will remain, Jackson told E!
Fox executives wouldn't divulge a thing Monday when they faced the Television Critics Association convention in Beverly Hills.
Meanwhile, auditions have moved to New Orleans, Nashville and Milwaukee, and they resume today — without star judges — near the Jersey shore. Uh-oh.
BERNS IS BACK ON THE AIR
On Monday, Dave Berns started "Nevada Today with Dave Berns" at the jazz and NPR station KUNV-FM, 91.5.
The show (5 p.m. Monday-Friday) has a similar format (politics, news, entertainment and culture) to his former hosting job of "State of Nevada" on KNPR-FM, 88.9.
Disclosure: Berns is a friend and former R-J colleague. One Thanksgiving, my dad spilled red wine on his carpet. Despite that, Berns asked me to be a guest on the show this week.
VEGAS PARTY CHAMPS
Ryan Phillippe sure likes Tao. In 2008, he took Abbie Cornish there for her birthday. Remember: Cornish is the lady Reese Witherspoon accused of being a home wrecker; Cornish denied it; then Phillippe and Cornish were indeed a couple. Flash forward to this past Saturday — that's when Phillippe took latest girlfriend Alexis Knapp to celebrate HER birthday at Tao. Daytime Saturday, they hung at Tao Beach. Saturday night, he took her and some of her girlfriends to Tao for dinner, then they went clubbing upstairs, where he made a turntable visit to the DJ booth. On Sunday night, Phillippe took Knapp and friends to Lavo for Kobe meatball and sea bass, a birthday cake, champagne, and dancing upstairs. Hopefully, in 2012, Phillippe will ring up Tao and go, "Hey guys, I have a new girlfriend with a birthday!" … Last week's Vegas Party Champ was LeBron James. This week's Vegas Party Champ had to be Lennox Lewis. On Saturday, he took an entourage of 20 to club Lavo, after dining at the Lavo eatery. On Sunday, Lewis partied in a cabana with his friends at dayclub-pool Rehab. Sunday night, he took the entourage of athletes to club Bank, where he danced and mingled. … Who knew Lance Bass was dating Kyan Douglas of "Queer Eye for the Straight Guy"? The New York Post claims they're an item, anyway. Bass, Douglas and friends ate Saturday at Tao, then clubbed upstairs, drinking champagne and vodka cocktails. … Lauren Conrad did Tao Beach on Saturday, promoting her book "L.A. Candy." She took friends to a cabana for drinks and chow. … Sugar Shane Mosley partied Friday with Jason Giambi at Vanity. Mosley partied with Bernard Hopkins on Sunday at Vanity. … Speaking of champion partiers, congratulations Lindsay Lohan, for being released from jail in Los Angeles on Monday. Good luck in rehab for three months. I mean that. You're beautiful clean; druggies are fuglies.
Doug Elfman's column appears Sundays, Mondays, Tuesdays and Fridays. E-mail him at delfman@reviewjournal.com. He blogs at reviewjournal.com/elfman.