Illegal tire tracks mar Death Valley dry lake famous for mysterious moving rocks
September 21, 2016 - 10:29 pm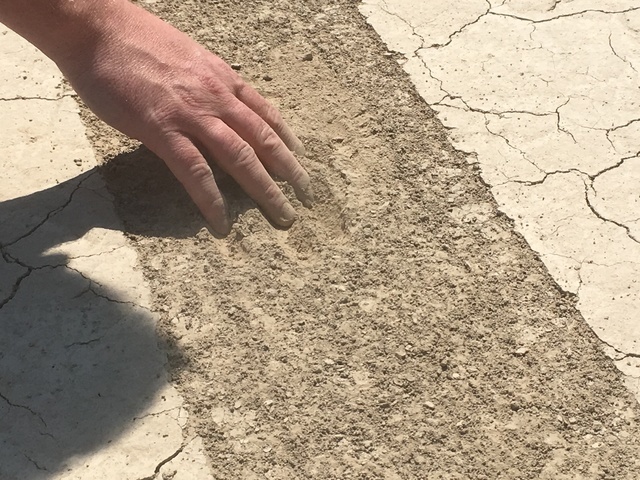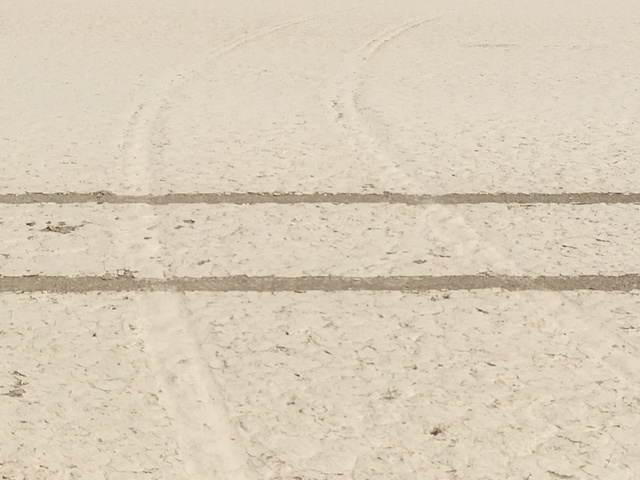 The National Park Service is trying to track down a motorist who defaced a remote dry lake bed in Death Valley National Park famous for its mysterious moving stones.
Despite its name, Racetrack Playa is strictly off-limits to motor vehicles. But that didn't stop an unidentified park visitor from taking an illegal joyride across the lake bed, leaving behind about 10 miles of looping tire tracks that could scar the landscape for years.
"It's extremely frustrating to find something like this," said Abby Wines, management assistant for the park.
There are signs and barriers posted along portions of the lake bed about 200 miles northwest of Las Vegas, but park rangers still seem to find new tire tracks on the playa every couple of years, Wines said.
"This is the worst (case) I'm aware of. It's really extensive," she said.
The damage appears to have been done sometime in late August. Wines said the Park Service has a pretty solid lead in the case, but declined to elaborate.
Curious visitors and professional nature photographers from around the world are drawn to Racetrack Playa to see its so-called "sailing stones," hundreds of rocks weighing as much as 700 pounds that have roamed across the surface of the dry lake bed, leaving meandering tracks hundreds of yards long.
How the rocks moved was a mystery until late 2013, when researchers from the Scripps Institution of Oceanography in San Diego observed them being pushed slowly across the flooded lake bed by sheets of wind-blown ice.
Landscape photographer Kurt Lawson said he makes the roughly seven-hour drive to the Racetrack from his home in Santa Monica, California, every other year or so to take pictures and camp under Death Valley's dark night skies.
Usually, the playa is "a magical place," he said, but when he got there Sept. 11 he found it crisscrossed with fresh tire tracks from one end to the other. In a few places, the tracks cut right across the long troughs left by the sailing stones.
"It's just really disheartening," Lawson said. "There's a 'no vehicles' sign, and there were tracks directly behind it. It's so disrespectful."
After spending his two-day camping trip stewing about the damage, he went home and posted a blog entry about it, complete with photos, that was, in turn, picked up by several photography websites.
"It's been my most viewed blog post by hundreds of miles," Lawson said.
Wines said park resource staff members might try to repair the damage by wetting the tire tracks with water and letting them dry to restore the lake bed's protective crust, which was broken by the weight of the unauthorized vehicle.
But such work would have to be done on foot by people carrying water tanks and sprayers.
"We can't exactly send a water truck out there," Wines said. "We really don't know whether we're going to do that or when."
Getting to the playa is no easy task. The Racetrack is at the northwestern side of the 3.4 million acre park, 27 miles down a rocky, washboarded dirt road best suited for high-clearance, four-wheel-drive vehicles.
Its remote location likely shields it from more frequent vandalism but also makes it hard for rangers to keep an eye on in a park nearly the size of Connecticut, Wines said.
Death Valley has seen several high-profile cases of vandalism in recent years.
In April, three men broke into Devil's Hole, a water-filled cavern in Nevada that's managed by the national park, and damaged critical habitat for an endangered fish.
In June, San Diego artist Casey Nocket pleaded guilty to damaging government property after she drew and painted on rocks at seven National Park sites, including Death Valley, as a part of month-long "art" spree in 2014 that she documented on social media.
And in August, Dr. Jonathan Bourne of Mono County, California, pleaded guilty in connection with the illegal collection of Indian artifacts from Death Valley and other sites over a 20-year period.
Wines said she isn't sure whether Death Valley is seeing an overall increase in vandalism or if it just seems that way because news now spreads farther and faster on social media.
If there has been an uptick in damage, she said, it could be a function of higher visitation.
Last year was the busiest Death Valley has seen in 15 years, and the park is on pace to host even more visitors this year. In March, a rare "super bloom" of wildflowers drew more than 209,000 people to Death Valley, shattering the park's previous single-month record of 133,300 set in March 2010.
Wines said anyone with information about the tire tracks on the Racetrack or other acts of vandalism in Death Valley should call the park's main phone line at 760-786-3200.
Contact Henry Brean at hbrean@reviewjournal.com or 702-383-0350. Follow @RefriedBrean on Twitter.