Immigration reform divisive
April 17, 2010 - 11:00 pm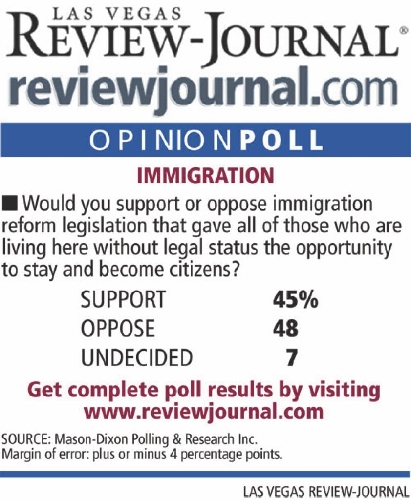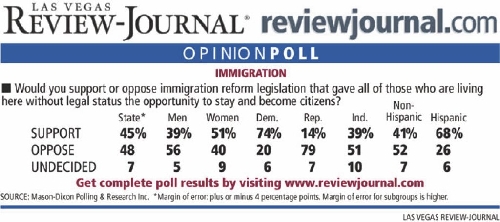 WASHINGTON — As U.S. Senate leaders say they want to revive immigration reform this year, a poll shows Nevadans are split on whether people who are in the United States illegally should be offered a chance at citizenship.
The question of citizenship generally is the most controversial element of immigration overhauls, although broad legislation usually also addresses other matters, such as border security, visa quotas and fines against companies that employ illegal immigrants.
In a poll conducted April 14-15 for the Review-Journal, 625 Nevada registered voters were asked whether they would support or oppose a bill "that gave all of those who are living here without legal status the opportunity to stay and become citizens."
Statewide, 45 percent said they would support such a bill, while 48 percent would oppose it. The poll has a margin of error of plus or minus 4 percentage points.
"That is a split, and there is a party split, and there is an ethnic split, and that reflects where the state is," said Brad Coker, managing director of Mason-Dixon Polling and Research, which conducted the survey.
Among Democrats, 74 percent support offering a chance at citizenship to immigrants, while 20 percent oppose.
Republicans are almost on the flip side. Some 14 percent support offering citizenship while 79 percent oppose.
Among independents, the split was 39 percent in favor of citizenship and 51 percent opposed.
Speaking at immigration rallies last weekend, Senate Majority Leader Harry Reid, D-Nev., and his chief deputy, Sen. Dick Durbin, D-Ill., said they will seek passage of immigration bills this year.
Their declarations have found little support so far among rank-and-file senators, some of whom are facing re-election battles and are reluctant to tackle a potentially divisive issue.
Political analysts have speculated Reid is promoting immigration reform to excite Hispanic voters in Nevada, whom he is courting to turn out and vote for his re-election in November.
The Review-Journal poll suggested that strategy is sound, Coker said. Among Hispanic voters, 68 percent support giving immigrants a chance at citizenship, while 26 percent are opposed.
Among non-Hispanic voters, 41 percent would be agreeable to offering citizenship while 52 percent were against it.
"If Reid really pushed it hard he may solidify Hispanic voters and help himself a little bit with the Democratic base," Coker said. "But he will probably turn some independents off."
Reid dismissed the poll, with a spokesman saying the question about citizenship for immigrants "is leading and mischaracterizes immigration reform."
"Good reform will require illegal immigrants to register with the government, pay fines and taxes, pass background checks, and learn English. If they meet the criteria, they go to the back of line to wait their turn to full legality," Reid spokesman Jon Summers said.
"If the question had been formulated to reflect these basic components, the results would be different," Summers said.
"Simplistic assertions such as this one create an unnecessarily hostile environment surrounding an issue that will not go away if it isn't fixed; and perpetuates a situation that is detrimental to American and immigrant workers alike."
Contact Stephens Washington Bureau
Chief Steve Tetreault at stetreault
@stephensmedia.com or 202-783-1760.