Impact Nevada: Many favor higher taxes for Nevada's budget problems: Poll
October 3, 2010 - 11:00 pm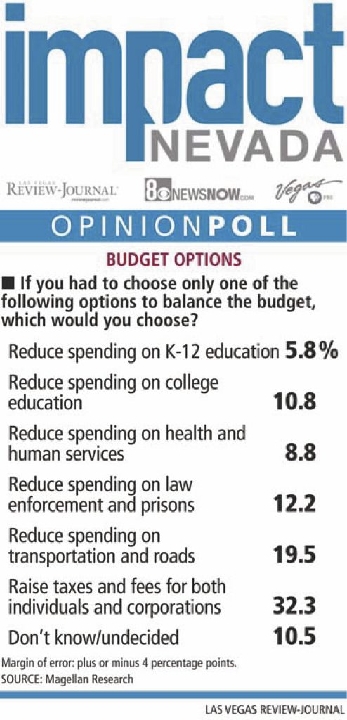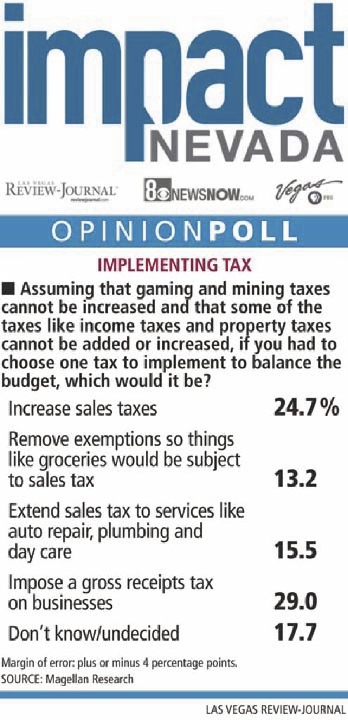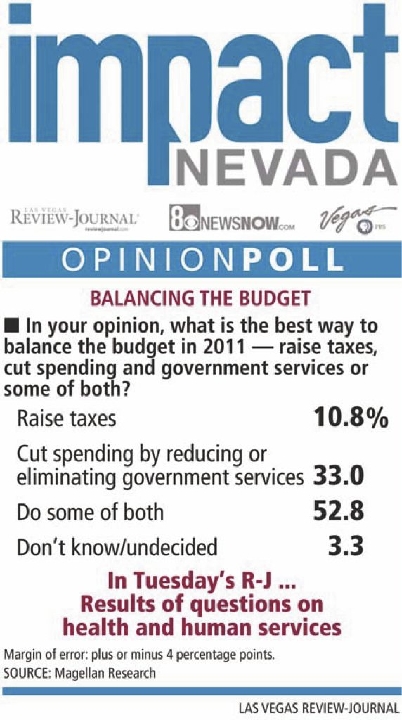 EDITOR'S NOTE: Impact Nevada is a collaboration of the Las Vegas Review-Journal, 8NewsNow and Vegas PBS dedicated to providing quality information on critical issues to Southern Nevadans. Impact Nevada gives a voice to residents by soliciting their opinions, presenting them to elected officials, measuring progress and holding officials accountable.
As its first project, Impact Nevada focuses on the financial challenges facing the 2011 Nevada Legislature and the state's next governor. To create an informational foundation for this effort, Impact Nevada commissioned a statewide public opinion poll by Magellan Research of Las Vegas. Nevadans were asked their spending and taxing priorities and preferences. The Review-Journal and 8NewsNow will detail the results over the next seven days. Complete data from the poll is available at impactnevada.com. Stories on the results are available on reviewjournal.com and 8NewsNow.com. Vegas PBS will broadcast a 30-minute overview of the poll at 7:30 p.m. Oct. 11 and 12:30 a.m. Oct. 12.
---
CARSON CITY — Sure, there are a lot of right-wing extremists and flaming liberals in Nevada.
But most Nevadans are quite moderate in how they would handle the potential $3 billion state government revenue shortfall that legislators must deal with in 2011.
Nearly two-thirds of respondents to the Impact Nevada poll favor tax increases, or a combination of state spending cuts and tax increases, to solve the budget problem.
The telephone poll of 600 likely Nevada voters was conducted Sept. 6-16 by Las Vegas-based Magellan Research for the Las Vegas Review-Journal, 8NewsNow and Las Vegas PBS television. The results have a margin of error of plus or minus 4 percentage points.
Poll respondents said they're OK with paying higher taxes if it means the state will keep class sizes small and pay teachers at least what they're making now.
Only about one in 20 respondents would cut elementary school spending, and just one in 10 is willing to reduce higher education expenditures. More than half of state spending goes to education.
They would rather see tuition increases at the state's colleges and universities than the elimination of more programs.
They would rather charge fees to the parents of children involved in extra­curricular activities than eliminate these programs.
They also favor preserving programs like Medicaid, which provides health care to 270,000 residents, and food stamps, which 300,000 people depend on.
What they would cut is up in the air. If they had to cut anything, then it would be President Barack Obama's new national health care law.
Then again, they would cut that only if it increased state spending appreciably. Estimates are the health care program will tack on more than $100 million a year to state Medicaid costs.
What most surprised Marvin Longabaugh, president of Magellan Research, was that so many people will accept tax increases to balance the state's out-of-whack budget.
"For the first time in my history of polling in Nevada, a clear majority of people said they would be willing to have tax increases," said Longabaugh, whose Las Vegas company has done polling since 1998. "We are still an anti-tax state, but the majority of Nevadans are willing to endure a tax increase."
His survey could find no consensus on what type of tax increases people would support.
That means Impact Nevada might not be the perfect guidebook next year for the new governor and legislators, who will have to make the hard decisions.
"The problem for legislators will be figuring out which tax increases the majority will accept," he said. "Whatever tax legislators choose will make 20 percent of people happy and 80 percent hate you."
A property tax increase would be the most abhorrent tax to residents. It drew less than 1 percent support.
Impact Nevada found the tax increases most favored by respondents would be on gaming and mining. But neither of them received support of even 30 percent of the people polled.
That many residents favor mining and gaming tax increases was expected, Longabaugh said, since most people wouldn't have to pay those taxes. Invariably people think the fairest tax is the one someone else pays.
Daniel Hague, a Carson City restaurant manager, fits right in with the majority.
He hates the thought of cutting education, contending it is the most important government function and the one area where spending should be increased. But he says there is waste in state government and he also backs spending cuts.
"I can't tell you how many state workers come in and say they sit around all day," Hague said on Friday as he helped his 4-year-old daughter with the monkey bars at a local park.
But gubernatorial candidates Rory Reid and Brian Sandoval weren't buying the poll results.
Sandoval, a Republican, said Nevada leads the nation in unemployment and cannot attract new business if it imposes tax increases. "There is an expectation among people that government will reduce spending," he said.
Sandoval anticipates as governor he would cut spending by $2.5 billion.
Since public schools and higher education receive 55 percent of all state revenue, they would be cut, too, he said.
"I have been clear there will be across-the-board spending cuts that will be felt by all people. Raising taxes cannot be an option," Sandoval said.
Reid does not agree with the results either.
"Rory goes into living rooms all over the state," said Mike Trask, his spokesman. "What people talk about is finding jobs and how they are worried about going under on their mortgages and how are they going to buy their kids school supplies. They don't want to pay more taxes."
Democrat Reid won't talk directly to reporters about the poll unless he sees it in its entirety, according to Trask, but results given him by reporters are not what he has observed in campaigning.
He said Reid has released a balanced-budget plan that fills a $2.5 billion hole through cuts of $1.8 billion and $700 million in new revenue through economic growth, not taxes. No cuts would be made to education under Reid's plan.
Sandoval calls Reid's proposal a "phantom plan" that could never be achieved. Reid has criticized Sandoval for not presenting his own detailed plan.
If legislators tax mining or gaming like many voters want, then they might find themselves in a hornet's nest.
Gaming lobbyists have consistently complained in recent years that the industry cannot absorb more taxes. They have indicated support for broad-based tax increases, but only if the tax increases also affect other types of businesses. Already half or more of state revenue comes directly or indirectly from tourism spawned by the gaming industry.
Mining successfully challenged in court a move by the Progressive Leadership Alliance of Nevada, a group that represents unions and liberal-leaning organizations, to secure a tax increase through a petition drive. Taxing mining more probably will require a constitutional amendment, a step that takes at least three years.
But Magellan interviewers dug deeper than mining and gaming taxes. They also asked voters what tax would they increase if those two taxes weren't on the table.
Not surprisingly, no consensus could be reached on whether to increase the sales tax rate, tax services, remove the tax exemption on groceries, or impose a gross receipts tax on business.
Why the general support for tax increases?
Longabaugh believes many people are going through personal economic crises, like unemployment, home foreclosures or just stress about keeping their jobs.
"The crises in their personal lives have helped them realize government is in the same boat," he said.
They see that legislators need some revenue help in these troubled times, he added.
Magellan Research interviewers found just 10.8 percent of respondents see tax increases as the sole way to resolve the revenue shortfall. Another 33 percent said the sole solution should be reducing or eliminating government services.
But 52.8 percent declared they favor a combination of tax increases and spending cuts.
Longabaugh said when the numbers are combined, the poll found nearly two-thirds of respondents favor tax increases — although many also want spending cuts — to make state government solvent in 2011.
"That stands out," he said. "There is a clear consensus that it is OK to raise my taxes."
He noted that a slight majority of Republicans, as well as more than three-fourths of Democrats, favor tax increases, along with spending cuts, as the solution to state budget problems.
Opinion leaders and politicians were not surprised and mostly supportive of the poll results.
Even Debbie Landis, who has lead Tea Party events in Nevada, said the results fit in with the feeling of people who support the Tea Party, a national movement spawned by people upset with spending on the federal stimulus plan, the Wall Street and bank bailout bill and national health care reform.
"It has to be a combination of spending cuts and tax increases," said Landis of Action is Brewing, a Nevada grass-roots movement of conservatives who want fiscal responsibility, accountability and transparency from their elected officials.
"It is a very responsible poll and shows the fiscal conservatism of Nevadans, regardless of their party affiliation."
Landis said there are too many mandates that require Nevada expenditures and that is why some tax increases are necessary. She said the public will support tax increases as long as spending cuts also are made.
She noted the percentage of people who back cuts and tax increases is "staggeringly close" to the 58 percent of Nevadans who consider themselves followers of the Tea Party.
While their critics view them as right-wing extremists, Landis said they are level-headed, conservative people.
State Senate Minority Leader Bill Raggio, R-Reno, said it has always been his view that spending cuts alone would not be enough to cover the state's shortfall.
"I think we have cut pretty damn deep already," added Raggio, saying he gets calls from constituents all the time about long Department of Motor Vehicles lines and their inability to get into state agencies and quickly finish their business. "More and more folks are finding out they can't get services they took for granted. Services don't come without costs."
Raggio said the Legislature might have no choice but to authorize the temporary sales and business tax increases that expire June 30. These taxes were projected to bring in $780 million.
But Chuck Muth, a conservative political consultant and blogger, maintains legislators falsely have sold voters the idea that the state faces a $3 billion shortfall.
He contends the actual shortfall is more like $1.5 billion and insists that spending cuts alone will solve that problem. He said current state general fund two-year spending is about $6.5 billion and most analysts expect revenue over the next two years to come in at about $5 billion.
"If conservatives had done a better job of educating people on the true shortfall, maybe we would have had a different result (in the poll)," Muth said.
That said, Muth wants the Legislature first to come up with $1.5 billion in spending cuts and "then we will talk about tax increases."
Jan Gilbert, the Progressive Leadership Alliance of Nevada legislative lobbyist, hardly sees things Muth's way.
She said the poll results are encouraging. Before the legislative session begins in February, the alliance will release its own revenue-generating plan.
"I think when people really understand the problem, they won't destroy the state and the education system. They don't want to hurt people," Gilbert said.
But as he walked his dog Friday in a Carson City park, David Woods, a medical administrator at Renown Regional Medical Center in Reno, said people already have been hurt by pay cuts, and the Legislature needs to make more pay cuts, starting with high-paid school administrators and professors, not regular state employees and teachers.
"You have all these people making a lot of money and the state is furloughing people least able to afford it," Woods said. "I took a 25 percent cut in pay. It was either that or be laid off. They need to cut first. Legislators are afraid to make the hard decisions."
Contact Capital Bureau Chief Ed Vogel at evogel@reviewjournal.com or 775-687-3901.
News, poll results
COMING STORIES
Tuesday: Health and human services
Wednesday: Transportation
Thursday: Parks
Friday: Education
Saturday: Law enforcement
Sunday: Respondents' final word