In Profile: Career politician Harry Reid started small, climbed high
October 16, 2010 - 11:00 pm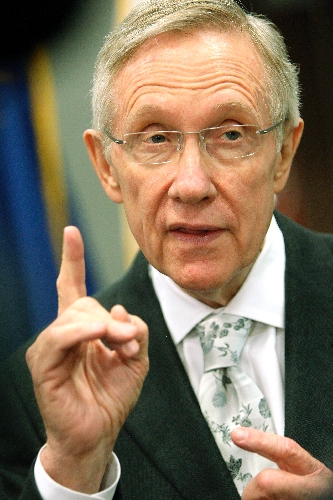 At one of the lowest points in Harry Reid's life, he nearly quit.
After two failed elections, Reid's political and personal mentor, then-Gov. Mike O'Callaghan, picked him up and appointed him chairman of the Nevada Gaming Commission in 1977.
But the $500-a-year part-time job meant to revive Reid nearly ruined him, as the FBI investigated whether he was the purported "Mr. Cleanface" on the mob's payroll for $10,000 a month.
"He offered me his resignation when those allegations were made," recalled Robert List, who had succeeded O'Callaghan as governor. "I declined to accept it."
Reid assured List he was innocent, and the Republican governor feared Nevada's vital gaming industry would be devastated if the chief gaming regulator resigned under a cloud. So Reid stayed on and was cleared of any wrongdoing after an exhaustive probe put him and his finances under a microscope.
"That was a tough time," Reid said in an interview this past spring while touring rural Nevada in a rented campaign bus. In comparison, "Now's pretty easy. Nothing's hard now."
That's Reid, the hardy survivor, a desert cactus-scratched boy from the hard rock mining town of Searchlight who grew into the most powerful senator in Washington. His upbringing explains his relentless drive to succeed, even at the expense of his own popularity.
And Reid's admiration for Franklin D. Roosevelt, the president who led the nation out of the Great Depression by expanding government and creating safety net programs such as Social Security, explains the Democrat's governing philosophy. He likes to tell the story of his mother keeping an embroidered pillowcase on the wall with stitching quoting FDR: "We can. We will. We must."
"You can't escape who you are," Reid said April 5 in Searchlight, kicking off his re-election bid from the sun-scorched town of a few hundred people, about 50 miles south of Las Vegas.
Reid has spent much of his seven decades trying to do just that.
One of his closest friends said that when he sees the Senate majority leader on TV at the White House with President Barack Obama, "I wonder is this far enough? Is this high enough for him?"
"He was just a country bumpkin," said 81-year-old Marlan Walker, the man who married Reid and his wife when the couple eloped and the Mormon leader who helped bring the couple into the church. "We are creatures of our environment, so I understand his drive to escape. He just wants to achieve the most."
Richard Bunker, another fellow Mormon and head of the Gaming Control Board that cleared Reid of corruption allegations in 1980, said the Democratic incumbent hungers for recognition and respect.
"He's looking for validation, over and above money, over and above power," Bunker said. "He's not a joiner. He's not social. Harry's not what you call a real politician. That's why his elections are so close."
Reid's friends and colleagues can't imagine him retiring, not the man whose idol is the longest-serving senator in Nevada history: Key Pittman, the Democrat re-elected for a sixth term in 1940 while on his death bed as party leaders hushed up his pre-Election Day heart attack. Reid named the youngest of his four sons Key after Pittman, who died within days of winning.
"Retire? It's not in his vocabulary," laughed Stan Colton, whose grandfather owned the Duplex Mine in Searchlight where Reid's father worked. "There's no such word for Harry."
Reid's survival of the "Mr. Cleanface" scandal, in which an FBI wiretap caught a mobster bragging about his unnamed inside man, was a key turning point in his career. It opened the way for Reid to win election to a newly created House seat in 1982, and to the U.S. Senate in 1986 for the first time.
The 70-year-old Democratic incumbent seeking a fifth term is now a creature of Washington, D.C., living in a condo at the Ritz-Carlton, courting lobbyists fueling his expected $25 million re-election bid, and occasionally returning to his relatively modest Searchlight home to enjoy sunsets from his porch.
"I can't remember the last time I saw him," said Colton from Searchlight. "He's not the kind of guy you go out and have a drink with some place. He has a hell of a work ethic," added Colton, who conducted investigations for attorney Reid during some of his 18 years of private practice. Reid often worked until 10 p.m. as a Las Vegas lawyer in the 1970s, achieving financial independence before being elected to Congress.
Reid's hardscrabble beginnings are well known to longtime Nevadans. But he's better known as the bare-knuckled Democratic leader of the Senate to the 600,000 new residents who more than quadrupled the state population since his last tough re-election in 1998. Reid nearly lost to then-U.S. Rep. John Ensign, who won Nevada's other U.S. Senate seat two years later after coming within 428 votes of knocking out Reid.
In 2008, Reid's co-written autobiography, "The Good Fight," was published to help reintroduce him during his re-election campaign. The book allowed him to tell the stories of his ties to people in both high and low places, including friends with shady business dealings and legal problems such as former boxer Gary Bates, who once offered to kill a man for Reid.
A one-time Reid bodyguard, Bates said he would get rid of Jack Gordon, who was jailed for trying to bribe Reid with $12,000 in 1978. There was unsubstantiated speculation that Gordon was behind a failed and crude attempt to blow up Reid's family car in 1981 after he was no longer gaming chairman.
In his book, Reid outlines the Bates offer and says he told him not to kill Gordon.
"Wow, I thought, this is loyalty," Reid writes in his book.
Bates, like many of those close to Reid, grew up in Henderson, where Reid went to high school and met the coterie of friends and mentors who have helped him throughout his life and career. They included Walker, his Spanish teacher, and O'Callaghan, his history teacher who taught him to box.
It was in his senior year after meeting his future wife, Landra, that Reid blossomed. He served as class president and dropped 30 pounds to fight at a weight of 160 so he would be more competitive.
"If I would have fought big people, they would have hurt me," Reid said in an interview, noting that even then he knew his limits. "I lost weight on purpose so I could fight people and win."
As a legislative deal maker in Congress, Reid also has been a skilled shape-shifter over the years, courting both Democrats and Republicans to get just enough votes to pass some of the most controversial laws, including his signature health care insurance overhaul this year.
"He is the consummate legislative craftsman," said former U.S. Sen. Richard Bryan, a contemporary who grew up in politics with Reid and served as governor as well. "He loves the legislative process. He's not a great orator. He's not a guy that loves the parades and banquet circuit. He's never happier than when he's trying to put together a legislative deal. He's not a guy who has hobbies."
The blond-haired Bryan and Reid were known as the "gold dust twins" when they both won election in 1968 to the Nevada Assembly and became the only two freshmen. Reid claims he still has the record for the most bills introduced by a lawmaker in one session, most of which failed.
Two years later, Reid attached his political sail to O'Callaghan, who became governor in 1971 with his protégé winning the part-time lieutenant governor's job.
When O'Callaghan decided to run for re-election instead of seeking the U.S. Senate seat Alan Bible was vacating, the ambitious Reid leapt into the 1974 race, ending his winning streak.
Reid's campaign against the popular former Gov. Paul Laxalt was ugly. Reid tried to smear his GOP foe by suggesting that casino magnate Howard Hughes, who helped transform Las Vegas, might have given Laxalt money in exchange for preferential treatment. Reid demanded Laxalt and his siblings make public their finances, including his sister, a nun who had taken a vow of poverty.
After losing, Reid said he learned a hard lesson that it doesn't pay to go after a foe's family. The following year, Reid was defeated in a bid for mayor of Las Vegas.
Ed Allison, a longtime GOP operative and lobbyist, ran Laxalt's 1974 campaign and later worked on the presidential campaigns of Ronald Reagan and the elder George Bush. Allison has known Reid since they were both in high school and met at Boys State, a leadership program for youth.
Despite the bitter Laxalt-Reid race, the two men and their staffs and supporters made peace in later years. Allison said he was among Republicans who began to back Reid, who worked closely with the rest of the congressional delegation on shared water and environmental issues.
Now, however, Allison is among a number of Nevadans who believe Reid has stopped listening to the people he represents and is caught up in the Washington power game.
"I think it's the result of the arrogance that comes with power," said Allison, who moved back to Nevada after a lobbying career in Washington. "He buys into the argument that Washington knows best. The dislike for him in this state is something I've never experienced for a politician in Nevada."
Allison no longer counts himself among the list of some 400 "Republicans for Reid," mostly business and political leaders who are loyal to Reid or fear his wrath if they don't support him.
"I know some people who have been brow beaten into joining this Republicans for Reid thing," one Republican said, speaking on condition of anonymity for fear of repercussions. "There's an extremely vindictive, mean side behind his soft veneer. He will pound his enemies."
Sig Rogich, the Republican kingmaker in Nevada who has advised GOP presidential campaigns, is in charge of adding to the list. He said it's a matter of practicality.
"I disagree with a lot of things he's doing, but I love my state," Rogich said earlier this summer in an interview. "Why would Nevada give up the majority leader in the U.S. Senate?"
Indeed, the boy from Searchlight, the one nicknamed "Pinky" who liked to pick fights, whose father was an alcoholic who took his own life, whose mother took in laundry from local prostitutes to make ends meet, can get the president on the phone faster than pretty much any politician in America.
During his spring rural Nevada road trip, Reid made phone calls in the back of his bus between stops at solar farms, energy-saving companies and geothermal plants that he hopes will be his legacy as he works to promote Nevada as the clean, renewable energy capital of the United States.
Aides grabbed Reid's elbows to steady him as he made his way down the bus aisle, shoulders hunched as he walked a bit unsteadily while the vehicle trundled down the highway.
He munched on a tuna sub sandwich and settled in to talk before the next stop.
"Look, somebody gave me a thousand bucks," Reid said, pulling a check out of his pocket as proof he has support in the rural areas despite anti-Reid signs on fences and in yards in town after town. "A woman walked up and gave it to me. She said it's the first installment. A thousand bucks in Winnemucca."
It had been years since Reid had made an old-fashioned whistle stop-style tour across the state, he said, recalling he hadn't done it since his days of campaigning with folks such as Bryan.
The bus slowed to a stop and an aide announced, "We're here."
"What's the name of this place?" Reid asked.
Someone said it's Blue Mountain, where Nevada Geothermal Power Inc. has a plant.
"How long we here for?" Reid asked, and was told half an hour, then on to the next stop.
"I'm glad I've done this," Reid said, preparing to disembark for a tour of the plant that would be captured on camera for a campaign commercial. "You know, there are other things I can be doing, but it's really good for me to get out in rural Nevada. That's where I come from. That's where I lived.
"I spend most of my time in big cities, Reno and Las Vegas and Washington, but this is really who I am."
Contact Laura Myers at lmyers@reviewjournal.com or 702-387-2919.
RELATED STORY:
• In Profile: Political outsider Sharron Angle often bucks the powers that be