Inaugural parade dancers to march, but no music
January 21, 2013 - 9:15 am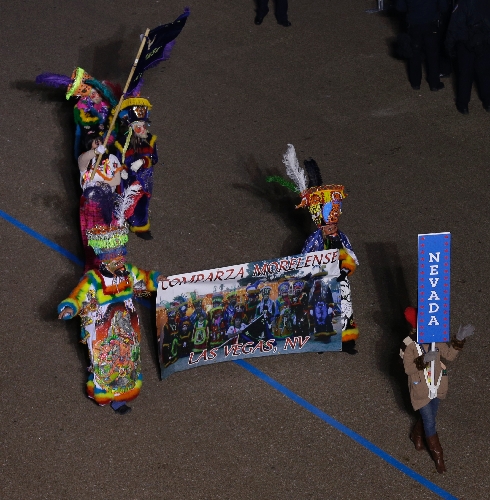 WASHINGTON — The dance group representing Nevada will be marching in the presidential inaugural parade today but without the festive accompaniment that is a key to their performance.
After struggling with fund-raising, the members of Comparza Morelenze could not afford to transport their disc jockey and his sound system from Las Vegas to Washington, according to Tony Espinoza, one of the group's leaders.
A DJ from New Jersey offered to fill in and was on the highway to the nation's capital on Sunday. But by then it was too late to get him and his truck cleared through security to take part in the afternoon march.
"They could not do it at all," Espinoza said. "That is something major for us but they could not let the DJ in."
It came as a surprise to the Las Vegans when they were invited in December to take part in the parade. Comparza Morelenze is six families who dress in elaborately embroidered headgear and costumes and perform dance that is more than 150 years old and indigenous to the Mexican state of Morelos, where their culture originated.
But also it set group members on a fundraising quest to meet travel costs that were estimated at about $13,000.
"We barely made it," Espinoza said today. "Each one of us had to pitch in."
The 25 Las Vegans who made the trip, including a handful of children who take part in the performance, were staying at a hotel in Baltimore.
Rep. Dina Titus, D-Nev., assigned a staff member to help the group navigate the parade bureaucracy after she was told Sunday of their plight. Without musical accompaniment, "we will not be 100 percent to perform," Espinoza told Titus in her office.
Espinoza and other dancers said Monday morning the Las Vegans are determined to march and will do their best.
"We are going to dance," Espinoza said. "We have the music in our hearts so we are just going to do it at that."
Contact Stephens Washington Bureau Chief Steve Tetreault at stetreault@stephensmedia.com or 202-783-1760.