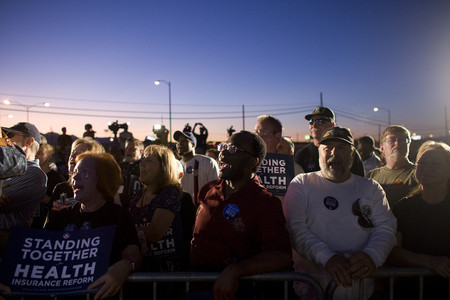 Standing on stage with tears in her eyes, speaking to hundreds of her fellow Las Vegans, Gloria Madrid was glad to tell her story to a crowd that cared.
Several years ago, the home health care assistant — who takes care of seniors with health insurance through Medicare — became terribly ill.
Because she was uninsured and couldn't afford to pay out of pocket, she drove six hours to Mexico to receive affordable health care, although she is an American citizen.
"They told me it (my infection) was so bad I almost lost both of my legs," she told the crowd. "It's time for change. Now."
Organizing for America, a Democratic National Committee project that supports President Barack Obama's health reform agenda, was at the Culinary Workers Union headquarters in Las Vegas on Thursday to raise awareness through stories like Madrid's.
The stop in Las Vegas was the 21st and last official stop on the group's bus tour, which has been a rallying point for Democratic supporters across the country since it began June 6.
"What we do is get out and amplify the president's message in his address to Congress last week," said Jeremy Bird, deputy national director of Organizing for America.
"He (Obama) wants to bring stability and security for those who have health care insurance, provide for those who don't, and rein in costs for all around," he said.
Among those who spoke were Secretary of State Ross Miller, Democratic Party Chairman Sam Lieberman, and Bashab Banerji, a Nevada doctor.
All the speakers had one thing in common: the ability to fire up an all-Obama crowd in support of health care reform.
Miller told the crowd of about 300 how pleased he was be a part of a group of people so unified.
"After watching the town hall debates the last few weeks, isn't it great to see so much enthusiasm for this issue?" Miller said to cheers.
The rally didn't have any signs of conflict. When speakers were interrupted by the crowd, the interjections were always pro-reform and pro-Obama.
But the event wasn't designed to be a question-and-answer session for those stuck on the fence about the issue, said Bird.
The evening was tailored more as a celebration for Obama supporters, he said.
"It's about bringing together folks in Las Vegas who support reform and have a voice to be heard," he said.
Although Las Vegans were united at the rally, Republican political consultant Ryan Erwin of Las Vegas, who specializes in health care issues, said Nevadans aren't all in agreement.
And he'd be worried if they were, because Obama's health plan is an "absolute disaster," he said.
"There are few domestic things that our government could do to the American people that would be worse than passing this," Erwin said.
"Any plan that tries to nationalize the process is nothing more than a government takeover, where bureaucrats and elected officials are trying to get more power and control," he said.
Erwin said before the government decides to spend more on health care, it needs to look for ways to cut spending first.
Bird said there are many misconceptions being perpetuated by opponents to Obama's plan, and the tour was a way to counter those.
"These are important personal health care stories being told," he said. "This crisis affects families in Nevada, and individual businesses."
And the cost of doing nothing would be extraordinary, he said.
Contact reporter Mike Blasky at mblasky@reviewjournal.com or 702-383-0283.
Slideshow