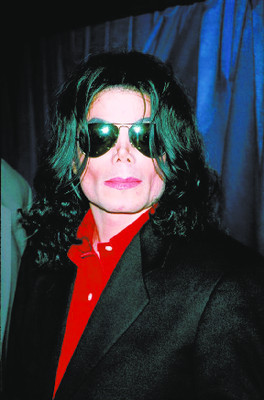 Michael Jackson was approached about performing for the opening of Steve Wynn's Encore tower in December but declined, it has been learned.
Jackson, who last performed in 2002 at a concert for the "Every Vote Counts" campaign at the Apollo in Harlem, N.Y., has been recording in the Palms studios.
Encore is Wynn's $2.2 billion project that adds a 2,034-room tower next to Wynn Las Vegas, which opened in 2005.
Jackson was back in the news in recent days when he announced he won't be joining a Jackson 5 reunion tour set for 2009.
NO 'ANGEL' IN WINGS
There is no Plan B or understudy if Criss Angel is unable to perform in "Believe," his collaboration with Cirque du Soleil.
"It's like Madonna," he said before Friday's opening night. "If Madonna is sick, there is no show."
But, he added, "I've yet to miss a performance" over the years and that includes a number of under-the-weather days. It would take laryngitis," he said, "or not being able to get out of bed. I'm going to do everything in my power to do the show."
REDD FOXX PROJECT
New York Post TV columnist Michael Starr is working on another book project with Las Vegas ties and he's looking for some research assistance.
He just signed a deal for a "dream project" — to author what he's tentatively titled "Black and Blue: The Life and Times of Redd Foxx."
A number of Las Vegans helped him on "Bobby Darin: A Life," which came out in 2004.
You can reach him at msethstarr@gmail.com.
SIGHTINGS
Vernon Davis, the San Francisco 49ers tight end who was sent to the locker room by coach Mike Singletary last week, was in Las Vegas on Friday, getting away from it all. Davis was spotted at Drai's After Hours inside Bill's Gamblin' Hall. The 49ers have a bye this week. … On the black carpet for the opening night of "Criss Angel Believe," Angel and "Girls Next Door" star Holly Madison, Cirque du Soleil founder Guy Laliberte, director Serge Denoncourt, Christina Hendricks of "Mad Men," Evangeline Lilly and Dominic Monaghan of "Lost," actor Justin Long, Neil Patrick Harris of "How I Met Your Mother," Paula Abdul, porn princess Tera Patrick and boyfriend rocker Evan Seinfeld, reality TV star Tila Tequila, "That 70s Show" star Wilmer Valderrama, Adam Shankman of "So You Think You Can Dance," Deborah Gibson, "CSI Miami" star Jonathan Togo, actor Keir O'Donnell, "American Idol" alum Michael Johns, Siegfried Fischbacher of Siegfried & Roy, Penn & Teller, Mike Tyson, Jeremy Jackson of "Baywatch," actor Joey Kern, comedian Carrot Top, singer/songwriter Clint Holmes, the Fantasy Girls, Frank Marino, chef Kerry Simon, comedian Louie Anderson, comedian and magician Nathan Burton, "Charlie's Angels" star Tanya Roberts, Mötley Crüe frontman Vince Neil, Zowie Bowie and triplet violinists Alizma. … Aubrey O'Day, formerly of Danity Kane, serving as host of Tabu's Halloween Party. O'Day, with her pup Ginger in hand, dressed as Ariel from "The Little Mermaid." Her date was Jeremy Anderson from ABC's season four of "The Bachelorette." Also in Tabu: Kassim Osgood of the San Diego Chargers. … Valderrama, at Pure (Caesars Palace), dressed up as James Bond. … At LAX (Luxor) on Friday: Angel and Madison, celebrating opening night with Laliberte and guests. … At Christian Audigier the Nightclub (Treasure Island): Tila Tequila, celebrating her 27th birthday with cake before heading for LAX. … Blues and rock guitarist George "Buddy" Guy, dining at Nove Italiano (Palms) on Friday.
THE PUNCH LINE
"Joe the Plumber is back in the news. He was supposed to appear at a John McCain rally today but didn't show up. So apparently, this guy really is a plumber." – Conan O'Brien
Norm Clarke can be reached at 383-0244 or norm@reviewjournal.com. Find additional sightings and more online at www.normclarke.com.