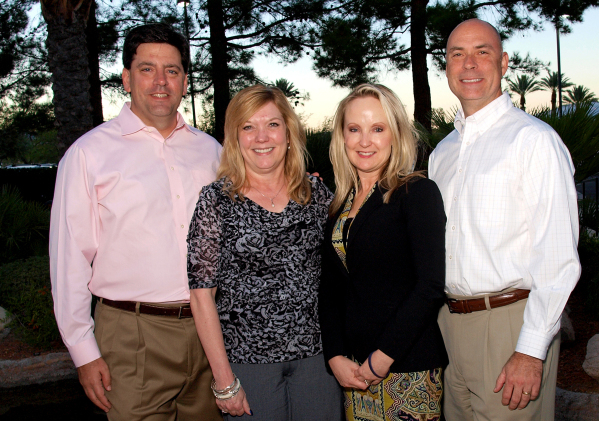 Michael Jackson's death caused Las Vegas impressionists and comedians to quickly alter their acts, turning satiric sendup into sincere tribute.
"We'll turn it into a tribute because I do a good impression of him," Mirage headliner Terry Fator said before Thursday's show. "We obviously won't be able to do it tonight, but in the next couple of weeks we're going to turn it into a tribute to one of the greatest entertainers of all time."
In the short term, Fator said he would cut a segment where he dresses up as Jackson and asks a cowboy puppet named Walter for country music lessons. The cowboy is more than a little wary of the superstar.
"I don't think we were too hard on him. It was really very upbeat. We poked a little fun at him but obviously we can't do that anymore," Fator said of the bit.
"I am and always have been a Michael Jackson fan. That's why I am able to sing like him, and also why I never got mean about it or took low blows," Fator added.
"I am just heartbroken. I really wanted to meet him one day. I've been a big fan since I was a little kid."
Golden Nugget headliner Gordie Brown did meet Jackson, tracking him down as a young fan and presenting the pop star with a portrait he drew when the "Victory" tour stopped in Montreal in September 1984.
"I think I'll just speak about it more than do anything close to an impression," Brown said Thursday afternoon. Through Wednesday, his Jackson impression was a "Billie Jean" song parody with jokes about the singer having body parts fall off after too much plastic surgery.
"Tonight it's gotta go. I'll speak from the heart," Brown said. "In the future I'll change it in a way that's respectful."
Brown said Jackson was "my first impression beyond Elvis" back in the '80s, when he was a political cartoonist just thinking about becoming an entertainer.
Brown checked into a suite he couldn't afford at the hotel where Jackson was staying in 1984, and talked security into letting him present the singer the portrait he had drawn. "They said, 'It looks pretty good, because if it didn't we'd have shooed you away by now.'"
Jackson signed a copy of the artwork that hangs in Brown's home. "That taught me about the secret in life: If you want something, go after it. That's how the universe is going to give it to you."
"American Superstars," which features Frederick Henry in a serious tribute to Jackson, happened to have Thursday as its regular night off at the Stratosphere. "We're still scheduled to go forward (today)" producer Mark Callas said. The group was looking for a way "to do it respectfully."
Carrot Top's publicist, Steve Flynn, said the comedian's crew immediately started editing the show-closing rock sequence, which features Jackson's music, upon hearing he died. Carrot Top removed all jokes that made fun of Jackson, but kept in a moment where he strikes a Jackson pose in front of an industrial fan, repositioning it as a tribute. He also planned to make an impromptu toast to Jackson in Thursday's show.
SLIDESHOW: Jackson in Las Vegas
A look at Michael Jackson's 18 career No. 1 hits