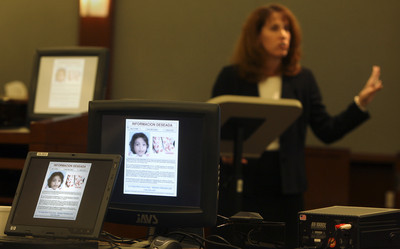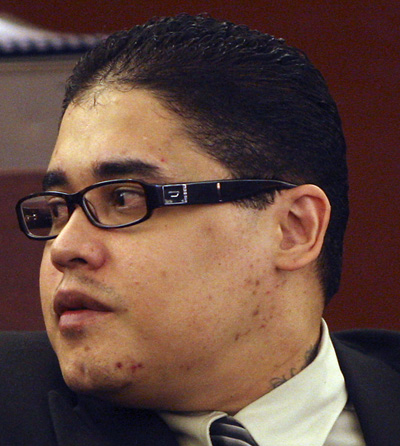 Dozens of questions were raised when 3-year-old Jane "Cordova" Doe was found dead in a garbage bin in Las Vegas more than two years ago.
No one knew who she was or where she came from.
Her name, and how she wound up beaten to death and discarded like trash, remained a mystery for weeks and sparked a nationwide search for information about her.
The biggest question now is whether Jane "Cordova" Doe's mother and her former boyfriend will be convicted of killing her. Gladys Perez and Marc Anthony Colon, who are accused of killing Crystal Figueroa, a.k.a. Jane "Cordova" Doe, are on trial in District Court in the slaying.
On Tuesday, after more than a week of jury selection, prosecutors and defense attorneys gave opening statements.
Chief Deputy District Attorney Pam Weckerly said witnesses told police that Colon, 30, fatally beat Crystal at a hotel in Las Vegas in January 2006 and Perez did nothing to stop it.
The couple didn't take Crystal to a hospital because they were afraid her bruises would alert the authorities, according to a Las Vegas police report. Colon also didn't want police involved because he was on parole, the report states.
Deputy Public Defender Curtis Brown, one of Perez's attorneys, said she never struck Crystal and failed to protect her daughter because Colon had power over Perez.
"He had complete control over Gladys — sometimes by physical force," Brown said.
Christopher Oram, one of Colon's attorneys, said Perez is responsible for Crystal's killing. Perez beat her daughter in a rage because she was jealous that Colon was seeing another woman, Oram said.
Perez and Colon appeared in court looking more like youthful law clerks than murder defendants. Perez, 26, wore a dark suit jacket and skirt and stylish thick-rimmed glasses. Colon, 30, dressed in a suit and tie and also wore glasses.
In their booking mugshots, a disheveled Perez has a black eye and Colon has a shaved head, mustache and goatee.
Authorities said the two began dating in fall 2005. At the time, Perez was doing clerical work for a pool company and was the mother of two daughters, including Crystal. Colon also had two daughters.
Perez, who was first pregnant at 15, had a tough time raising her daughters. The girls' father was in and out of jail, and Perez was vulnerable and needy, Brown said. Although authorities said Crystal was in the beginning stages of malnutrition at the time of her death, Brown said she was merely small and slow to grow.
On Jan. 10, 2006, the couple left Los Angeles, telling relatives they were moving to Oregon to start a new life. With their four daughters in tow, they drove to Las Vegas and spent a night at the Stratosphere before relocating to a pay-by-the-week apartment.
There are several versions of what happened next. Weckerly said one of Colon's daughters told police that he was upset because Crystal "caused too much drama" in their lives. On the night of the killing, he was angry because Crystal went to the bathroom in her pants and he punched her, Weckerly said.
Oram, however, said Colon's daughter testified before a grand jury that Perez hit Crystal that night. A neighbor who lived above the couple at the apartments said she heard a woman yelling and a child crying, Oram said. The neighbor eventually told police that the woman living below her — believed to be Perez — "is mistreating children," he said.
On Jan. 12, 2006, Crystal was dumped in a trash bin, and the couple and their three remaining children fled to Oregon.
Enrique Reyes was going through a trash bin at the Villa Cordova Apartments when he saw what he thought was a doll dressed in a white jacket with pink hearts. The doll turned out to be Crystal. She had bruises on her torso, two fractured ribs and internal organ damage.
For the next six weeks, authorities didn't know who the girl was. Police launched a major media campaign in their search for her identity, set up hot lines and even had narcotics officers ask informants if they knew who the girl was, Weckerly said.
Police broke the case after Perez called her mother in California. She told her mother that she dropped Crystal off at a hospital in Nevada. She said Crystal "was alive when I dropped her off but not when I left," Weckerly said. Perez's mother called authorities, who tracked down the couple and arrested Perez in California and Colon in St. Paul, Minn.
During the hearing, Weckerly played an audio recording of Colon speaking to one of his daughters by telephone from the St. Paul jail. In the recording, he can be heard asking his daughter what she told police about the night of the killing.
At one point, his daughter asked Colon if he was going to stay in jail forever.
According to the recording, he replied: "I might."
Contact reporter David Kihara at dkihara@reviewjournal.com or 702-380-1039.