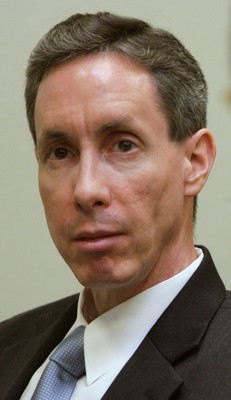 By DAVE HAWKINS
KINGMAN, Ariz. — Polygamous sect leader Warren Jeffs was rushed to a hospital again this week after suffering from dehydration, malnourishment and associated lethargy, jail officials confirmed Friday.
Legal counsel has been asked to research pursuit of a court order to allow staff to force-feed Jeffs to ensure his health and safety, Mohave County Jail Commander Bruce Brown said.
"He should weigh no less than 160 pounds based on national standards for his height," said Brown, who blamed the problem on Jeffs' self-imposed sporadic intake of food and fluids. Jeffs stands about 6 feet 3 inches tall.
"As of yesterday, he was down to 144 pounds," Brown said.
Jeffs was sent to the hospital with similar symptoms and an undisclosed abnormality in July, and then was flown to Sunrise Hospital and Medical Center in Las Vegas for evaluation.
Jail officials also are concerned about Jeffs' insistence on spending hour after hour on his knees in prayer, Brown said. He said the practice has brought infection and sores.
Brown said Jeffs rebelled against the restriction that he spend no more than 15 minutes on his knees in prayer three times a day.
"We have had to have staff literally pick him up off his knees and place him on his bed and then use soft restraints on his bed to keep him so he can't get off his bed," Brown said.
Jeffs heads the Fundamentalist Church of Jesus Christ of Latter Day Saints, which is headquartered along the border of northwestern Arizona and southwestern Utah.
Brown said paramedics arriving at the jail Thursday administered intravenous fluids while Jeffs was taken to Kingman Regional Medical Center.
He said he and the jail physician had become increasingly concerned about Jeffs' health and weight loss and had been monitoring his consumption of food and liquid since Sept. 11.
"Over the last seven-day period, there was a progressive weight loss that did run up a red flag for the jail physician," Brown said.
Hospital spokeswoman Jamie Taylor said Jeffs, 52, arrived at the emergency room at 5:41 p.m. and was released two hours later in stable condition.
Jeffs awaits trial in Kingman on four counts of sexual conduct with a minor. He is accused of assigning two underage teens in spiritual unions with their male adult relatives.
He has already been sentenced to prison in Utah on rape-as-an-accomplice charges for arranging the marriage of a teenager to her adult cousin.