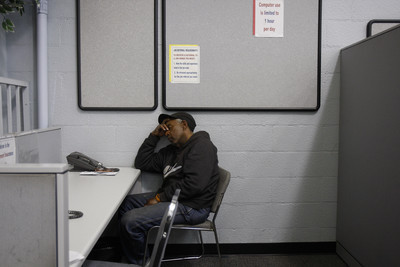 One in 10 locals were looking for work in January as Nevada's jobless rate surged to a 25-year high, and even major resort openings at the end of 2008 couldn't reverse a yearlong slide in hospitality employment.
Employers across Nevada slashed nearly 60,000 jobs from their payrolls year-over-year in January, the state's Department of Employment, Training and Rehabilitation said Friday. Among the casualties were 20,100 jobs in construction, 19,000 in hospitality and 10,800 in professional and business services. The result: a 10 percent jobless rate in Las Vegas and 9.4 percent unemployment statewide. That's up from 5.6 percent locally and 5.3 percent statewide compared with January 2008.
The Department of Employment, Training and Rehabilitation seasonally adjusted statewide numbers, but not local data. Unadjusted, the state's unemployment level reached 10.2 percent in January.
Employers cut 20,000 of those 60,000 lost jobs from December to January alone, said Brian Gordon, a principal in economic-research firm Applied Analysis.
The trend indicates "an accelerating pace of contraction that is absolutely concerning," Gordon said.
Blame that fourth-quarter spike in joblessness on the September collapse of Lehman Bros. and the ensuing credit crunch, said Keith Schwer, executive director of the Center for Business and Economic Research at the University of Nevada, Las Vegas.
"That (Lehman Bros. failure) set in motion a whole series of contractions, and that has really sent the economy cascading downward," Schwer said.
Troubled lending markets hit Las Vegas especially hard, because the city had more ongoing investment in new construction in the fall than most other cities could claim, Schwer said.
Nevada's unemployment rate continues to surpass the national average, which clocked in at 7.6 percent in January. Numbers released Friday show a February jobless rate of 8.1 percent nationwide, the highest level in a quarter century.
"This recession continues to impact Nevada disproportionately," said William Anderson, chief economist for the department of employment.
Reps. Shelley Berkley and Dina Titus, both Democrats representing local districts, released statements on Nevada's ballooning unemployment.
Berkley said the numbers highlight the need for expanded unemployment benefits that will give the jobless an additional $100 a month in payments.
Titus pointed to the importance of a projected 34,000 Nevada jobs the recent federal stimulus package is designed to create.
Nationally, the recession, now in its second year, has cost Americans 4.4 million jobs.
But, the economic slump has hurt Nevada more than other states because the bust centers on housing and discretionary spending, two areas the Silver State traditionally leaned on for its strong growth.
With fewer Americans traveling, Las Vegas' economic engine sputtered to a stop, Gordon said.
Despite the November opening of Aliante Station and the December launch of Encore at Wynn Las Vegas, which collectively added 6,400 jobs to the tourism economy, the local hospitality sector dropped more than 13,000 jobs in the year prior to January.
If resort operators continue to shed jobs through 2009, the openings of Fontainebleau and CityCenter won't have much more than a "modest" effect on the local economy, unlike the booms that previous big resorts initiated, Gordon said.
Nor does he expect last Sunday's opening of the M Resort, which debuted with 1,800 employees and plans to add 250 more in coming weeks, to spur sizable job growth in February and March.
A handful of sectors added jobs year-over-year in January.
Mining added 600 jobs to expand 5 percent, from 11,900 workers to 12,500 laborers. The combined category of education and health services grew 3 percent, from 93,200 staffers to 96,200 workers. Government added 2.1 percent to its work force, going from 156,600 workers to 158,700 employees.
And though Anderson said it's common during a recession for the unemployed to quit looking for work if they believe no jobs await them, the latest labor force numbers don't indicate that's widespread in Nevada or Las Vegas yet.
The state's labor force increased 4 percent statewide, going from 1.35 million to 1.41 million year-over-year in January. The increase in Las Vegas was 4.5 percent, from 972,100 to 1 million.
The employment department also noted that 96,000 Nevadans a week receive unemployment benefits now.
Several "wild cards" could affect the trajectory of the state's job loss, including whether federal stimulus spending creates jobs in construction and green energy, Anderson said.
"This is a very deep, prolonged recession," he said. "Absent those wild cards, it's going to take us a while to get out of this dilemma."
Gordon agreed, noting that some early reports reveal a significant downturn in visitor spending in recent weeks.
"The downturn was not unforeseen, but certainly, it's severe," Gordon said. "I think we're going to continue to see things worsen in the near term."
Schwer said the local economy won't trend upward until the national economy recovers and consumers renew spending. Until that happens, Nevada could move toward an unemployment rate of 12 percent, he said.
Contact reporter Jennifer Robison at jrobison@reviewjournal.com or 702-380-4512.