November 21, 2007 - 10:00 pm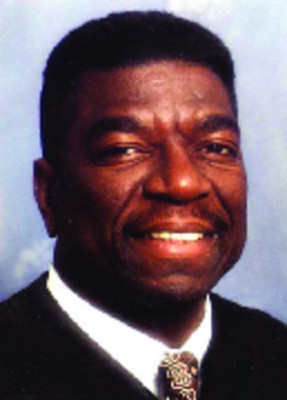 CARSON CITY — Clark County District Judge Lee Gates has been charged by the Nevada Judicial Discipline Commission with two counts of improperly contributing to the campaigns of fellow jurists in 2004.
The complaint, filed Nov. 2 by commission Special Prosecutor Dorothy Nash Holmes, said Gates contributed $5,000 to Las Vegas Justice of the Peace Karen Bennett-Haron for her successful election bid in 2004.
The complaint said that Gates, who had unspent campaign funds from 2002 when he ran for re-election unopposed, also contributed $5,000 to Supreme Court Justice Michael Douglas in 2004. Douglas, a former Clark County district judge, had been appointed to the Supreme Court and was running for election to the position.
Gates' contributions were in effect an endorsement of judicial candidates in violation of judicial rules, the complaint said. It also alleges Gates violated canons that call for judges to uphold the integrity of the judiciary; avoid impropriety and the appearance of impropriety; refrain from allowing family members to influence judicial conduct; and refrain from improper or unauthorized disposal of unspent campaign funds.
Holmes cited a 2005 advisory opinion in finding a violation of judicial rules.
A more recent action by the Supreme Court regarding campaign contributions rejects the conclusions in that advisory opinion and could undermine the strength of the complaint.
Holmes cited an advisory opinion issued in 2005 by the Standing Committee on Judicial Ethics and Election Practices in the complaint, which at the time of the 2004 contributions had concluded that donations in excess of $100 were prohibited because they constituted a public endorsement of a judicial candidate. Those who contribute more than $100 to a political candidate in Nevada are required by law to be listed by name on a candidate's campaign report.
But the Supreme Court, in a rule change adopted in 2006, amended its canons to say: "A judge or judicial candidate's donation to a candidate or political organization that is otherwise permitted by state or federal law is not considered a public endorsement of a candidate for political office."
The court said any limit on political contributions that are authorized by state or federal law would be a violation of the judge or judicial candidate's First Amendment rights.
Holmes could not be reached for comment on the Supreme Court rule change and the rationale for going forward with the complaint.
But Allen Lichtenstein, general counsel for the ACLU of Nevada, questioned the move by the Judicial Discipline Commission to go forward, given the U.S. Supreme Court's 2002 decision on judicial campaigning in the Republican Party of Minnesota vs. White case.
"I can't really weigh in on why she (Holmes) chose to do what she did, but the U.S. Supreme Court has been quite clear in the White ruling on the free speech rights of judicial candidates," he said. "The Nevada Supreme Court has showed in their new rules that they are cognizant of that as well. Why the commission has taken this action, at least to me, is somewhat of a mystery."
Both Bennett-Haron and Douglas reported the contributions from Gates on their contribution and expense reports filed with the secretary of state's office in 2004.
Gates did not report either contribution on his 2004 contribution and expense report, according to the complaint.
The Judicial Discipline Commission will have a public hearing on the matter and, if the charges are upheld, impose a punishment as provided for in state law. A date for the hearing has not been set. A range of penalties are available, including an apology, fine or suspension from office if the commission finds clear and convincing evidence of a violation.
Dave Sarnowski, executive director of the Judicial Discipline Commission, could not comment on the complaint, but said Gates has denied the allegations. Gates has 20 days to file a formal response, he said.
Neither Gates nor Bennett-Haron could be reached for comment Tuesday on the complaint. Gates' six-year term on the court lasts through 2008.
Douglas said he did not think it was appropriate for him to comment in any detailed way.
"I was contacted by the Judicial Discipline Commission, and I spoke with them," he said. "Judge Gates gave me funds but never publicly endorsed me. Does making a contribution constitute an endorsement? I don't know what they are alleging."
The complaint also said that the judicial canons specify what leftover campaign funds can be used for, including a future re-election campaign, among other limited uses. The rules do not provide for contributions to other judicial candidates as made by Gates.
The complaint also alleges that Gates misrepresented to the discipline commission the facts of the contribution to Bennett-Haron. The complaint says Gates at one point maintained it was made at the direction of his wife, former Clark County Commissioner Yvonne Atkinson Gates, and at another time said it was made at his own discretion.
In the first response, Gates said his wife asked him to contribute $5,000 of $10,000 she had given him for his 2002 election campaign. Gates ended up with just over $100,000 for his campaign but drew no opponents. Gates reported receiving the $10,000 from his wife, but Atkinson Gates did not report the contribution to her husband on her campaign report, the complaint said.
In a later statement, Gates said he discussed the contribution with his wife but made the decision to contribute to Bennett-Haron on his own.
The statements are inconsistent and therefore one or the other is a misrepresentation to the commission, the complaint said.
The complaint also said that Gates knew he was being investigated by the commission for an improper contribution to Bennett-Haron but still failed to disclose the contribution to Douglas to commission investigator Dennis Arnoldy.
Authorities have been investigating whether Atkinson Gates illegally enriched herself with political contributions by hiring relatives as campaign staffers and having them return some of their pay to her, sources have told the Review-Journal. Specifically, police are focusing on the $407,343 Atkinson Gates paid her son, his wife and the couple's business from her 2004 campaign fund.
After the investigation was underway, Gates in 2006 filed a campaign and expense report showing a personal loan of $10,600 to his campaign account to cover the contributions to Bennett-Haron and Douglas.
Gates also later amended his 2005 campaign expense report to reflect the contribution to Douglas.
According to the complaint, Gates told the investigator the failure to report the contribution to Douglas on his campaign report was because of bad bookkeeping.
The state Supreme Court has adopted a new rule for judicial candidates as a result of action by the 2007 Legislature to change the filing dates for most court races. The new rule prohibits judicial candidates from soliciting or accepting campaign contributions if they run unopposed.
The ban will take effect in the upcoming 2008 election year.